Gamer's Hideout has issued an apology over its pre-order policy for the PS5. This comes after it spent last week being mocked online for the retailer's purchase-with-purchase (PWP) policy.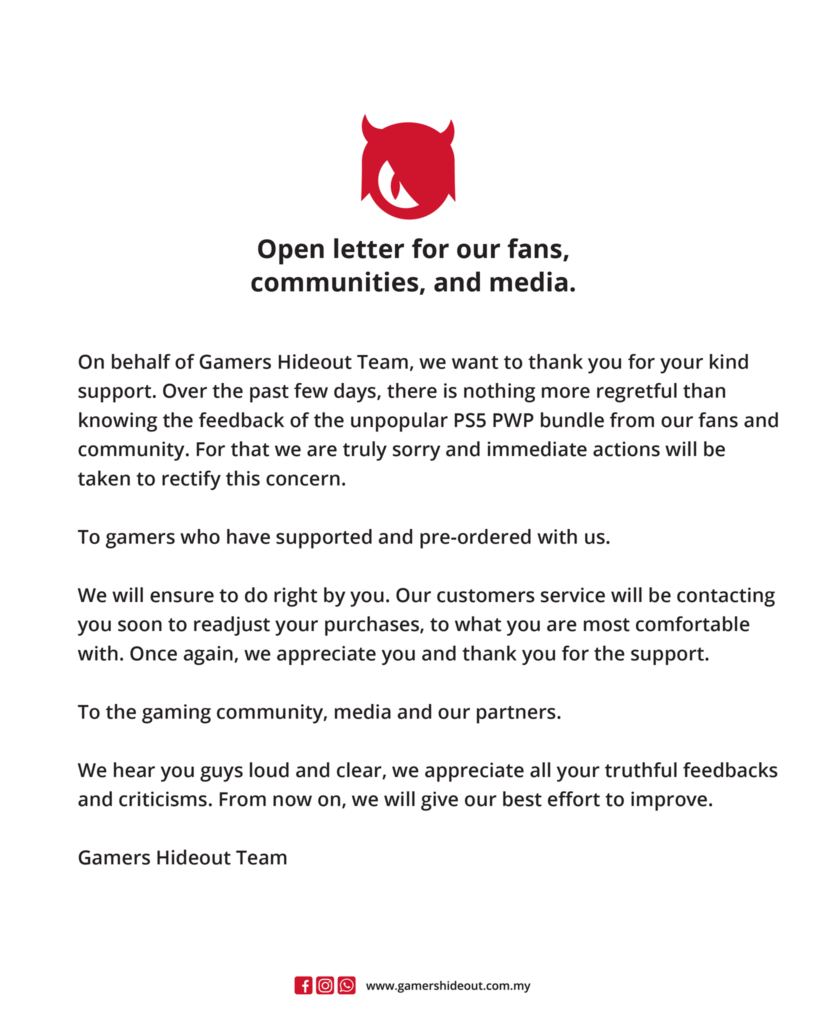 According to the letter, Gamer's Hideout will be changing their pre-order policy, though they didn't specify exactly how.
"To those who have pre-ordered with us," the letter reads. "We will ensure to do right by you. Our customers (sic) service will be contacting you soon to readjust your purchases, to what you are most comfortable with. Once again, we appreciate you and thank you for the support".
Last week, the retailer was reportedly adding a mandatory bundle, forcing customers to also pre-order Cyberpunk 2077 as well as purchasing a "Mystery Bundle 3-Pack" and various accessories. This significantly pushed up the price of the pre-order, leading many netizens to feel like they were being taken for a ride.
Other retailers had also seized the moment to score some free PR, simply by saying they would not be forcing bundles with the PS5.
This is another chapter in the rocky saga of the PS5's launch in Malaysia, after it was finally announced the console would be launching here almost a month after Singapore's launch.
After that, pre-orders opened but were snapped up as quickly as they opened. Following that, there was also the surge in scalpers, who'd only attempted the pre-order to sell it back to those desperate to get it at launch.
The PS5 launches in Malaysia 10th December, 2020.
---
Check This Out Next
---