Square Enix invited us to their HQ in Tokyo as part of a media tour to try out the upcoming Final Fantasy XVI (FFXVI), and here we also got a chance to interview the legendary Naoki Yoshida, or as he's more well-known Yoshi-P to learn more about the switch to action combat and the games focus on the Eikon Ifrit.
In the HQ we got a look at various upcoming Final Fantasy XVI merchandise including the new collector's edition and were able to play an all-new preview of the game allowing us to experience the full fight between Ifrit and Garuda, two of the many Eikons (summons) that give great power to various individuals in XVI's world. After this, a press interview was held with Naoki Yoshida to tell us more about what they expected.
Naoki Yoshida

Naoki Yoshida is a man that needs little introduction among Final Fantasy fans being the director and producer who successfully rebirthed Final Fantasy XIV after its disastrous initial launch. He's since seen the MMO through multiple expansions, garnering numerous new users to the point that it's now one of the most successful MMOs of all time and was even recently voted to be the most popular Final Fantasy game of all time.
It seems fitting with such accomplishments under his belt that Square allows his team to make the next numbered game in the series. However, there has been a lot of debate over FFXVI's new approach which has doubled down on FFXV's action-oriented approach to the series, taking Final Fantasy even further away from its turn-based routes. In this interview, Naoki Yoshida tells us more about this new approach and how despite all the changes he still wishes to make a game that all Final Fantasy fans can enjoy.
Action vs Turn-Based
Final Fantasy has changed a lot in the past few years, particularly with the battle system changing from a turn-based RPG to an action RPG. It's something that many fans were taken aback by in FFXV however XVI takes it even further, with a fast hack 'n slash style combat system courtesy of combat director Ryota Suzuki, who previously worked on Devil May Cry. Yoshida said that the decision to make FFXVI action based was not because he thinks turn turn-based is bad but because he wanted to show what can be done with the Final Fantasy IP.
"For me, this was to show the world as well as the future generation of developers that when creating a Final Fantasy whether it's turn-based, or command, that's fine but we can also do this as well – full-time action. It works. Planting that seed for those future generations of developers to show that, it is a possibility that it can be done is very important to us". 
Despite this, he also says he understands that not everyone is going to like action combat. Despite the similarities, the game isn't meant to be as challenging as Devil May Cry. Yoshi-P stresses that the game was made to be beaten by people that aren't as interested in action games.
"I wanted to make a game that even though it's action, you can still be able to play it. I got support from a lot of people, a lot of people in the industry here at Square Enix to create a game that gives the opportunity for people who are not into action games. We've created an action game that players can beat. It will be one of the first action games that hopefully people will beat that maybe they thought they couldn't".  
An Action Game Anyone Can Enjoy
The greater accessibility in Final Fantasy XVI that Yoshida speaks of could be seen firsthand in the fight between Clive and Garuda, and later Ifrit and Garuda. Many noted that it was a little on the easy side however he states that this is partly because it was one of the earlier boss battles in the game.
"What you saw in that Ifrit versus Garuda battle is one of the first actual Eikon versus Eikon kind of fights. So, because the player is still getting used to what those battles are going to be like, and what the controls are going to be like, we didn't want to frustrate the players. That said, as the game progresses, those Eikon versus Eikon battles are going to get a little more difficult".
He reiterates that he doesn't want to make a game "so difficult that players are going to get stuck and not be able to get through it" and that such mechanics would go against Final Fantasy XVI's central game design.
"We want this game to allow even non-action players to experience the story without getting frustrated. So for that first playthrough, we kind of made this system that's going to get more and more challenging, but not be frustrating. We want all our players, not just our heavy-action users to experience the story. We think we have a really good story and we want everyone to experience it. We want players, especially those who don't have that confidence in action games, to play this game, defeat it [the battles], and go on social media to tell all of their friends about it". 
The Harder Difficulties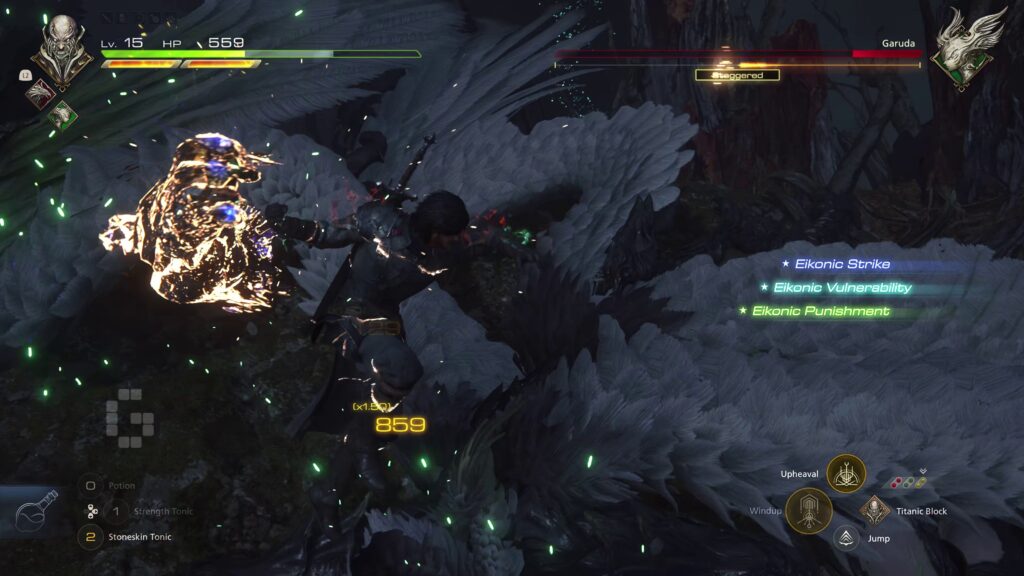 Of course, for those that are looking for a more challenging experience, Final Fantasy XVI will have options to make the game harder.
"For those players that complete the game once and want more of a challenge, we have an even more difficult mode ready after that first playthrough that will challenge the players. No leveling up weapons, not getting stronger, extremely difficult. So those players who play through the story and feel a lack of challenge, we have this mode for you". 
Why Ifrit For Final Fantasy XVI?
Of the many mythological beings to appear as summons in Final Fantasy, the spirit of hellfire Ifrit has been a familiar face to many fans since first appearing back in FFIII. When asked why they chose to focus on Ifrit in Final Fantasy XVI as Clive's main Eikon, Yoshida, to put it simply, said they were tired of seeing Ifrit losing so often.
"If you look back at the older Final Fantasies, Ifrit always comes first. You always use him first, then you learn better summons then you never use Ifrit again, we felt really sorry for him. The worst has gotta be FFVIII, he [Ifrit] gets beaten by just some students in their graduation test and he has to become their servant. I mean, that's just too bad for him. It's time for his revenge".
He's got a point. If you think about Ifrit is kind of the jobber among the main reoccurring summons. He mentions FFVIII but I still remember in FFVI when Kefka throws Ifrit down a garbage shoot. Well at least Final Fantasy XVI seems posed to give Ifrit the respect he deserves.
"This time in FFXVI, we wanted him to have a chance to shine and be the main, the strongest, the coolest looking summon out there. That's why we brought him in. On top of that, a lot of players that maybe played FF when they were young but haven't played the series recently, they're all going to remember Ifrit because he's one of those first ones in the early games". 
The Other Eikons
Speaking of Ifrit and Garuda, one question on our minds was what other eikons Clive can use in battle? From the demo footage, we saw that he can use abilities that seem to come from Pheonix at the very least. Yoshida said they [the eikons] are connected to the story so he couldn't talk about it. He instead spoke more about the design of the Eikon fight and especially how each Eikon moved differently. Ifrit in particular was meant to have a lot of weight behind his attacks, stating that the concept for the fight with Garuda was akin to a "professional wrestling match". Other eikons would have a different feel to them though:
"That battle system [Ifrit vs Garuda] that you experience is only used there and not used anywhere else in the game. And again, that kind of worked because Ifrit and Garuda when they're both Eikons are about the same size, so you can pull off a battle like that. However, what's going to happen when you get Ifrit versus Phoenix, which is a different-sized Eikon also, Ifrit is on land while Phoenix can fly. In that sense, you are going to need a different game design, for example, a 3D shooter". 
"We really want players to focus on the feel of each battle which will be different depending on where you are in the story, and who you're fighting, and that experience is going to be different for each one". 
Quick Time Events
Another aspect of the game that was apparent in the demo was that the boss battle seemed to feature quite a few quick-time events (QTE). Yoshida says that this is once again because it's still the early game to make the battles more "cinematic" but there'll be less as the story continues.
"As we move forward in the game and people get more used to the battle system and speed and tempo of the game, then we're going to be removing those [QTEs]. So it's not like we're going to be using that all the way into the game". 
The developer points out that QTEs aren't used as much in games due to their negative reputation however he thinks that they have a place in gaming. Here the developers used them to make the game more accessible in these early boss fights.
"You have that battle before the Ifrit versus Gardua, the Clive versus Garuda battle and while if you have the accessories on, it's kind of an easy battle, if you don't have those accessories on though, it can be really difficult. If you manage to get through that and on top of that, you have the next battle with Ifrit versus Garuda and you die immediately and have to go all the way back, it can be very frustrating". 
"Having that QTE in there makes it so that the battle can be a little bit more accessible to a lot of players and give them time to breathe. This gives the battles a good balance between all the action, like a roller coaster where you have Ups but also have your Downs, you have that good balance and have that flow. I think the QTE can help bring that in some instances". 
A Darker Final Fantasy World
Each new Final Fantasy takes place in a different setting with a different aesthetic and tone, and FFXVI has one of the most drastic with a darker Game of Thrones-style medieval fantasy. It's even the first mainline Final Fantasy to receive an M-rating. We asked Yoshida about the team's goals in creating a darker world.
"The Final Fantasy series is 35 years old, there are people like me who are turning 50 this year and have been playing the series since FF1. I am old enough to know that the world isn't all rainbows, there are terrible things in the world. I like to believe that there's always hope and you should always have your dreams".
"That said, everything can't be beautiful, and rainbows and blue skies all the time. A lot of younger people now, especially those growing up in the world now, know that that's not the case. There are difficult topics out there, whether it be having to work or having to study or doing all these things, and younger people now have it harder". 
With this in mind, Yoshida says that he wanted to add some realism to FFXVI while still giving it the sense of hope that the series has always been known for.
"We totally understand that a lot of players out there want their fantasy more light-hearted because the real world is such a tough place. That said, we don't want to look away from what is really happening, we want to incorporate that into our game well, but incorporating that still shows that there is still hope out there. People can still have their dreams, people can still overcome these challenges. As such, we want to have that realism in our fantasy, that's kind of the concept that we built FFXVI around". 
Playing With AI-Controlled Party Members
Another aspect people are concerned about is that Clive is the only character you directly control in FFXVI. Every other party member will be an AI partner. When asked about it Yoshida said not to worry as the AI would not get in the player's way or ruin their combos.
"To talk a little bit about the AI that the other party members are going to be using, that AI is basically there because we want the Hero – Clive to be able to focus on what he's fighting. The AI will not fight what the Hero is fighting and will let the player be the hero. Their AI is there to take care of the other guys so that those guys don't get in Clive's way when he is fighting the main person. They're there to support you and not ruin your combos. 
"And now you're probably wondering, "Ok, they [the AI] take care of the guys Clive isn't fighting, but what happens if there's only one, do the other party members just stand around?" No, they will fight. We have programmed them to make sure that they don't get into Clive's way so that they're not going to be using abilities that maybe knock down an enemy. We programmed it in a way that Clive is going to be the main focus and not ruin any of Clive's combos". 
Yoshida says it may sound a little complicated however large strings of combos won't be required to beat the game, although those invested can still pull them off. Regardless, it sounds like AI part members won't be an issue in FFXVI.
What Are The Side Quests Like?
Our last big question was about the game's sidequests. We didn't get to play through any of them in the demo but Yoshida was kind enough to give us an overview of how they work in the game. According to the director, sidequests will be available from the central hub in the gamer called 'The Hideaway'.
"In the demo you played, you saw Clive was with Cid. It turns out through the story, Clive meets Cid and Cid has his own little organization in a place called The Hideaway. Clive becomes part of The Hideaway. That becomes a Hub for all of the action and the story that happens in the game. Clive will be in this Hub and go out on a quest, find out something, and will return to the Hub once it's done, rinse and repeat". 
"There are also many types of NPCs, people that are living in The Hideaway. There are scholars, doctors, and biologists who are trying to figure out how to survive in this world. By interacting with these NPCs, quests will become available, quests where Clive can learn more about the world. He can learn more about the people in The Hideaway, or maybe Clive can upgrade his bag to hold more potions, things like this". 
The sidequests won't just be about Clive, however. Yoshida says that players will be able to experience the story of several NPCs as they journey through different sidequests. He also says that there will be a 'Hunt Board' run by a Moogle in the game where players can take hunting missions for different monsters and get a reward for defeating them.
How long is Final Fantasy XVI
The media talk ended with Yoshida describing the total length of Final Fantasy XVI. Here's what he had to say:
"If you only play through the Main Scenario Quest from the beginning till the end, watch all the cutscenes, and never die once, it's about 35-37 hours total. If you add to that, all of the side quests, you make all of the recipes, all of the things from the blacksmith, upgrade all your weapons, and kill all of those notorious monsters, then we're talking about 80 hours total".
It sounds about the standard size for a modern RPG which tends to be around 30-40 hours for the main story and a bit longer for sidequests.
Closing Thoughts
Naoki Yoshida ended the interview by thanking everyone for attending the media tour, we should also be thanking him however, it's great to hear so much new information on Final Fantasy XVI right from the director himself.
With how much each new Final Fantasy game has to live up to, it's great to see Yoshida so understanding of the different portions of the fanbase and considerate of the concerns over the new action-oriented battle system. It reminds me a lot of how he's been handling FFXIV. A lot of FF fans said they didn't want to play an MMO however the game has included numerous features to bring in fans of traditional Final Fantasy like the fact that almost all of it can be experienced in single-player. FFXIV often gets described as being a Final Fantasy game first and an MMO second, and I think that same idea went into FFXVI and its action RPG system.
Either way, Im excited to see what the next chapter in the ever-changing Final Fantasy series has to offer.
Disclaimer: Contents shown on the screen are from a special version made for media to experience, and contents may differ from the final version.
If you want to see more about Final Fantasy XVI's action-packed gameplay, check out our video preview:
Final Fantasy XVI will launch on the PS5 on June 22nd, 2023.
Final Fantasy XVI
PlayStation 5
The 16th standalone entry in the legendary Final Fantasy series marks a darker turn for the RPG franchise, with a complex tale of revenge, power struggles, and unavoidable tragedy.
Final Fantasy XVI reimagines the series' iconic summons as Eikons. These deadly creatures are housed within Dominants, men, and women who inherit their immense power at birth - whether they like it or not.
Play as Clive Rosfield, First Shield of Rosaria, and guardian of his younger brother Joshua, the Dominant of the Eikon Phoenix, in this epic action RPG from a team of Final Fantasy veterans.
---
Check This Out Next
---