Final Fantasy XV will be launching soon. Everyone in every corner of the globe is anticipating for the game. For one very special evening, GamerBraves was privileged to have a little chat with one of Final Fantasy XV's lead game designer, Wan Hazmer.
Who is Wan Hazmer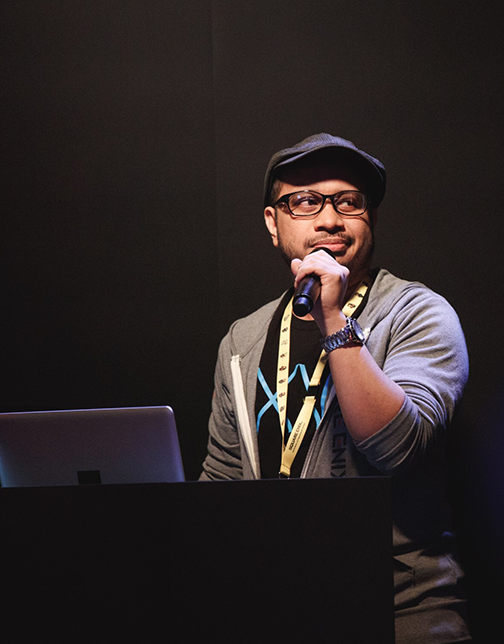 Wan Hazmer is a Malaysian who is currently working for Square Enix Japan. He has been working with them for 6 years! Prior to his profession there, he spent one and a half years in Japan since 2008 to learn Japanese. He came up with a proposal shortly after and received a job from Square Enix. Being elected as a lead game designer in Business Division 2, he is one of the few unique people in his office. Out of 3000 staffs in Square Enix Tokyo, he is the only Malaysian.
Working in Japan
Hazmer has seen better days and has learnt to grow accustomed to Japan culture. When he first joined, he had to learn the Japanese game terminologies that they use. The culture in Japan is very different than that of Malaysia's. He stated that one must explain explicitly of what you want to do to each and everyone who is involved for their understanding and curb any confusion. Thus his flexibility of understanding cultures has given him the ability of ease to work with his Japanese staffs. Being a unique Malaysian exposed and inherited many cultures,  his culture, passion and experiences may be the reason he was hired.
Square Enix has always been protective over their strong IPs. Due to the competitive gaming industry, Square Enix has begun to open their doors for other companies to touch on their IPs (Final Fantasy being one of them). One of our very own Malaysian company, Illusionist Animation was part of the team that gave birth to the movie, Kingsglaive: Final Fantasy XV. On the other hand we have also heard Machine Zone will be working with Square Enix on developing a new mobile MMO. These has lead to many possibilities for Square Enix's Final Fantasy franchise to grow.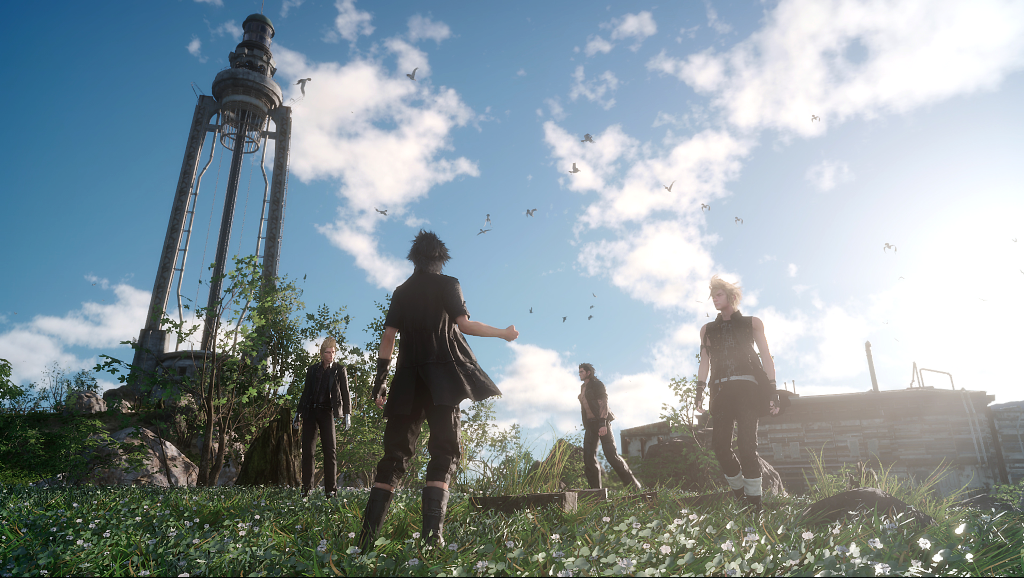 Working in Square Enix
Working in Square Enix has been a major experience for Hazmer. Ever since Square Enix has come up with Divisions, working on projects has never been better. Programmers, Designers and Engineers were once parted by their skills. The Divisions have made it so that people who are working on the same concept will be seated together be it programmers, designers or engineers. It was easy and convenient for Hazmer himself to communicate with his colleagues working on the same feature in his Business Division 2.
Another experience working in Square Enix is that the meetings they held were almost at random empty spaces or desks. The staffs would be standing around or seated on the floor as the leaders would explain and catch up on the project. It shows a very casual yet serious setting of the game developing world. There will be meetings where they would require a room if the contents are classified of course.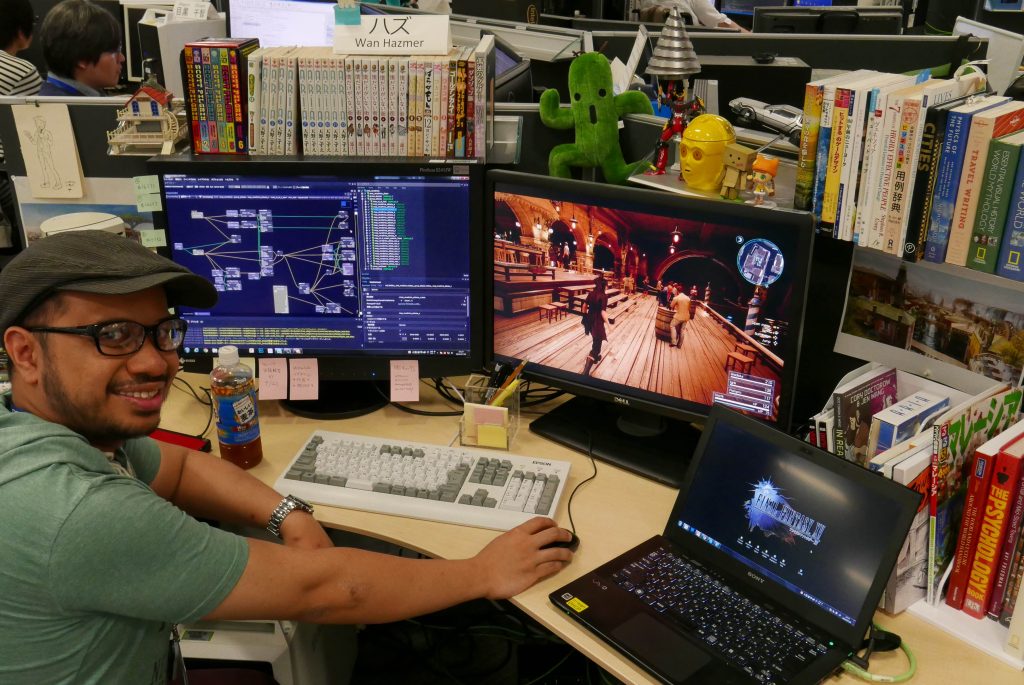 The working environment and conditions were pretty free and easy as well. Provided that you are doing your work. The staffs are free to exercise, rest or even catch a nap on their desks. There is a little gym with machines for people to stretch their muscles after long working hours. The desks are always full of work-related items AND private collections as well.
Hazmer mentioned a funny experience that all staffs have to go through. Sometimes when they are needed for part of a project, they would have to shift their desk items to another desk with the team for a few weeks. Once they are done, they would be required to shift to wherever they are needed again. The constant moving around keeps them active and shows progression in the project field.
Fun Fact! Despite being surrounded by his Japanese colleagues, he owns the most Mangas on his desk. His colleagues would borrow from him which caused him some losses.

Fun Facts of how Final Fantasy was made
Being the Lead Game Designer of Business Division 2 for Final Fantasy XV has its life hazards. The FF XV team has traversed vast lands, mountains, caves and even met face to face with the typhoon just to gain and absorb the experiences to be put in the game. Not just that, all the food that exist in the game were first properly cooked and edible during their camp out. The food are then 3D scanned and sculpted into the game! There are several food that we, Malaysians would be familiar of like "Roti Canai", "Chicken Rice" and "Teh Tarik". Can you imagine Noctis and the gang eating our Malaysian food?
When asked if there are any future plans for Final Fantasy XV, we were greeted with DLCs and updates for the game's ever expanding open world. One DLC that may be coming to us is the freedom to control characters other than Noctis. That means players will be able to explore and play which ever character that suits them best! However there are no further details revealed leaving us only excitement and suspense on what new things will be coming our way into the game. New dishes to cook perhaps?
His thoughts of  Lost Soul Aside
Lost Soul Aside was mentioned before him to catch his opinion of the game as it is a game inspired by Final Fantasy XV. Wan was truly amazed with the game trailer of how a sole developer was able to develop the game with rich graphics and details in the open world. He is excited to play the game and experience the work of art. However he would not compare the game with Final Fantasy XV because he respects the game as it is and he just would like to enjoy a beautifully made game.
His wisdom for people pursuing a career in a Japan game company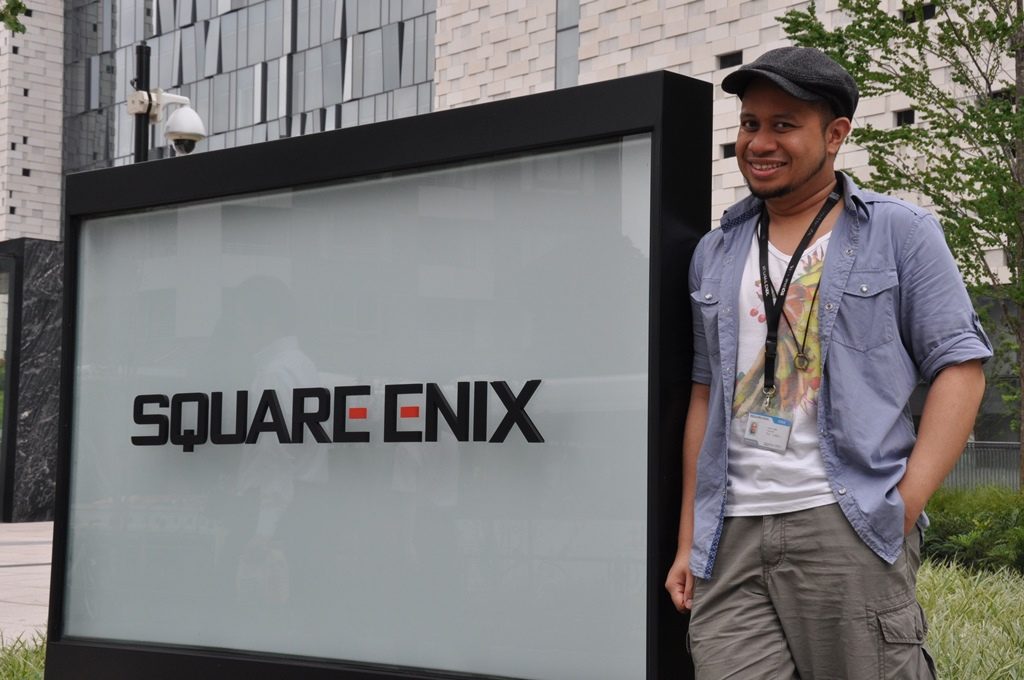 Japan is well known for many of its creative and famous game franchises. They hold many giant companies in the gaming industry; Square Enix, Nintendo, Konami, Sega and Capcom to name a few. While many game developers or programmers dream of joining one in the near future, one must know how to get in. Wan has a few of his own advises and it should be heeded. As mentioned in a brief introduction of him working in Japan, Wan was hired for his uniqueness. He advised people to show their uniqueness of what you can do; something that they cannot do or have never done before. Here are some of his advises:
a game is not just about its unique selling point or game mechanics
do not just play games
explore and gain real life experiences
put in those experiences into the game
Last but not least, here's a picture of us of the evening!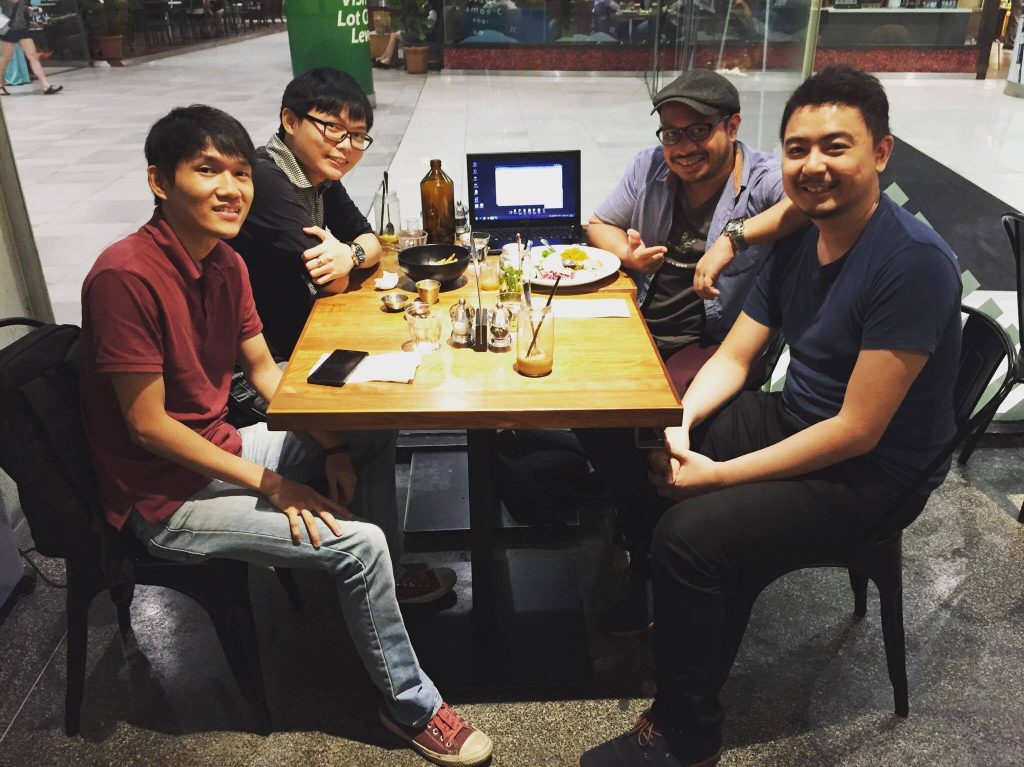 Source: wanuxi
---
Check This Out Next
---