Diablo 4 doubtless has much expectation riding on its release, with over a decade since the launch of Diablo 3, Diablo Immortal aside. I had the opportunity to try out a limited build, for a glimpse of what Sanctuary is like in the wake of the events of the previous game.
Underscoring an importance on storytelling, Sanctuary is once again embroiled in a new wave of darkness with the return of Lilith, daughter of Mephisto, the Lord of Hatred. I am let loose into Fracture Peaks after escaping a mysterious disemboweling of my horse, to follow the trail of creeping horror in one 80GB package.
Build was played on PC. You can read our interview with Rod Fergusson, General Manager for Diablo, and Joe Shely, Game Director, here, for further context.
BUT FIRST, THE OPTIONS
There's quite a slew of settings available, with some of the more notable ones to me being:
Colourblind options for

Prota-, Deutra- and Tritanopia

Performance tweaks such as temporal reconstruction (described as rendering

half as many pixels per frame and use data from previous frames to construct an image), DLSS

Spatial sound optional
Chat settings

including background opacity, quest dialogue, timestamp, chat colours, filters

Resizing of subtitle text and subtitle background opacity, though it does not have a live preview of it now
Due to the nature of the in-development build, I do want to mention I suffered a lot of frame rate issues despite turning all the settings down where possible, to acknowledge the issues for completion's sake.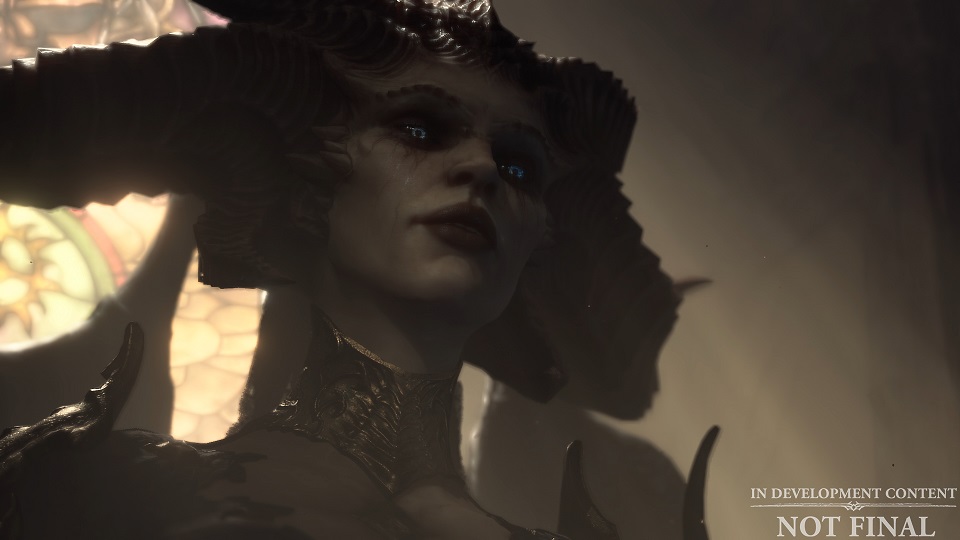 TREKKING THROUGH THE SNOW
Despite turning down the graphics, I am honestly still impressed with how the game looks like. Sure, the close-ups and details might suffer some, but overall, it's quite stunning. I make tracks in the snow, as does all moving creatures I find in the frigid Fracture Peaks. Snow falls relentlessly, hardly covering up the remnants of demons and the undead I have to destroy to make it to my next destination.
Customization is one of the bigger features of this game. Outside of presets, you can fiddle with your face and body type, hair style and facial hair, accessories consisting of markings, jewelry and makeup, and a palette of skin tones, hair, eyes and markings. There wasn't an option to mark out individual areas for separate colours, so no heterochromia yet. Once you finalize your character's look – or have just randomized it until you like it – you can opt to turn on Hardcore permadeath mode, or simply proceed. 10 character slots were available at this time.
Additional customization is through the transmog system that I didn't try out. It's basically unlocking new fashion pieces from the various equipment drops you can get. Since your character appears in cutscenes with whatever gear you're wearing, making sure you have the Look TM to defeat demons can be your form of end-game.
FURY RISING
I will be separating combat from the exploration. The build only went up to level 25, halfway to the Paragon boards that unlock at level 50.
If you've played any Diablo game, or any top-down action RPG, the basic controls haven't changed much, if at all. The left mouse button will be the primary way you interact with the world, with any hotkeys being towards the bottom of the screen.
Health Potions now work on a limited charge system so you can't hoard 100 of them at a time. There also aren't separate Mana potions, with a general resource system on the right of the hotbar. It starts out empty for the Barbarian until you build up Fury, or Mana slowly regenerates over time so you can't spam spells as a Sorcerer. HP potion charges can drop at random from destroying or interacting with objects in the overworld, or from hitting enemies.
These potions can eventually be upgraded at certain level thresholds, requiring additional gathered materials. Potion effectiveness upgrades are on a per character basis. It's quite reminiscent of your typical 'Soulslike' Estus Flask.
At every level, you gain a skill point to then distribute into the skill tree. Nodes unlock as you spend more skill points to lead into other new skills or related passives. A given skill may have two separate modifiers, where you can only select one. It's easy to respec at any point with just a hit of a button, though the gold cost will increase the more points you reset.
Later on, your skills can be slotted into Enchantment slots, unlocked after a quick quest. For my Sorcerer, this allowed me to slot in Chain Lightning to grant me a passive to cast Chain Lightning once I used 100 mana. This is just one example, with my other active skills offering different passives. It does feel like I can hyper-specialize depending on what I spec into.
Then, we have an Evade mechanic which is like your dodge button. It's on a short cooldown with only one charge available for all classes, primarily used to help you reposition in a fight.
Other things to note are:
Challenges, e.g. defeating X number of an enemy type. These can grant phrases to use for your profile title
Aspects of Power as rewards from first-clears of dungeons, to affix onto your gear
Weapon expertise levels, available for the Barbarian, granting bonuses when you use certain weapon types often. This tab is not available for the Sorcerer
TOWARDS THE NEXT OBJECTIVE
Town portal scrolls are no more! Just hit your hotkey and it's off to town or anywhere as long as you have the waypoint unlocked. To help you traverse the map – and it is a big one – there's a mount system, but it didn't appear available in the build. It also only unlocks after a quest and hitting at least reaching level 15, so you will need to do at least some walking first.
As you wander around, there will be marked spots to perform a special action to jump across, or duck under, as marked by some ghostly footsteps and an arrow marker on the map. Otherwise, you cannot ordinarily jump or traverse the terrain in this method. This could lead you to other special tiles which give you a sweeping view of a point of interest, moving the camera for a cinematic view. These moments are genuinely breathtaking, giving you a better look at the architecture or environments that have been lovingly designed.
If you're not heading to the next story objective, the world is littered with mini-dungeons or one-off instances, with a variation on search and / or destroy 'missions', as it were. The layouts of these areas very quickly get repetitive, so I didn't find them especially inspiring enough to want to hit the 'reset dungeon' button outside of wanting to get more loot.
The dynamic events are a little bit more fun, with active events marked as orange circles on your map. These could be defeating waves of monsters, protecting objectives, that kind of thing. Then, you also have a Master objective you can fulfil to get a better chest once the event completes. These will also be a source of Murmuring Obols, for you to purchase items of random rarities – but of specific item types – from a Purveyor of Curiosities.
I imagine you can luck into some Legendary, though you should be saving that for the later game since the level scales with you. You could buy their keys for locked Silent Chests, of which I only encountered one without having a key on me.
General exploration and quest completions get you Renown, which unlocks both account-wide and character-specific rewards. I mentioned it off-hand, but yes, the map is quite massive. Older areas scale to your level, and you can stumble into higher-levelled areas. I even came across random quest items dropped from enemies or just some rocks, which lead me to some far flung NPC for a bit more story and experience. The non-linearity means you can see markers for later Acts with suggested levels, though that doesn't have to stop you from heading there.
Shrines remain a fixture in both the dungeons and the overworld for a variety of temporary buffs. Exploration is definitely encouraged as you can find Altars of Lilith which grant incremental permanent buffs to all characters of a given Realm. Altars of Lilith are NOT marked on the map, so keep an eye out!
I feel like I should also point out that the world is shared with other players making Diablo 4 MMO-like. I mostly mention this because I didn't log out at a town area and I got swarmed by enemies and died most unceremoniously because there's no pause and I was still loading in.
ME GO UNGA BUNGA
It was comical how much easier it felt to play a Lightning Sorcerer in the early game in World Tier 2 to a Barbarian in an easier World Tier 1, which can definitely change should I have a combination of better build and equipment. Speaking of, I saw up to 5 World Tiers from easiest to hardest: Adventurer, Veteran, Nightmare, Hell and Torment. Tiers are unlocked through campaign completion and unique dungeons within world tiers.
Upgrading gear requires resources obtained from the overworld or salvaging items, and it can quickly get expensive in gold cost even though I felt getting gold was quite easy.
This also applies to upgrading lower quality gems into higher quality ones if you have enough of them, to socket them into gear. Socketing them into different items will grant different bonuses, with items also capable of getting more sockets. I couldn't check how many sockets I could slap on to some basic item since I wasn't sure if the relevant item was available.
As it stands, the overall play was quite alright. Fracture Peaks is already quite a large area, which felt empty without other people to run around in it with. My feelings could change once the world actually feels more lively with the presence of players, just shooting the breeze (and demons) together.
Diablo 4 is okay. It's okay.
---
Check This Out Next
---