The mobile version of Ys VI: The Ark of Napishtim (a.k.a Ys 6 Mobile) is running an open beta in Malaysia! The mobile version of the sixth entry of an over 30 years and running cult classic JRPG series allows you to take the adventure wherever you go.
Ever since Ys 6 Mobile TVC got onto social media, the video has received close to 200k views in less than 4 days, and the mobile game is still trending and spreading like wildfire!
Developed by Japan's most prestigious game studio, Falcom, the mobile port of the highly rated 2003 console JRPG made its mobile debut in Japan July 2021, followed by Taiwan, Macau and Hong Kong. It has since topped both iOS and Android app store charts, accumulating over 3 million downloads thus far. Malaysia is now able to check out the hype over Ys 6 for themselves with the open beta, to experience one of the most anticipated JRPG mobile titles of the year.
Ys 6 charmed many players when it was initially released almost 20 years ago on PC and consoles; the gripping story, lovable characters and engaging gameplay made it a classic.
To further sweeten the deal, you can claim this exclusive redemption code in-game NOW:
PRECANAAN
This redemption will get you an in-game gift pack worth up to RM20. Be sure to claim it as soon as you can, as it is available from 6 May to 15 June 2022 only (T&C apply). Download the game HERE on both Google Play and App Store.
Immerse Yourself in the World of Ys With Cross-Player Functionality and Enhanced Graphics
Start your delving into Nihon Falcom's Ys series with Ys 6 Mobile! Enjoy the classic story in a majestic world with updated graphics that still maintains the original PS2 aesthetic. Old and upcoming fans can look forward to features available in this version. Naturally, all backed with the amazing soundtrack as you complete various in-game challenges.
Meet other players online and build your own roster to tackle the story, dungeons, raids or just some treasure hunting fun. In a more social and interactive world, find like-minded players who enjoy interior decorating, farming or gathering for a guild or raid parties.
You could also find love. You can culminate your romance with a grand in-game wedding and couple gifts. While you're looking for that significant other, you can conjure pets you can style to follow you around, which can also have combat abilities to help you along the way.
Journey across the beautiful lands of Ys
Embark on a breathtaking adventure across the Canaan Islands, from the Holy Zemeth Sanctum to Redha Village, Rimorge Port or the mountains and mysterious underwater caves and uncover the ancient secrets of the land. Journey with Adol, a legendary adventure in his own right, and his pet companion. After an attack by a fleet of Romun ships, Adol finds himself on the Canaan Islands, discovered by the daughters of the chieftain of Redha Village. And so the adventure begins…
Customize your characters' appearance, and pick from 5 different classes (4 at launch). Be a brutal warrior, agile ranger, stealthy samurai, clinical assassin, or a spellbinding mage. From there, specialize into one of 9 sub-classes to best suit the role you want to play.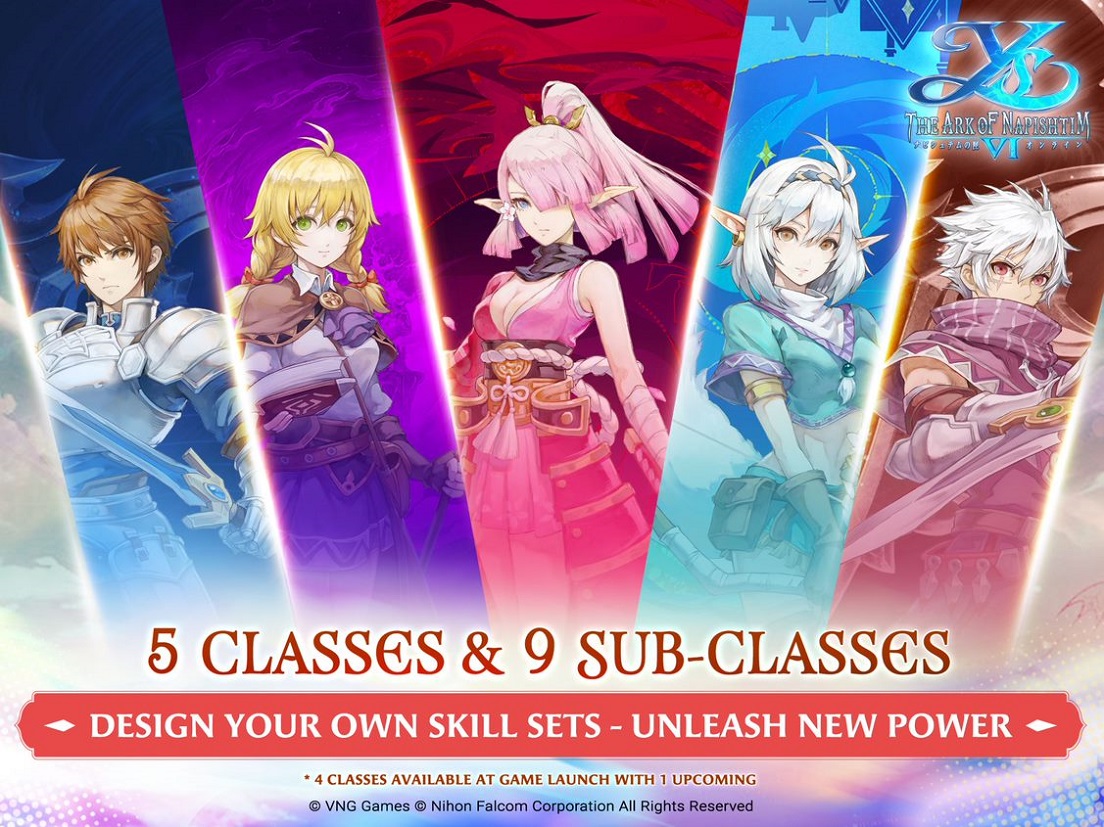 Don't miss out on an adventure millions across the world have already embarked on, and "Say Yes to Your Destiny" when the Ys 6 Mobile open beta launches in Malaysia on 6 May. Download it on Google Play or the App Store!
Learn more about Ys VI Mobile through the official website, and check out the game's social pages on Facebook, Facebook Group, Instagram, TikTok and Youtube.
Ys 6 Mobile VNG
Android, iOS
Ys 6 Mobile is the next generation masterpiece from Ys – an RPG classic series that has captured the hearts of millions of adventurers for over 30 years. Ys 6 Mobile not only perfectly replicates the legendary story of Ys VI: The Ark of Napishtim, but also opens up new chapters of exciting adventure. Immerse yourself in the familiar world of Ys 6, with all original characters and classic maps in a more refined form and refreshing playing experience.
---
Check This Out Next
---