When Crime Boss: Rockay City first announced and showcased its star-studded cast, with the likes of Chuck Norris, Michael Rooker and Danny Trejo my excitement for the game immediately shot up, how could it not? A First Person Shooter heist game similar to that of the Payday series featuring Chuck Norris as The Sheriff, seems like an already simple yet interesting premise that could get anyone excited for.
Being a crime boss with the promise of managing your own criminal empire and going up against the likes of Danny Trejo with Michael Rooker all the while utilizing Unreal Engine 5 definitely sounds like it could prove to be quite the hit. With that being said, does Crime Boss: Rockay manage to steal my attention? Read on to find out more.
As aforementioned, Crime Boss: Rockay City is primarily a heist game and what makes it different from the Payday series is that it has an additional gameplay sequence to it. This comes in the form of Turf Wars which is due in part to to the main story as Travis Baker (Michael Madsen) who is the character you control in the story mode wants to be King of Rockay City, and that involves taking out rival gangs territories.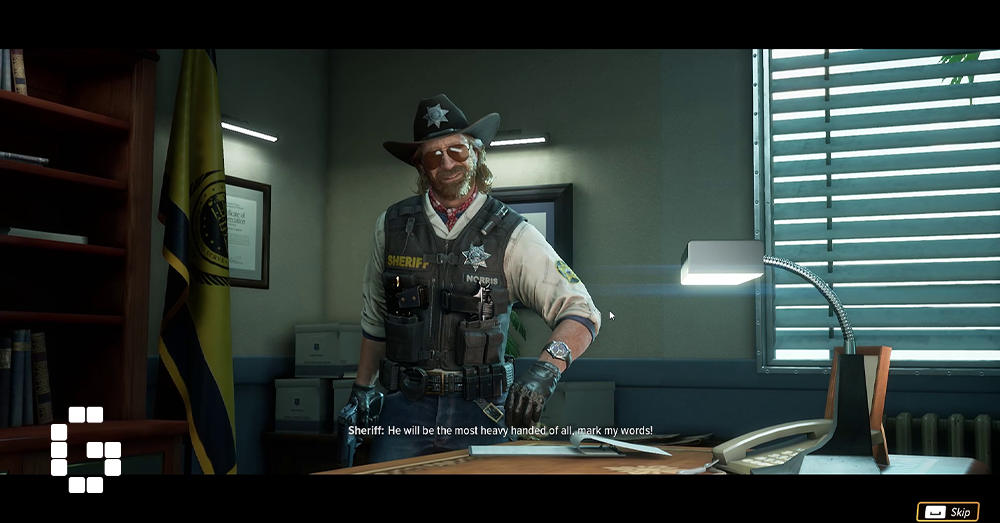 There are 5 crime leaders in Rockay City,  there's Khan, Heilo, Dollar Dragon, Don Barbaro and Travis Baker, all of which own their respective territories on the map overview. Attacking territories is mostly a numbers game, you hire soldiers before heading out, and the more soldier you have, the better your odds at successfully winning that takeover. 
Planning Ahead
Before heading out on missions, you can either use the different characters available or hire them to accompany you when carrying out the mission. Different characters have different loadouts to them which also gives them unique stats, you could leverage this by choosing the best person for the right job and ensure the mission goes more smoothly. Not everything is positive however as some of these character do take a higher cut of the loot and carry with them some form of disadvantageous stats as well. 
Once in the mission, strategically managing your small band of misfits is the key to success, you do not necessarily need to play as Travis Baker throughout the mission, you may seamlessly swap to the different characters within your team to better position them or give them a general direction to go to or just follow you. Missions are pretty straight forward as it has you collecting all the loot you can find, stuff it on the getaway vehicle and end the mission via the vehicle.
Different missions do yield different outcomes as there are certain missions that will cost more than the payout, so there is some form of strategic thinking to it, albeit a bit straightforward.
After completing missions and levelling up, you may add unique attributes to Travis Baker which makes him a more competent Crime Boss. Other characters can level up as well so its best not to lose anyone in the field.
While this was interesting in the first few moments, it got extremely repetitive as I progressed much further into the game, Being stuck doing the same thing over and over again felt like quite a chore to go through and there were not much variations to the overall gameplay that encouraged me to keep on going to rob another Jewelry Store.
Another interesting aspect to take note of for this game is that death resets progress. Which does make it a rogue-like with the only difference being that If by any chance that you do end up dying in a takeover or heist gone wrong, the game will restart the game to Day 1 so its best if you play this one a bit more cautiously.
Choose Your Mode
The Campaign Mode is the mode I spent most of time in, it offers a wider variety of things that helps break the monotonous nature of the gameplay in this game. In the Campaign Mode, the game will have you doing the said activities:
Taking territory – You and your army move in on an enemy turf and kill all the defenders.
Robbery – The overall core experience of the game, you loot and get out before it gets too hot
You can also strengthen your army and make more money by activating certain goals in the Goals tab and from there you may select the mission that best suits your current situation.
Other characters that were featured in the trailer are present in the campaign mode as well, inside the Office, Casey (Kim Basinger) will act as the Personal Assistant and manage all the money and loot that players can sell on the Black Market. Here you may also request for a loan (if you're strapped for cash) and even buy different type of assets such as furniture to decorate your office the way you want it to look.
Next you have Touchdown (Michael Rooker) and Glove (Danny Glover) who join your team after you progress through some of the main missions. These characters have different traits and offer different bonuses and specialize tasks which you can utilize and bring them along if the situation is fitting.
Overall the campaign mode did offer some kind of variation in terms of gameplay, however I personally did not find the loop satisfying because after a couple of missions in I genuinely felt the monotonous nature of the game weighing on me.
Following that we have the Quick Play mode. Quick Play is essentially you and three other characters, (can be played online or offline) doing the different jobs that are available or take on bigger contract jobs for bigger payouts. This can be done through the "sessions" tab.
Stealing The Attention
The graphics look great, the characters look exactly like their celebrity counterparts and environments and stages look well detailed and beautiful as well. Its just a shame however that some areas are recycled and has a very familiar feeling to them after the first 10 missions or so. Regardless, its one of the few games that I have played where the likeness of a celebrity character is done well, even with most recent titles like WWE2k23, certain superstars look way different than their real life counterparts.
This is probably due in part on the use of Unreal Engine 5 where even the the guns look polished and very good as well, the weathering patterns as well as some minute damage detailing them is a great positive as you would spend more time aiming down the sights and looking at the guns in this game as there are no crosshairs.
I believe this was the biggest strength of the game, which is the overall visual presentation. While the gameplay loops leave a lot to be desired, the visual fidelity on display here gives a sneak peak on how true to life the next-generation of games would look in the coming future.
Verdict
Crime Boss: Rockay City is a difficult game to recommend and not recommend as well. It strikes as a perfect middle of the road kind of experience, you have these characters that look like their real life counterparts with the environments and guns looking amazing, but on the other hand, the major gameplay loop is just boring and got repetitive fast.
While the campaign does offer some small variation to the overall experience through Turf Wars, unfortunately, much like the heist game mode, it does get rather old after the first five or so Turf Wars that you participate in. Sure you can also get tense moments from playing the multiplayer and by upping the difficulty, but all that feels simulated which meant that the excitement was not earned.
In any case, it all boils down to whom this game is actually for, I believe that fans of heist games would enjoy it more, it looks very good and it has you doing activities very much similar to Payday. It definitely did not win me over due to its repetitive nature but the impressive visuals did kept me playing and going through a heist or two. Hopefully with updates we see more variety in terms of level design and campaign structure as well as a more seamless open world kind of experience rather than playing mission to mission.
| Pros | Cons |
| --- | --- |
| Nice graphics | Repetitive gameplay |
| Core gameplay is nice | Reused locations in some maps |
Crime Boss: Rockay City is on PlayStation 5, Xbox Series X|S and PC. You may find further details regarding the game at their official website.
---
Crime Boss: Rockay City was reviewed on PC and the code was provided by the Publisher.
---
Check This Out Next
---