ASUS ROG unveils the ROG Flow X13 – ROG's first 2-in-1 convertible ROG gaming laptop – and the ROG XG Mobile, an innovative ultraportable external GPU that augments the Flow X13's gaming performance and connectivity.
Ultraportable 2-in-1
The Flow X13's 360° hinge lets you utilize standard laptop mode for gaming and multitasking, easily swapping into tablet mode to swipe through content or take handwritten notes with compatible stylus e.g. ASUS Pen. The touchscreen is protected by Corning Gorilla Glass, which resists scratches from everyday use. You can also put it in stand mode to get the display closer to you, or tent mode to minimize the device's footprint. These positions give the cooling fans more unobstructed access to airflow, lowering temperatures by up to 8 degrees.
The 13-inch chassis is slim and lightweight at only 15.8 mm thin and 1.3 kg. A textured exterior with a wave-like design adds style while providing a secure, fingerprint-resistant grip for easy carrying. Integrated one-touch login also allows the Flow X13 to wake up like a smartphone.
Powerful processor
Up to an AMD Ryzen™ 9 5980HS CPU with 8 cores and 16 threads provides the performance needed for demanding workloads, with a special Flow X13 Supernova Edition to be available with the top-of-the-line Ryzen™ 9 5980HS, which scales up to 4.8 GHz on a single core.. The Ryzen 5000 Series Mobile Processors feature a new "Zen 3" architecture backed by a large on-chip cache up to 20 MB. The HS designation indicates chips that have a 35W power envelope tuned for ultraslim chassis but are capable of scaling up to 54W when thermal and power headroom allow.
Up to 32GB of memory provides smooth multitasking. The Flow X13 uses LPDDR4X-4266 RAM, which consumes 50% less power and generates less heat than typical DDR4 memory. LPDDR4X memory also takes up 46% less surface area on the motherboard thanks to smaller chips and simplified traces, leaving more room for a powerful CPU and GPU.
A PCIe® SSD provides high performance and up to 1TB of capacity, giving users ample storage space for games and professional portfolios.
Gaming to go
The Flow X13 incorporates a GeForce® GTX 1650 GPU capable of hitting clock speeds up to 1255 MHz at 35W in Turbo mode with ROG Boost, with the ability to draw an additional 5W via Dynamic Boost, enabling strong performance in the latest games.
Choose either the 120 Hz FHD panel or the optional 4K Ultra HD display provides a high pixel density well-suited to artistic work. On both displays, Adaptive-Sync synchronizes the panel's refresh rate with the GPU's frame rate to reduce lag, minimize stuttering, and eliminate visual tearing.
Both display options are factory-calibrated to meet the PANTONE® validation standard for color accuracy. They also have a taller 16:10 aspect ratio that provides more vertical space for games and creative workflows.
Unhindered cooling
The Flow X13's cooling system is fine-tuned to enable high performance within the small chassis. The liquid metal thermal compound reduces processor temperature up to 10°C compared to standard thermal paste. Heat itself is transferred away from the CPU, GPU, and VRM by 2 heatpipes, which have a slimmer shape to save space and increase the contact area for thermal transfer. A retooled thermal module fits three large heatsinks and fan outlets inside the system, far more than typically seen in a device this size. Together, these heatsinks offer 44,230 mm² of surface area for fast and efficient heat dissipation.
Dual Arc Flow fans generate maximum airflow with minimal noise. These fans are based on a new design with 84 blades that vary in thickness to move more air. The blades are capped with special tips that follow an aerodynamic wave pattern to stabilizes the airflow and reduce noisy turbulence. These advancements improve airflow by up to 13% without increasing noise. With 0dB Technology, the fans switch off completely when CPU and GPU temperatures are low in the Silent operating mode. This makes cooling truly silent under light workloads.
The self-cleaning thermal module uses anti-dust tunnels to channel particles away from the fans and heatsinks. Minimizing build-up helps the cooling system operate more reliably over time, giving the laptop a long life of fast and flexible gaming. ROG's latest design shortens the tunnels to make space for both larger fans and higher airflow.
World-class mobility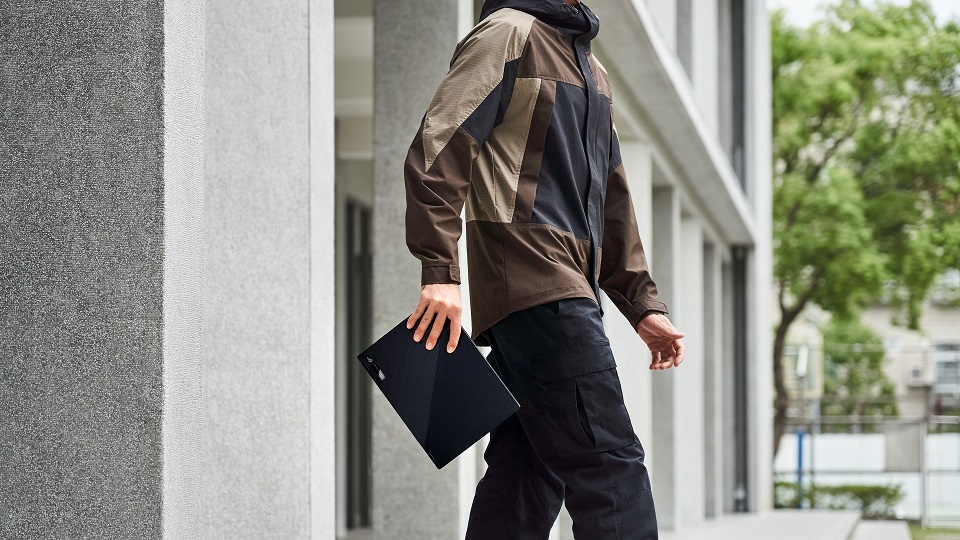 The long-lasting battery powers the Flow X13 for up to 10 hours of video playback. Type-C charging support allows users to replenish the battery from portable power packs and third-party adapters, enabling more time away from wall sockets.
The Flow X13's streamlined 100W Type-C adapter measures just 75 x 75 x 28.8 mm and weighs only 300g (10.6oz), making it much smaller than the power bricks typically required by gaming laptops. Thanks to fast-charging technology, the battery can be replenished from 0% to 50% in only 30 minutes.
Crystal clear sound
Virtual 5.1.2-channel surround sound powered by Dolby Atmos provides rich, directional audio. Smart Amp technology keeps the onboard speakers within thermal and excursion limits, allowing users to enjoy a louder and more engrossing experience.
To improve voice chat, advanced Two-Way AI Noise Cancelation removes unwanted sounds from both input and output audio. It can be applied to any device and even customized on a per-app basis, so users can limit noise-canceling to chat apps without affecting in-game sounds. Gamers can communicate better with teammates, creators can record cleaner audio in any environment, and everyone can enjoy clear conversation.
Because Two-Way AI Noise Cancelation runs on the CPU, the GPU is free to focus on maximizing frame rates.
Full-sized convenience
For more comfortable typing and gaming, the Flow X13's edge-to-edge keyboard design incorporates a full-sized, desktop-style layout into its compact chassis. The ErgoLift hinge raises the back of the keyboard as the system is opened for a better typing angle.
The keys feature curved caps and a 1.7 mm travel distance, further improving comfort. N-key rollover ensures multi-key inputs are registered accurately at speed, and tasteful white backlighting makes every key easy to find in low-light environments.
The Flow X13 also provides ample connectivity, including a USB 3.2 Gen 2 Type-C port that supports both Power Delivery and DisplayPort 1.4. An HDMI 2.0b port allows another display to be connected. A USB 3.2 Gen 2 Type-A port is ready for gaming mice or gamepads, and a 3.5 mm jack accommodates headphones or headsets.
For extra connectivity, the XG Mobile's I/O hub allows users to expand their setup. Otherwise, the proprietary XG Mobile connector includes an additional USB 3.2 Gen 2 Type-C port that provides extra flexibility.
ROG XG Mobile
ROG is a pioneer in the field of external graphics, having introduced the very first eGPU dock, the XG Station, in 2007. The new ROG XG Mobile introduces a streamlined design that offers an innovative new way to bring desktop-class gaming performance to an ultraportable form factor.
Weighing only 1 kg (2.2 lb) and measuring just 155 mm (D) x 208 mm (W) x 29 mm (H), the XG Mobile is 6% the size of typical eGPUs despite featuring up to a GeForce RTX™ 3080 GPU clocked to 1810 MHz at 150W with ROG Boost. The top-of-the-line GPU is based on the new NVIDIA Ampere architecture, which combines CUDA cores for programmable shading with 2nd generation RT cores for advanced ray tracing and 3rd generation Tensor cores that offer greater throughput for AI-accelerated DLSS graphics.
Efficient vapor chamber cooling keeps the XG Mobile operating at ideal temperatures despite its small enclosure. The compact vapor chamber design increases contact surface area by 54% compared to heat pipes, maximizing thermal transfer to the heatsink fins for rapid dissipation.
The XG Mobile connects directly to the CPU with a custom PCIe® 3.0 x8 interface that's faster than Thunderbolt 4. The interface dedicates 63Gbps of bandwidth exclusively to graphics, resulting in significantly higher performance than eGPU alternatives. A separate USB 3.2 Gen 2 connection adds 10Gbps just for I/O, and both share a 41cm cable.
The USB link drives the XG Mobile's multi-port hub, which has four USB Type A 3.2 Gen 1 ports, a full-sized SD card slot, and a Gigabit Ethernet port. DisplayPort 1.4 and HDMI 2.0a display outputs connect directly to the external GPU.
An integrated 280W power adapter supplies the XG Mobile and laptop simultaneously, so users don't need to carry a separate power brick.
Stay tuned to the upcoming ROG Malaysia official local launch announcement for the availability and pricing.
SPECIFICATIONS: ROG Flow X13
Processor
AMD Ryzen™ 9 5980HS Mobile Processor

AMD Ryzen™ 9 5900HS Mobile Processor

AMD Ryzen™ 7 5800HS Mobile Processor

Graphics
NVIDIA® GeForce® GTX 1650 Laptop GPU, 4 GB GDDR6 VRAM
Operating System
Windows 10 Pro

Windows 10 Home

Display
13.4-inch 16:10 UHD WQUXGA (3840 × 2400) Touch display, IPS 60 Hz, 116% sRGB, Pantone® Validated

13.4-inch 16:10 FHD WUXGA (1920 x 1200) Touch display, IPS 120 Hz, 100% sRGB, Pantone® Validated

Scratch-resistant Corning® Gorilla ® Glass

4.9 mm slim side bezels

Cameras
720p HD video recording
Memory
On board LPDDR4X RAM 4266 MHz 8 GB x 2 Dual channel

On board LPDDR4X RAM 4266 MHz 16 GB x 2 Dual channel

Storage
1 x M.2 2230 PCIe® 3.0 x4 SSD 512 GB/1 TB
Keyboard
White light backlit chiclet keyboard, supports n-key, 1.7 mm key travel distance
Audio
2 x Speakers, Dolby Atmos & Hi-Res Audio (HRA) certification, supports Smart Amp & Two-way AI Noise Cancelation

Array microphone

Wi-Fi / Bluetooth
Wi-Fi 6 (802.11ax)

Bluetooth v5.1(*BT version may change with OS upgrades.)

I/O Ports
1 x ROG XG Mobile interface (PCIe® 3.0 x 8)

1 x USB 3.2 Gen 2 Type-A

2 x USB 3.2 Gen 2 Type-C (DisplayPort 1.4 + PD support)

1 x Audio combo jack (mic-in & headphone)

1 x HDMI (HDMI 2.0b support)

Battery
62Wh
Power Supply
100W USB Type-C™ power adaptor

Supports USB Type-C™ Fast Charge up to 100W

Size
299 x 222 x 15.8 mm
Weight
1.3 kg
SPECIFICATIONS

: ROG XG Mobile
Graphics
NVIDIA® GeForce RTX™ 3080 Laptop GPU, 16 GB GDDR6 VRAM

NVIDIA® GeForce RTX™ 3070 Laptop GPU, 8 GB GDDR6 VRAM

Graphics Connection
ROG XG Mobile interface (PCIe® 3.0 x8) and USB 3.2 Gen 2 Type-C combo port
Ethernet Connection
Gigabit LAN 10/100/1000 Mbps
I/O Ports
4x USB 3.2 Gen 1 Type-A

1 x HDMI (HDMI 2.0a support)

1 x DisplayPort 1.4

1 x SD card reader

1 x RJ-45 LAN Jack

1 x DC input jack

Power Supply
Integrated 280W power adaptor
Size
208 x 155 x 29.6 mm
Weight
1 kg
---
Check This Out Next
---