I was excited when I learned that Jordan Peele was producing a new Candyman film. The original Candyman (1992) is an amazing psychological slasher movie. The film gave us a chilling horror icon in Tony Todd's Candyman alongside nuanced themes of racial violence and marginalization. Giving that to the guy that made two of the best horror movies in recent years (Get Out, Us) which also deal with racial issues seemed like a perfect fit.
Sadly, while the new Candyman has some fascinating ideas and strong visuals, it isn't able to live up to its potential. It's let down by weak horror and choppy writing which stops stop it from being truly great.
The Story of Candyman
For the uninitiated, we should quickly go over what exactly Candyman is. The original film was based on a short story by Clive Barker. It's about an academic named Helen Lyle who investigates a dilapidated housing project called Caprini Green and its urban legend of Candyman who they blame for recent murders. Candyman is a spirit who will kill you if you say his name five times to a mirror. Helen tries this and is soon haunted by the spirit, a large man in a suit with a hook for a hand, covered in bees and with a very seductive voice, she slowly descends into paranoia and madness. Like Freddy Kruger, Candyman gains strengths as more people believe and fear in his legend and he frames Helen for a new series of murders to keep him immortal.
The new Candyman is a sequel that takes place around 30 years later. The main character is now Anthony, a struggling black artist looking for some new inspiration. He is told about what happened to Helen and decides to investigate Candyman for his new art exhibition only to find himself similarly absorbed into the Candyman legends as killings start happening out again.
The Imagery of The Hive
Let's start with what the film does well, and the prime being the visuals. Nia DaCosta certainly knows how to shoot a movie; the cinematography is beautiful. Every shot is well crafted, from the buildings to the kills. Several of them could have been great pictures just on their own. I especially love the work done with mirrors. Since Candyman appears through a mirror, DaCosta makes sure to include many wide shots with reflective surfaces and lots of objects in them that conveniently look like a person.
I also love the idea of telling stories and character backgrounds through shadow puppets. It's an eerie yet stylistic way of covering information in an engaging fashion and keep with the urban myths quality of the legends being told.
The Players on The Stage
All the actors do a good job as well. Yahya Abdul-Mateen II does an amazing job as Anthony McCoy. At the beginning of the film, he's first seen as a somewhat pretentious artist, but he truly sells the descent into madness. I've seen quite a few people claim that his character gets too preachy with the politics, but I honestly believed a lot of that was set up to make him seem a little hypocritical. He's speaking out against gentrification but lives in a gentrified housing block. He dislikes how white art critics only seem interested in black tragedy when it makes headlines but still wants to sell his art to these same people which is partially why he investigates Candyman in the first place.
Upon finding the ghost though he seems to get far more than he bargained with, learning about the true horrors of his past as they slowly consume him. Abdul-Mateen II is able to bring the character a full range of emotions to where you truly believe the pain and emotional break he's going through. Not to mention the great-looking yet disgusting body horror he goes through.
The supporting cast is likewise well-acted. Nathan Stewart-Jarrett is great as the comic relief who basically says what any sane person would be thinking. Antony's girlfriend Brianna played by Teyonah Parris while not being that interesting on her own has a believable relationship with Anthony, I could really route for them as a couple.
The Writing on The Wall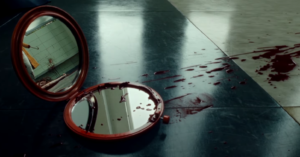 This however does bring me to the first problem with the film as that's the horror. Part of the reason Candyman was such an effective horror movie is its use of physiological horror. In the original, Candyman would appear in front of Helen at any time. She'd blackout, people around her would die and she would wake up covered in blood. This would eventually come to the point where she was being hunted by the police.
This created a heavy sense of paranoia that was built throughout the film. It was never clear if Candyman was real or if Helen was doing the killing and he was just a figment of her imagination. Furthermore, all Candyman's victims were random people she came into contact with, so you were never sure when he was going to show up.
In Candyman (2021) the kills while visually great are far more conventional. Like a more typical slasher, the victims are intentionally unlikeable, so you don't feel bad when they die. It is also abundantly obvious that Candyman is real here. The kills are very telegraphed, so you know when they're going to happen. Furthermore, while it's talked about on the news, you never seem the authorities try to get involved and badger Anthony so that frantic sense of maddening pressure to find the real killer isn't there.
The result is that for a horror film, it's just not that scary, lacking that unpracticable sense of dread that the original had.
Say His Name
There are also the problems with Candyman himself.
What made Candyman so iconic was the frightening yet seductive performance by Tony Todd. From his imposing figure to his booming yet whisper-like voice that passes straight into your soul, exactly how the characters hear it. Here, you just don't see enough of him. His kills look cool but he's mostly off-screen and he doesn't talk until near the end of the film. This makes the character himself feel less threatening.
In the original, his presence was all-encompassing. No matter where you run, you always felt he was there waiting to make you his victim. In the new movie, his rare appearance and lack of voice heavily lower the tension. A lot of characters talk about Candyman, who he is, what he represents but the imposing atmosphere he created just isn't there.
The Whisper in The Classroom
I do to an extent understand this choice and how it ties into the themes of the movie. The previous Candyman was made by white filmmakers about a white main character, the new film is by black filmmakers attempting to re-interpret Candyman more in line with black experiences without changing the core aspects of the character.
With minor spoilers, the new Candyman is less about the singular Candyman but more about the idea of Candyman as a collective manifestation of racial injustice and the plight of poverty-stricken black residents of Caprini Green. The many black men who are unjustly killed by white bigotry are absorbed into the Candyman legend and keep the ghost powerful. In this regard, the film is almost about re-discovering who Candyman is. This is to the point that one black character wants Candyman to return as he sees it as the only way to stop further gentrification and to defend what's left his marginalized community.
This isn't a bad idea at all. Horror movies have always had political elements, even the original Candyman used the character as a metaphor for racial violence. The original film as a whole can be interpreted as being about a naive white woman being exposed to and experiencing the same hardships black communities face daily, violence, lack of trust, police harassment before eventually dying for a crime she didn't commit. Double Toasted's Korey Coleman even referring to it as a "white savior film gone wrong".
The new films tell a similar tale but instead with a black man re-discovering the horror of his past, how these horrors are caused by white cruelty against innocent black men and how they fuel the myths of Candyman. It goes further however and suggests that as long as racial violence exists, black communities like Caprini Green will continue to believe and even seek out Candyman as a way of protecting themselves when they have nothing else despite how malevolent and violent he is.
"Without These, I am Nothing"
These are fascinating ideas that can make for a fascinating movie, the original Candyman is a testament to that. But movies are more than just ideas. There is also clear writing and storytelling, and I'm afraid these cool ideas can't make up for the weak execution.
In general, while the first half of the film does a good job setting up, the second half's payoff is extremely messy. A character is revealed to have a tragic backstory, and it goes nowhere. The film takes time to show us these completely unrelated characters getting killed, again it feels like a distraction that has nothing to do with the main plot.
The ending of the film felt very incomplete, like an extra half an hour of footage was cut out. It wraps up its loose end without really explaining them and the film abruptly ends. The very last scene in particular is very jarring. Without spoiling anything, it was like something straight out of a superhero movie and felt out of place for what's supposed to be a horror movie about a character that even in this film, is shown to be killing innocent people. Yes, you can argue that's intentional and it's up to interpretation, but I don't think that was the case. It simply felt like the movie was trying to be too many different things and wasn't able to bring it together.
The Reflection in the Mirror
In the end, Candyman is a mixed bag, not terrible but could have been much better. I can see the good ideas in it, but the execution really lets it down. Its cast is strong but not given a lot to do. Its themes are fascinating but it lacks the focus to convey them to the audience effectively especially during its' rushed ending.
Despite the horror movie trying to be different, it feels more typical of the genre. In some ways, I'd say it even feels restricted by having to be a Candyman film, by the need to have the slasher aspects like forced predictable kills.
Perhaps it's unfair of me to constantly compare it to the original as well but it's a reboot/spiritual sequel, comparisons are inevitable. I also just can't help but feel a lot of what Candyman 2021 wants to accomplish was done better and more subtlety in the original.
I'm excited to see what Jordan Peel and Nia DaCosta do in the future and even any potential sequels this film could have. But I'm afraid that the new Candyman is a bad sting that needs some cleaning ointment.
If you're into horror, there is a new Fatal Frame game that you might be interested in.
The Review
Candyman (2021)
PROS
Great cinematography
Strong Acting All Around
Interesting ideas about racial violence and urban legends.
CONS
The titular character is not present and does not feel threatening.
It has a serious lack of fear and tension, feeling a bit too conventional with the horror aspects.
Second half feel disjointed, leading to a rushed and confusing ending.