There's nothing quite like a good midrange phone. While they're not always the flashiest or most powerful, their middle ground of affordability and quality makes them, in many cases, better than a premium model.
You especially get that with the Redmi Note 12 series, which sports a phone good enough to get you through your every day life, while sporting a camera high tech enough to let you savor it. The Redmi Note 12 Pro+ 5G is a clear standout of the series with a 200MP camera- more than enough to capture even the most stunning vistas better than the finest poet while all three of the phones sport amazing 120Hz displays for the first time in a Redmi Note series.
These phones are available to pre-order now, and all pre orders during April 6th to 13th will receive a free Redmi Smart Band 2. Worried about missing the pre order period? No worries, since the phones themselves begin sale on April 14th, and also comes with additional Free Gifts.
With Redmi's call to users to Live Vivid, let's take a look at how the Redmi Note 12 series helps you do all that without breaking the bank on you.
The King Of Cameras With The Redmi Note 12 Pro+ 5G
You don't see as many slam dunks for photography fans like the Redmi Note 12 Pro+ 5G, which boasts the 200MP camera complete with OIS- breaking new territory for the kinds of premium features you can include in a mid-range phone.
With a 200MP camera you don't have to worry about losing detail- whether it's the love of your life, a tear-jerking sunset or simply your cat having the audacity to fall asleep on the coffee table, the Redmi Note 12 Pro+ 5G will capture it all with AI assisted tools to keep it looking deserving of a museum spot.
It's also got the assist in the form of the OIS- a hardware-based stabilization, allowing you to take photos with built in stabilization. It's a minute difference that the truly passionate about photography will appreciate- software-side solutions have their failings, so having a powerful camera with a physical stabilizer means you can grab that beautiful picture of the night sky with no hassle.
Combine that with its Macro and Ultra Wide lens, and you've got the perfect gift for the photographer in your life (even if it's you!). Beautiful vistas, scale figures, they'll all look great with the Redmi Note 12 Pro+ 5G.
On top of all that, it's got so much more going for it, like a 120Hz Flow AMOLED display. With its high refresh rate, casually swiping through your apps will feel like a breeze. Feeling like looking at your photos? What about ordering some food or doing your Gacha dailies? Swipe between your apps without that sticky feeling born of a cruddy refresh rate.
Better yet, it's powered by the MediaTek Dimensity 1080 chipset. This 5G-enabled processor lets you use the Redmi Note 12 Pro+ 5G's powerful camera to stream in high definition, or even game while taking multiple calls. Best still? The phone is powered by the Smart 120W HyperCharge and boasting a flagship-tier 5000mAh battery. Its battery will serve you well into your work day no matter how much you check it, and even if you have battery anxiety Smart 120W HyperCharge means getting to top up your phone back to full in just 19 minutes.
These kinds of quality solutions are the kind usually reserved for the most premium of phones- but with the Redmi Note 12+ 5G, it's there for you without driving up the asking price with superfluous bells and whistles. The Redmi Note 12 Pro+ 5G will be available from RM1599, so don't miss out on this chance to get flagship-level photography with midrange-level pricing.
Front And Center With The Redmi Note 12 5G
While the Redmi Note 12 5G is excellent at one particular thing, the Redmi Note 12 5G is the excellent all rounder. With its 48MP camera, Snapdragon 4 Gen 1 chip and RM1099 price point, it's easy to say a modern phone doesn't need to have a space age price tag.
With its specs, the Redmi Note 12 5G covers all your basic smartphone usage- the 120Hz AMOLED display means watching everything from your favorite shows to the top sporting events with crystal clarity, while the 48MP camera means snapping all your best photos without a care in the world.
It's got three lenses, with a good coverage of uses- a Wide lens main camera for your standard photos of lunch and the like, an Ultrawide for beautiful scenery as well as a Macro for the romantic who likes the little things in life.
Even for gaming, there's lots to love. Being the 5G enabled model, the Note 12 is more than capable of connecting to high-speed networks and getting your titles updated in a pinch. If you're downloading the year's hottest titles, there's no need to do the wait of shame while you plop your phone down and wait half an hour for the download to be done- you'll have only the best at a fraction of the price.
The Redmi Note 12 5G is available from RM1099, getting you all its great features and more.
Back To Basics With The Redmi Note 12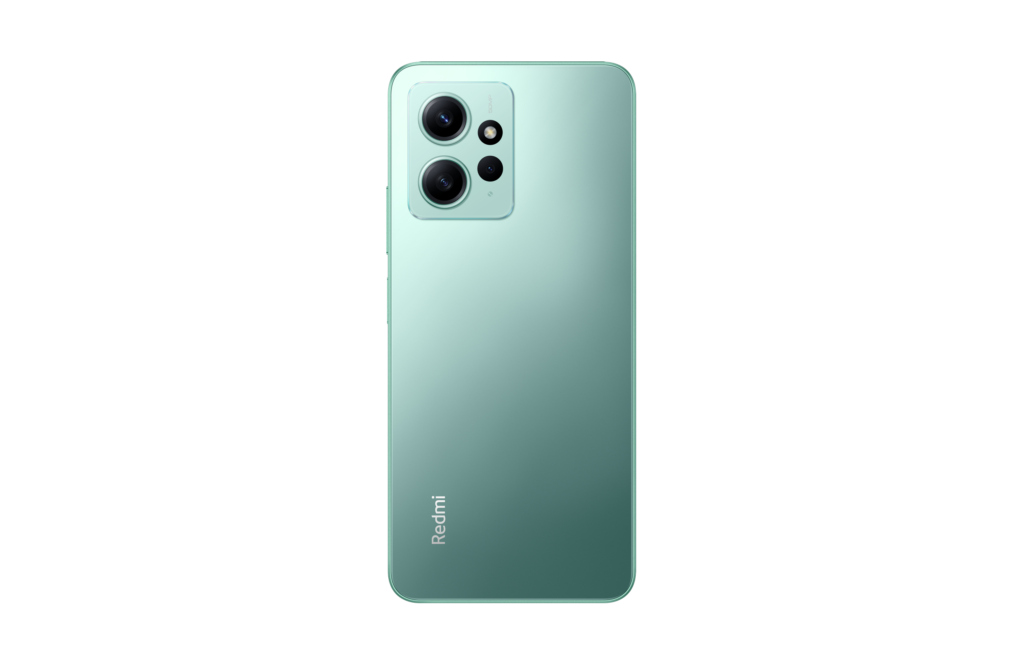 Another great addition to the series, the Redmi Note 12 is a true all-rounder packing an affordable price. With its 50 MP triple-lens camera, the Redmi Note 12 is a veritable juggernaut- all in a price tag of under RM1000.
From its 120Hz AMOLED Display for watching your favorite content to its Snapdragon 685 chipset, the Redmi Note 12 has it all: The 6.67″ display fits nicely in your hand, as well as your pockets. It's just as comfortable for every day use as it is for lying in bed and watching your favorite videos.
On the topic of the Snapdragon 685- this mobile chipset is the epitome of all-rounder, letting you do everything from photography to gaming. The powerful chipset supports up to 120fps gameplay, a perfect companion for the 120Hz display- so play any supporting games on its best settings and enjoy having a top tier experience.
It also supports the phone's amazing camera set- a triple lens setup with a 50MP camera, looking good in any lighting condition. This is the phone to Live Vivid with, taking a little bit from every aspect to make for a good time.
The Redmi Note 12 is available from RM799, so be sure to add this mid-range king to your collection today.
Which Redmi Note 12 Series Phone Is For You?
The great thing about the Redmi Note 12 series is that there's a phone for every type of user. For photographers, your obvious best bet is going to be the Redmi Note 12 Pro+ 5G. With its 200MP camera and OIS it's going to do a fantastic job grabbing photos. Considering how many night photos are improved with long exposure, no night on the town is safe from a great photo with the Redmi Note 12 Pro+5G, since the OIS means you don't have to worry about all your night photos looking like smears.
If your main concern is internet browsing, I'd definitely say to go for the Redmi Note 12 5G instead. With its 5G capabilities and all-rounder chipset, you'll be able to stream all your favorite shows without leaving the comfort of your bed. The triple lens setup even makes sure you'll still get your photography chops in- Considering how much of my camera roll is macro photos of my action figures, they'll look great on the Redmi Note 12 5G.
If you're just looking for a day-to-day phone to use, then consider the Redmi Note 12. It eschews bells and whistles for the basics- which is great for keeping it economic. I'm personally excited to use it for gaming- one of the key features of the Snapdragon 685 is its support of high-framerate gaming, so it'll be great to kick back and enjoy my favorite titles in a prestige way, especially since it sports a 120Hz display.
Special Promos With Xiaomi
Of course, where's the fun in living vivid without some free prizes too? Xiaomi has two different events to celebrate the Redmi Note 12 series and more.
The Xiaomi Fan Festival starts from 6th April and runs until the 13th, getting you prizes for buying products ranging from the Redmi Note 12 series to the Redmi Pad.
Here's the full list of participating products:
| Product | Normal Price | Free Gift |
| --- | --- | --- |
| Redmi Note 12 Pro+ 5G (8GB+256GB) | RM 1,599 | Redmi Smart Band 2 |
| Redmi Note 12 5G (8GB+256GB) | RM 1,099 | |
| Redmi Note 12 (8GB+128GB) | RM 799 | |
| Xiaomi 13 (12GB+256GB) | RM 3,499 | Redmi Buds 4 |
| Redmi 12C (4GB+128GB) | RM 599 | Xiaomi In-Ear Headphones Basic |
| Redmi 12C (6GB+128GB) | RM699 | |
| Redmi Pad (3GB+64GB) | R899 | RM20 Xiaomi Store Voucher |
| Redmi Pad (4GB+128GB) | RM999 | |
Meanwhile, long-time Xiaomi users can also check out the Xiaomi Fan Festival 2023 Customer Service Promotion, where you can receive free gifts for taking care of your favorite Xiaomi products.
From April 1st to April 16th, take part in the following Xiaomi activities and get a free Xiaomi Bunny Doll Sticky Note Holder:
| Action | Eligibility | How to collect your prize |
| --- | --- | --- |
| Smartphone repair | Send in your Xiaomi or Redmi smartphones for repairs at any Xiaomi Service Center during the event period | On-site Repair or Mail-in Repair |
| Social media post | 1. Take a creative photo with your Xiaomi or Redmi smartphone(with watermark enabled) | 2. Post them on Facebook or Twitter during the event period. | 3.Tag Xiaomi Support onFacebook (@XiaomiSupport) | At Xiaomi Service Center (upon approval by servicecenter team) |
| Follow Xiaomi on Facebook, Twitter or YouTube | Follow during the event period and lucky followers will be eligible. | |
If you're looking for quality that vast exceeds its price point, look no further than the Redmi Note 12 series. They're available for preorder now, so be sure to choose the one that best suits your lifestyle and Live Vivid today.
---
Check This Out Next
---