PC and mobile game Bleach: Brave Souls will be celebrating Christmas by collaborating with Burn The Witch for the third time so far. Tonnes of events, both in and out of the game will soon be held.

The Burn The Witch Christmas Campaign goes live in Bleach: Brave Souls on Thursday, December 16. The two heroines Ninny Spangcole and Noel Niihashi will debut in special Christmas themed outfits in the new Summons. In addition, a new original Brave Souls story event BURN THE WITCH Starry night will also be available during the campaign. For all the content coming in this event, visit the game's website.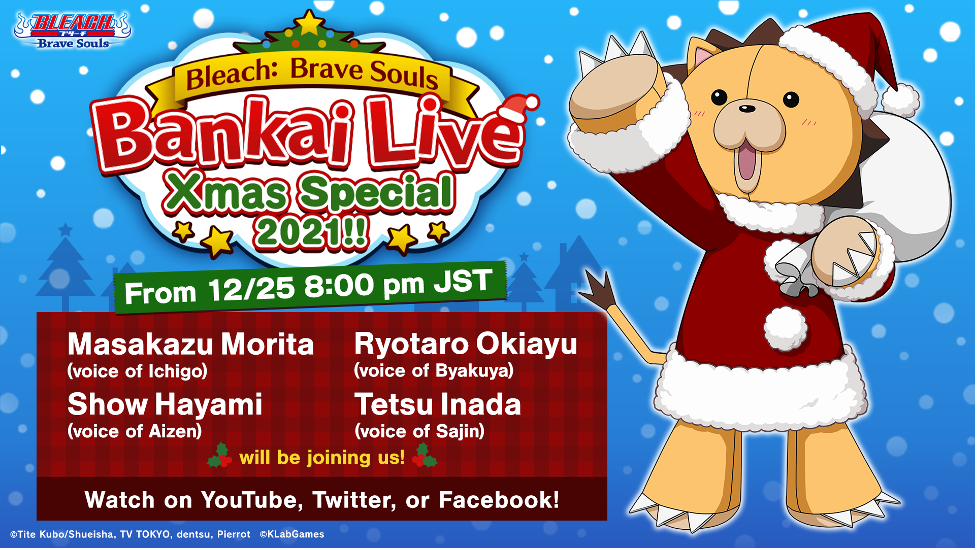 In addition, a special broadcast, Bleach: Brave Souls Bankai Live Xmas Special 2021‼ will air from 8 pm (UTC+9) on Saturday, December 25.
This special live broadcast will feature Yoshiyuki Hirai from America Zarigani, a popular comedy duo based in Japan, as well as Azusa Sekine from the Japanese idol group Up Up Girls (Kakko Kari) as MCs. It also features an impressive display of talent from the Bleach anime series, including Masakazu Morita, the voice actor for Ichigo Kurosaki; Ryotaro Okiayu, the voice actor for Byakuya Kuchiki; Show Hayami, the voice actor for Sosuke Aizen; and Tetsu Inada, the voice actor for Sajin Komamura.
Viewers will also be able to participate in a retweet campaign for a chance to win prizes autographed by the cast members on the live stream and a hashtag campaign. For more details on this event, visit developer KLab's website.
Bleach: Brave Souls
Android, iOS, Steam
The real-time battle mode, "Arena," is here! A 3 vs. 3 team battle where you can play with players from around the world! Join Ichigo, Toshiro, and 
other popular Bleach characters to be the best in the world!
---
Check This Out Next
---