DLC characters Beelzebub/Chaos Bringer and Narmaya are now available in the Japanese and Asian region versions of Granblue Fantasy: Versus/GBVS! The North American version of the game will also be receiving the DLC once the game goes live in their region.
With their release, this naturally means there will be two new playable characters! Even if you do not own the DLC, Narmaya will be available as an opponent in Arcade mode, so we can assume the rest of the character DLC pack will follow suit. New RPG mode quests, lobby avatars and titles come with the addition of the new characters.
Bug fixes have also arrived with the latest update, which Granblue_en has once again helpfully translated. We can presume the patch notes are available in English in-game, as well as to be on the official English website once it goes live in North America. If you haven't seen them already, see Beelzebub's and Narmaya's trailers below:
The DLC includes the new in-game skin for Narmaya, and the release of the Astral Weapons in the main Granblue Fantasy.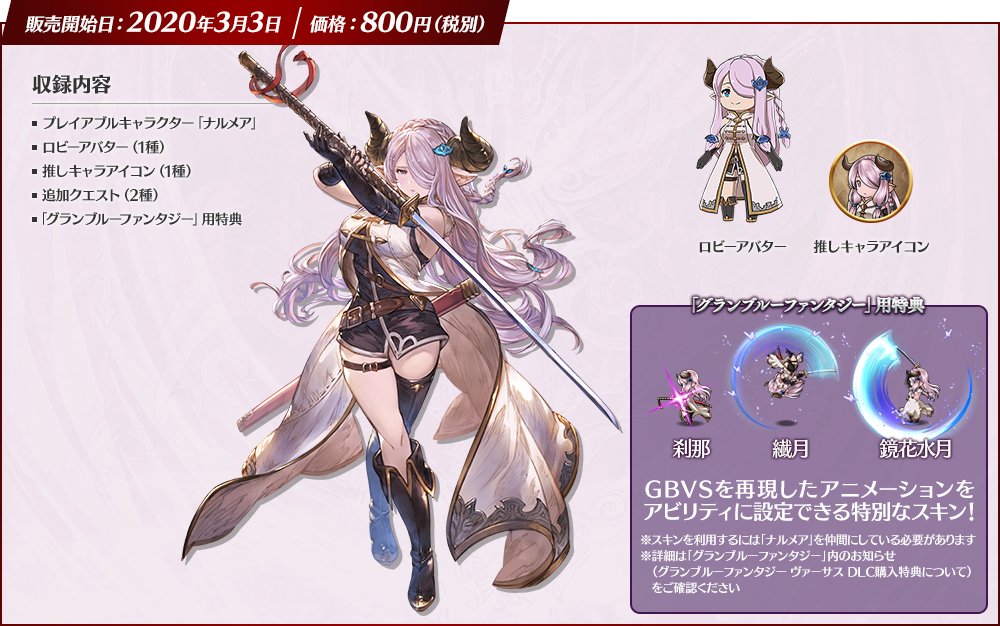 Narmaya has a unique interaction when going against Gran, so do check it out for yourself! Considering Djeeta is basically the same as Gran, we might be seeing the same applied to her as well.
Other additional DLC includes System Voices in the playable character's voices and Colour Packs. The System Voices also have unique lines depending on character, which is a nice touch. A sample can be heard in the official tweet:
We'll likely be seeing plenty of Beelzebub and Narmaya on the GBVS rank in the coming days, so why not join them?