When the true Emperor of the kingdom is no more, do you have what it takes to rise up and claim the title? Developed by IGG comes Lords Mobile, a free to play 3D mobile real-time strategy RPG title. Lords Mobile is set in a fantasy world where chaos engulfs the lands as the Emperor's lineage is lost. It is up to the players to grow your kingdom, rally your army and helm the future title of Emperor.
One True King
Starting off the game, you'll be greeted with an engaging cutscene of the events that all lead up to the current scenario of Lords Mobile. At first glance, Lords Mobile starts off like your typical fantasy setting but as you dive into the gameplay, there's a few interesting concepts that this game has over other titles of the same strategy genre.
Some of the strong points with Lords Mobile is how the title manages to engage the players into a plethora of interesting and in-depth gameplay features that is different from other strategy games out there. The game also offers tons of in-game activities of raising your kingdom and strengthening units that keeps the player base healthy and engaged. Let's dive deeper into what makes Lords Mobile a recommended title to play!
Riveting Base Building
Lords Mobile is separated into the SLG (Simulation Game) gameplay, as well as the actual combat gameplay. In the SLG side of Lords Mobile, you get to expand your territory and strengthen it by building various resource structures like Mines or Quarries, and buildings such as Barracks and the Academy that lets you strengthen your units and build up your army.
Your territory starts off modestly small, but as you clear through skirmishes that are scattered across the map, you'll be able to grow your territory and eventually unlock more buildings, all of which have their own functionalities.
In Lords Mobile, you're able to visit the world map where you can send out troops to explore to receive rewards or go on a monster hunt to farm materials.
Talking about the building aspect, there's just so many things that you can do to keep you occupied throughout your time playing. As someone who enjoys micromanaging in games, Lords Mobile got me covered with that aspect.
There's just this cathartic feeling of seeing your territory expand exponentially as you uncover more lands and build up structures makes it an extremely satisfying experience overall! 
Engaging Gameplay Loop
Where Lords Mobile shines the most are its various combat scenarios that the game has to offer. The first being the "Vergeway" which is a battlefield where you'll need to bring in a set of units in the form of "cards" where the main goal is to defeat the enemy.
There are different objectives in each of the stages in "Vergeway" where sometimes you'll need to destroy the enemies' stronghold, or destroy all of the verge towers, etc. The things that stay the same in "Vergeway" are that the map is separated into two sides, yours and the enemies and you are given a resource that is used to summon units, buildings, heroes or skills on your side of the map.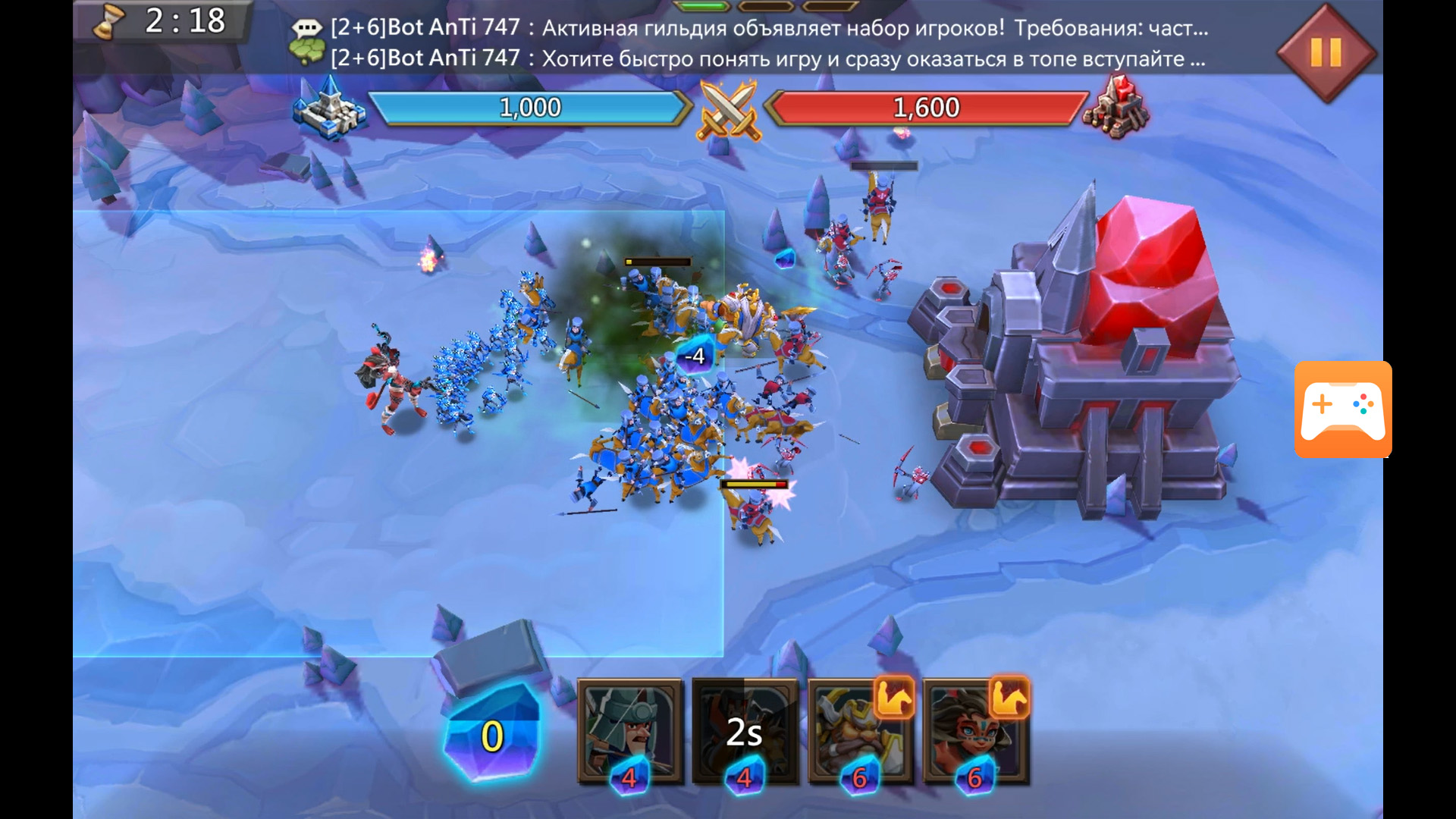 Another form of gameplay that is present in Lords Mobile is the aforementioned Skirmishes. To reiterate, these Skirmishes are located across the map and once cleared, will open up your territory more and unlock more buildings for you to construct.
A Skirmish is ruled over by a boss enemy and their own army where their strength is represented by a number called "Might". You'll need to build up your own army by training troops from the barracks in order to raise enough might to overcome theirs.
You have no direct control over the course of the battle in Skirmish as it plays out automatically. The main gist is a siege battle where you need to first destroy the enemy walls and eventually thin down the enemies' ranks by defeating their troops.
To me, these two gameplay features are the main factors that makes Lords Mobile such a popular game. Being able to build up your own army as you wage war against your enemies makes you really feel like a powerful general and a strategic genius as you win battles after battles.
I personally feel like having the ability to train up various different types of units and see your army grow rampantly and rally them all under one banner makes Lords Mobile feel so alive. 
Addicting Hero Battler
Another one of the many gameplay features in Lords Mobile is the "Hero Stage". The previous two gameplay features had been on a grander stage with you and your ever growing army but in Hero Stage, you'll only get to control a handful or heroes in a Hero Battler style of gameplay loop.
While most of the battle plays out automatically, you can control when and where to use your hero's skill, provided if the metre is charged up.
Each hero has their own certain stat spreads and gear that they can equip, which will increase their overall power level. The higher level your equipment is, the stronger your hero will be.
While it may look simple at first glance, there's actually a lot of depth and customisation when it comes to building up your hero. Among the many hero trophies and equipment combinations you can have on a hero, pairing that up with unique character designs makes Lords Mobile for such a refreshing and unique take on the strategy game genre!
Verdict
All in all, Lords Mobile offers a refreshing spin to the strategy genre with its many varying gameplay loops which makes it a recommended game to pick up for users that are looking to scratch the strategic game itch. While the game can be considered pretty casual, it offers plenty of various in-depth features that players need to take into account in order to strengthen both your units and your territory.
Features such as unit equipment, and research from the academy are important to keep an eye out for building your kingdom as it usually plays a big part in your kingdom's overall strength.
These in-depth features also play a part in having plenty of activities to do which provide a satisfying feeling of putting in the effort and seeing those efforts bear fruit in the grand scheme of things.
In terms of its visuals, Lords Mobile feels very impressive to look at. The vibrant art style and character designs also play a huge role in making the game feel like an immersive fantasy setting.
If you're in the mood for a fantasy strategy game with some fresh concepts, you should definitely give Lords Mobile a go!
---
Claim the title of Lordship with Lords Mobile which is available to download on the GameCentre.
---
Check This Out Next
---