BanG Dream is celebrating April Fools' in style, with a voiced visual novel featuring the girls from the game.
Titled Girls Blossom Project, the BanG Dream visual novel is a browser-based game that lets you fill the shoes of Himari, as you manage your relationships with the other  band girls from the gacha game franchise.
Sadly, the game's only available in Japanese, and it doesn't sound like there's any plans to release a translated version any time soon.
It's unknown how long the site will be up for, so it's best to check it out today in case it's literally only for April Fools Day.
Unlike a lot of other visual novel pranks, some serious effort was put into Girls Blossom Project- the characters have all been redrawn in a generic visual novel style, with voiced dialogue for many of the characters instead of just generic grunts and noises.
There's a total of 9 girls in the game, and you can even adjust things like individual character volume in case maybe you just don't like certain girls.
It even features actual choices too, as you pick which of the various girls routes you want to embark on, complete with an opening cinematic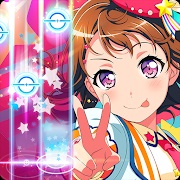 BanG Dream! Girls Band Party!
Android, iOS
Popular rhythm game in Japan! Tap to the rhythm of over 140 songs to choose from. Play both original and cover songs from popular J-Pop artists and anime songs! Play your favorite songs on a level of difficulty that suits you!
---
Check This Out Next
---