The ASUS TUF Dash F15 is one of the latest gaming laptops from ASUS and as we got our hands on one, you know we had to review it.
Being able to support up to 11th Gen Intel Core i7-11370H 
CPU and u
p to NVIDIA
GeForce
RTX 3070
GPU, the laptop certainly has what it takes to be a solid gaming machine. Read on to learn more about the ASUS TUF Dash F15 and how it performs in this review.
Specs
Note that the TUF Dash F15 review unit provided to us from ASUS is of the FX516P-MHN074T model, but we are including the specs of the FX516P-MHN085T variant for your reference below.
Model Name
FX516P-MHN085T
FX516P-MHN074T
Product Name
ASUS TUF Gaming Dash F15
Colour
Eclipse Gray
Dimensions
36.0 x 25.2 x 1.99 ~ 1.99 cm
Weight
2 Kg
Processor
Intel® Core™ i5-11300H Processor 3.1 GHz, 4 cores
(8M Cache, up to 4.4GHz)
Intel® Core™ i7-11370H Processor 3.3 GHz, 4 cores
(12M Cache, up to 4.8GHz)
Graphic
NVIDIA® GeForce RTX™ 3060 6GB GDDR6
Max Graphic TGP
85W
Panel size & info
15.6-inch IPS-level FHD (1920 x 1080) 16:9 Adaptive-Sync
144Hz 250nits 62.5% SRGB
Memory
Total 8GB RAM
Slot 1: Empty
On-board: 8GB DDR4-3200
Total 16GB RAM
Slot 1: 8GB DDR4-3200
On-board: 8GB DDR4-3200
Storage
Slot 1: 512GB M.2 NVMe™ PCIe® 3.0 SSD
Slot 2: Empty
Wi-Fi/Bluetooth
Intel Wi-Fi 6(Gig+)(802.11ax)+Bluetooth 5.1 (Dual band) 2*2
(*BT version may change with OS upgrades.)
I/O Ports
3x USB 3.2 Gen 1 Type-A
1x Type C USB 4 with Power Delivery, Display Port, Thunderbolt™ 4
1x 3.5mm Combo Audio Jack
1x HDMI 2.0b
Mic
Built-in array microphone
Keyboard Type
Backlit Chiclet Keyboard
Aura Sync
N/A
Speakers
2x 2W speaker
Audio Tech
DTS software
OS
Windows 10 Home
FingerPrint
YES
Battery
76WHrs, 4S1P, 4-cell Li-ion
Power
ø6.0, 200W AC Adapter, Output: 20V DC, 10A, 200W, Input: 100-240V AC, 50/60Hz universal
Bundled Items
TUF Gaming backpack
Warranty
2 Years Global Warranty
(1st Year with Perfect Warranty)
SRP
RM4,699.00
RM5,499.00
Availability
APRIL 2021

Dashing Design
Aesthetically speaking, the laptop's grey colour certainly makes it stand out in a market oversaturated with black laptops. Its faux-brushed metal detailing and garish yellow backlit keys help give it a more elegant appearance.
Sporting a new chassis design, the TUF Dash F15 appears remarkably thin. Do not let this slim exterior fool you, however—ASUS states that it still meets military-grade MIL-STD standards. This means that it is a relatively rugged laptop and will not break apart that easily.
Interestingly enough, the laptop weighs 2 kg which definitely feels heavier than it looks. Despite that, it is not as heavy as many other conventional gaming laptops, making it less of a pain to carry by hand. Furthermore, its dimensions of 360 x 252 x 19.9 mm make it quite compact overall. It will still fit into pretty much any backpack comfortably. For comparison, it is larger than the ASUS ROG Zephyrus G14, but having more ports and utilities is a worthwhile tradeoff.
As for its display, the TUF Dash F15's 15.6-inch FHD IPS display panel boasts adaptive sync and 240Hz refresh rate, providing a smooth work and gaming experience. The bezels are also really thin which helps to maximise display size and tops off the laptop's overall sleek appearance.
Keyboard
The TUF Dash F15's backlit keyboard has three different intensities which you can adjust. While they all look fine in dark or dimly lit surroundings, I do recommend keeping them off if you are working or gaming in a brightly lit environment.
The keyboard is also relatively quiet. However, when testing it, I found it a bit too squishy for my liking. Playing video games on it is fine, but typing on the keyboard for extended periods of time does not feel as smooth of an experience compared to other laptop keyboards.
At the top part of the keyboard, there is a volume key, mute key and Armour Crate key which can be used to open apps and adjust other user preferences. However, a minor complaint I have with the keyboard is the lack of a shortcut key for the print screen function. Whereas most laptops have fn+f12 or windows key+f12, the TUF Dash F15 only has snap tool shortcuts (fn+f6).
Ports galore
The wide array of available ports makes the TUF Dash F15 a decent option as a work laptop. With 1 USB-C Thunderbolt 4 and 3 USB 3.2 Gen 1 Type-A ports, the laptop will cover most of your day-to-day work needs. It also has a HDMI 2.0 port—a must-have for those who work with projectors or multiple screens.
Connectivity aside, the WiFi 6 feature is a neat way to play online games at LAN speeds wherever compatible. Two-Way AI Noise Cancelling helps to remove noise and other unnecessary sounds, granting a higher overall mic input audio quality.
When things get hot…
The ASUS TUF Dash F15 remains cool under demanding play sessions thanks to its robust cooling system. The venting by the WASD keys allows the fan beneath to generate airflow through the board, helping to keep things cool. As a result, the keyboard does not feel hot at all. The heat dissipates towards the bottom and the sides of the chassis, but never feels as hot as other laptops.
Users can also adjust the fan manually, but only for Silent and Performance mode. If you are playing demanding games or using demanding software, the laptop will automatically activate the turbo fan. Thankfully, ASUS reduced the noise of the fan for the TUF Dash F15, making my review a more pleasant experience overall. It is a lot quieter when compared to other ASUS laptops that I reviewed in the past.
Audio
The laptop boasts two speakers with four cut-outs, providing a loud audio quality overall. You can also tweak the optimised preset modes for the audio to customise them to your liking.
That said, however, I am not a big fan of the audio. The sound overall is rather drowned out. Trying to adjust the audio settings only mildly mitigated the issue. Without headphones, it can be a challenge to listen to the footsteps of enemies when playing FPS or battle royale games. Thus, I recommend headphones for anything that requires precise audio quality, such as video/audio editing or playing certain games.
Battery performance
To review the battery performance of the TUF Dash F15, I played Valorant. From 100% battery, a full Valorant match which lasted 46 minutes drained the battery down to 36%. Thus, an intense gaming session without being connected to a plug point will probably last just over an hour.
As for less intensive work such as typing documents, watching videos and surfing the net, the battery lasts for at least 3 – 4 hours without charging.
Overall, the battery performance feels somewhat of a letdown, especially when compared to other gaming laptops. Thankfully, its Type C 100W charger charges relatively quickly and can bring the laptop battery to 50% in around 30 minutes.
In-game performance
Besides the aforementioned Valorant, other video game titles that were played on the ASUS TUF Dash F15 for this review are Watch Dogs Legion and Call of Duty: Black Ops Cold War.
Valorant
As a competitive 5v5 FPS title, Valorant can cause quite a fair bit of laptops to lag during high graphics gameplay. Overall, gameplay was smooth, with the frame rate hovering between 50 – 70 frames per second. Furthermore, the TUF Dash F15 remained cool and was never too hot.
Watch Dogs Legion
For a gaming laptop boasting respectable mid-range specs, I was quite surprised with its performance while playing Watch Dogs Legion. While it is unable to run the game at the highest graphic settings just like the majority of the other laptops in the same range, I still managed to get a smooth and enjoyable gameplay experience on medium graphics with Ray Tracing on and Balanced DLSS. The in-game benchmark even stated that the game will run between 29 – 65 fps. The low FPS may be due to the laptop heating up, but the Turbo fan speed helped to mitigate that.
Call of Duty: Black Ops Cold War
The TUF Dash F15 held up great while playing this game. With high graphics and DLSS on, the game hits a peak of 230 FPS during story sequences. During intense gunfights and other action sequences, FPS was around 60 – 90. On Zombie mode, the FPS was a bit more volatile, switching between 40 – 70 FPS.
Benchmark
The TUF Dash F15 was tested on various benchmarks, all of which revealed that it performed rather well. Note that the turbo fan auto turns on when the laptop is handling anything intensive. You can refer to the screenshots of the benchmarks below to see how the laptop performs.
Useful Software
ARMOURY CRATE
Armour Crate lets users control many of the laptop's system and lighting controls in one place. From customising aesthetic effects and audio settings, it is a useful program. Users can also create specific Scenario Profiles to automatically adjust performance when launching apps and games.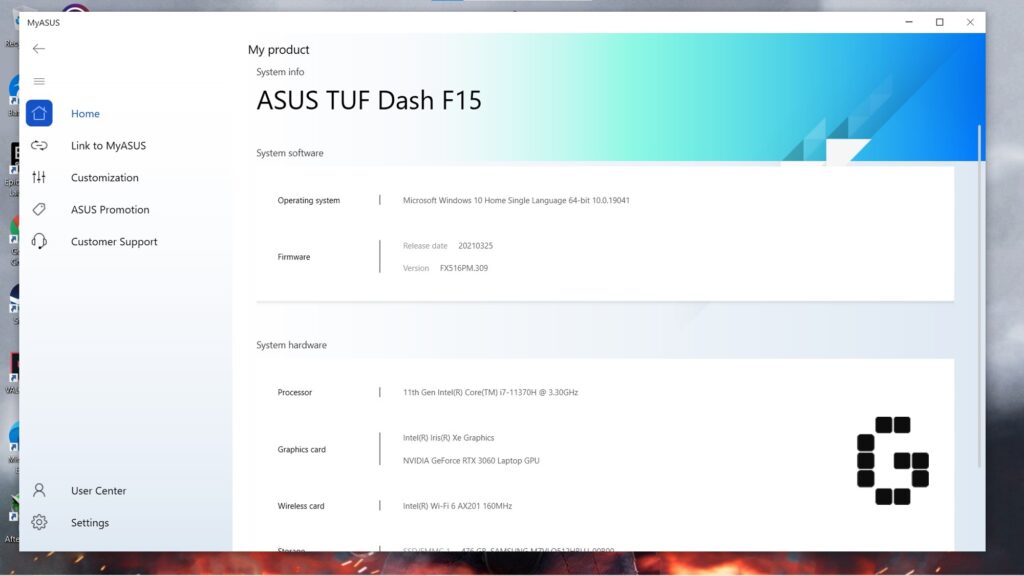 MyASUS 
MyASUS is exclusive software for ASUS laptops that puts all the essential ASUS applications for system control in a single program. It helps to simplify management of the laptop's essential settings and makes them easier to access.
Closing thoughts
Overall, the ASUS TUF Dash F15 is a decent pick for a work laptop that can play moderately demanding games. It is a solid mid-range laptop that is worth its price. Easy to carry, cool and quiet, I recommend the ASUS TUF Dash F15 for those who want to game without sacrificing productivity.
If you are interested in getting one yourself, you can visit the official ASUS website where the product is priced between RM 4,699 to RM 6,999 depending on the model.
---
Review Unit Provided by ASUS ROG Malaysia