Arknights publisher Hypergryph has issued a cease and desist following last week's row in which NFT game Oldeus was accused of ripping off the mobile game cinematic.
In a post on their official Facebook page, they showed both the Cease and Desist letter, as well as a statement on the ongoing feud between the Arknights publisher and the NFT game.
While the Oldeus team claimed that they'd been in contact with Hypergryph over the animation, the Chinese publisher refuted that in their own statement on Facebook.
"We hereby unequivocally state that Hypergryph has never entered any form of partnership with Oldeus nor licensed any Arknights content to Oldeus in any form", the statement reads. "As of this statement, we have not received any contact from Oldeus".
At the same time, they gave the Oldeus team a total of 48 hours to remove the infringing content, including statements that they'd been in contact with the Arknights team over the matter.
All this comes from a trailer for the NFT game Oldeus, which had a trailer sporting similar shots to the Arknights cinematic Roaring Flare.
Considering NFTs reputation for theft and plagiarism in the name of a quick buck, fans had immediately accused the developers of doing the same with their Tower Defense game.
This had lead to the developers issuing their own statement, blaming the similarities on using the same animation team and said they'd been in contact with the Arknights team over the similarities.
It should be noted that any common animators between the two cinematics would have to be individuals, and not the teams themselves: Roaring Flame was produced by Yostar Pictures, AKA an internal team and therefore unlikely to be working on competing titles.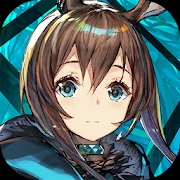 Arknights Global
Android, iOS
Take on the role of a key member of Rhodes Island, a pharmaceutical company that fights both a deadly infection and the unrest it leaves in its wake. Together with your leader Amiya, you'll recruit Operators, train them, then assign them to various operations to protect the innocent and resist those who would thrust the world into turmoil. Your tactics will determine the future of Rhodes Island. Fight for the Dawn!
---
Check This Out Next
---