Arknights Global will be getting the Nine-Colored Deer, a previously CN-exclusive Operator as part of a collaboration with a classic Chinese animation based on Buddhist tales. Her corresponding event, "Display of Auspices", is a log in event with rewards given out over 7 days, with the event period being 14 July 2022, 10:00 UTC -7 to 24 July 2022, 03:59 UTC -7.

Arknights players will be able to get the Nine-Colored Deer – a Supporter of the Abjurer sub-class – on the first day of the log in event, with other rewards including upgrade material, furniture and Headhunting currency across the main 7 day event. As a collaboration specific Operator, she will not be included in Headhunting or Recruitment unless specified in a future update.
Heaven and earth come alike. All beings come together.
Players are expecting the Who Is Real event rerun as well as the previously teased Integrated Strategies 2 release, the latter being the permanent version of the game's rogue-like mode.
The Chinese server has yet to have a repeat of this event at time of writing, so there is no way to get duplicates or obtain her again if you miss out on this initial period. Be sure to log in so that you can get her, and also promote her to Elite 2 as her Base Skill is considered very good (in relation to crafting materials in the Workshop).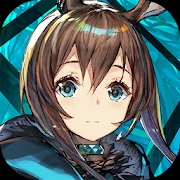 Arknights Global
Android, iOS
Take on the role of a key member of Rhodes Island, a pharmaceutical company that fights both a deadly infection and the unrest it leaves in its wake. Together with your leader Amiya, you'll recruit Operators, train them, then assign them to various operations to protect the innocent and resist those who would thrust the world into turmoil. Your tactics will determine the future of Rhodes Island. Fight for the Dawn!