Streamed via YouTube on January 7th, 2023, Arknights Global is finally heading for its 3rd anniversary and with it, tons of announcement await.
Without further ado, here are the highlights from the 3rd Anniversary Livestream:
New Side Story Event, Ideal City: Endless Carnival to run from January 13th, 10:00 UTC-7 that rewards 5-Star Mech-Accord Caster Minimalist amongst other rewards.
Great Axe and Pen Nib Limited Headhunting Banner featuring

6-Star Centurion Guard Gavial The Invincible (Limited)
6-Star Heavyshooter Sniper Pozëmka
5-Star Agent Vanguard Cantabile

The Limited Headhunting Banner also comes with a free daily pull for as long as the banner lasts.
Free 10-Pull Headhunting Permit for the Limited Headhunting Banner
Login Event rewarding a Limited Furniture amongst other rewards starting from January 13th, 2023 to January 27th, 2023
Daily Lottery event that will reward Players with Orundum between 200 / 300 / 400 / 500 / 600 / 800. Players can only have a maximum of 2 tries per day in the lottery and should you receive less than 400 Orundum, the following day will increase your daily tries to 3.
Limited Furniture Set, The Great Aquapit Funtastic Experientorium, will be available to purchase on the Store and the event store for Ideal City: Endless Carnival.
New Skins will be available to purchase on the Outfit Store for a limited time featuring outfits for Surtr, Elysium and La Pluma

[Coral Coast] Series – Colorful Wonderland CW03 for Surtr (Live2D and 21 OP)
[Coral Coast] Series – Shimmering Dew SDm11 for Elysium (18 OP)
[Coral Coast] Series – Summer Flowers FA210 for La Pluma (15 OP)

In addition, many skins will be rerun for a limited time at the outfit store including past Summer skins and more.
In lieu of the 3rd Anniversary, there will also be lots of premium bundles that you can purchase from the Store and the Originum 1st Purchase Bonus will also reset.
Updates to Recruitment featuring Phantom, Shamare and Cutter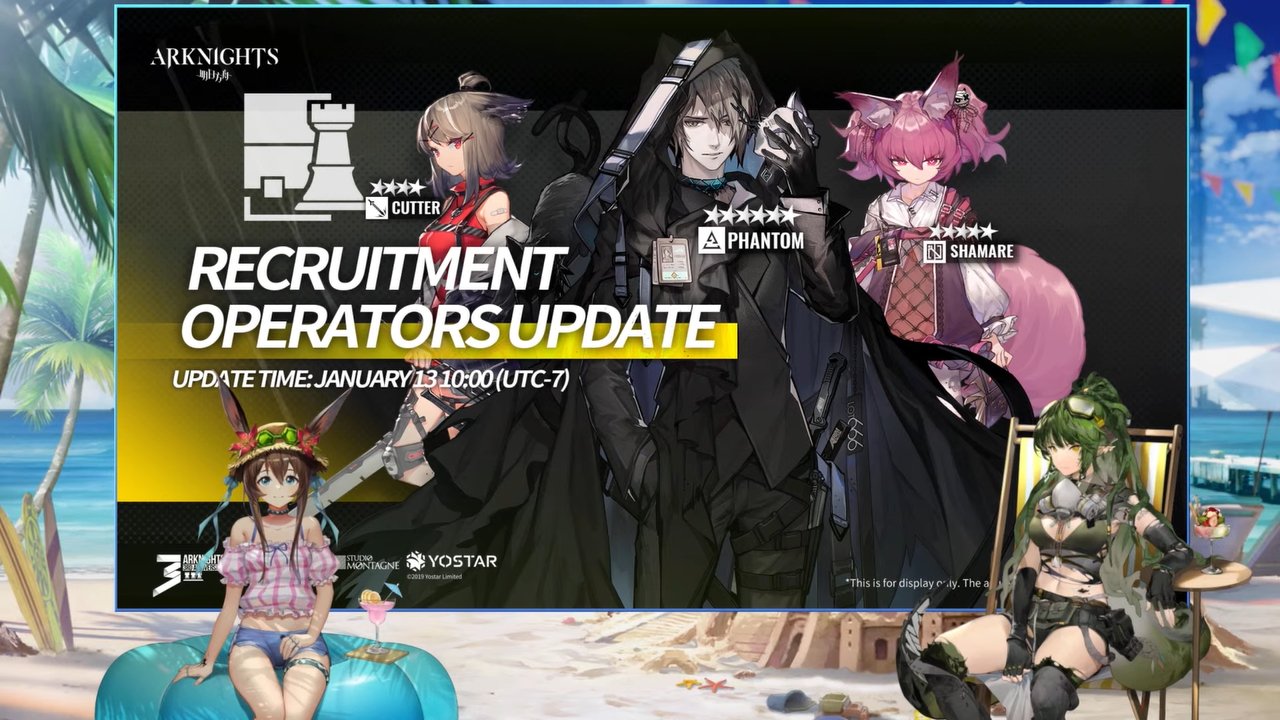 Login Event rewarding a free Savage and a main title background along with a 5-Star Operator Voucher where you can choose your desired 5-Star within the available pool.
Last but not least, a total of 11 Operator Modules will be added into the game to further improve their gameplay capabilities for the following classes:
Hookmaster Specialist
Ambusher Specialist
6-Star Heavyshooter Sniper Pozëmka
6-Star Deadeye Sniper Fartooth
6-Star Dollkeeper Specialist Spectre The Unchained
As with the their Anniversary, brand new Anniversary themed merchandise have been added into their line-up that you can purchase from Yostar's online store which includes the following:
That wraps up the highlights for Arknights 3rd Anniversary. See you in the island of Carnival Doctors and may the gacha gods bless you.
---
Check This Out Next
---