While dubbed the Thank You Celebration stream, it was pretty much Arknights' 1.5 year anniversary in China, bringing in a boat load of information to look forward to in just the next few days. Here's the rundown.
Chapter 8 of the main story, Roaring Flare, will be available on 1 November. It will feature Talulah as the main villain. The accompanying H-stages will be added 8 November. Chapter 8 is supposedly twice as long as the previous chapter, with more artwork.
Besides the main story, a new system will be introduced to further flesh out the stories of Operators. 10 will be added to begin with.
Amiya, and Amiya alone, will receive a class change to Guard. Amiya will need to be E2 to unlock this system. Masteries of skills do not carry over.
A new limited Headhunting banner, Forget Me Not will launch, featuring 6-star limited Sniper, Rosmontis, and 6-star Defender, Mudrock. They will be accompanied by 5-star Medic, Whisperain, and 4-star Guard, Jackie.
There will be a free 10-pull Limited ticket given out, as well as a free pull given out daily for this banner. Additionally, a package containing a random amount of Orundums will also be distributed daily for more log in bonuses.
Schwarz, Hellagur, Astesia, Glaucus, Myrtle and Sussuro will be added to the Recruitment pool on 1 November.
A new event, dubbed Paradox Simulation, will take place in Columbia. It will come with its respective new Operators, including an apparent future version of Lava – notably a separate Operator – Kafka, a 5-star Specialist, and Mountain, 6-star Guard.
W, Dobermann, Texas and Ethan will receive new outfits. Ethan's will be available for free.
There will be new Annihilation maps to clear for increased Orundum limit, as well as rotating maps. There appears to be mission rewards, further details which we'll see once they're implemented in-game.
Contingency Contract #3, Cinder, will include Matterhorn's Coral Coast skin, as well as an outfit for Bagpipe. Other rewards mentioned include 6-star Guard tokens.
A notable purchasable pack to be made available is a 6-star ticket that will include up to Phantom.
The previously announced Ubisoft collaboration with Arknights will be with Rainbow Six Siege, with Tachanka as the event Operator. Three others will join him. The collab is expected to be in the first half of 2021.
Other news includes:
A 410-page artbook that comes with an Amiya outfit
Original Soundtrack with tracks up till Chapter 6 of the main story
Offline Arknights concert sometime 2021
Arknights-themed clothing line
Meanwhile, global players will have to hold on to their horses with Wolumonde coming right up. Here's to more of Terra!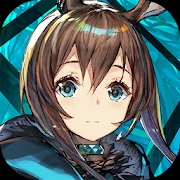 Arknights Global
Android, iOS
Take on the role of a key member of Rhodes Island, a pharmaceutical company that fights both a deadly infection and the unrest it leaves in its wake. Together with your leader Amiya, you'll recruit Operators, train them, then assign them to various operations to protect the innocent and resist those who would thrust the world into turmoil. Your tactics will determine the future of Rhodes Island. Fight for the Dawn!