At this time of writing, the first Contingency Contract event is at last heading to Arknights global servers in just over a few days. Most older players are likely to be eyeing this event with equal parts anticipation and dread, as this is where your tactical skills truly get tested.
There'll be daily maps and daily missions, as well as event missions. The "Fixed Site" map will be where people will seek to challenge as high a Contingency level as possible, also referred to as Risks within the fandom. Risk 18 will provide the maximum rewards for the Fixed map, while you can settle with Risk 8 for the daily rotation maps to get rewards faster. Risk 4 is also passable for daily rotation. Under-prepared players can stick to Risk 15 for the Fixed map as the rewards aren't exponentially large.
Clear out the limited rewards in the exchange shop. Spending the rest of your currency on RMA-70-12 is highly recommended.
THE RISKS / CONTRACTS
So you're probably asking, "What Risks / Contracts do I pick?" The short answer: It depends on what Operators you have.
The long answer: There are a few "free" Risks that you can pick, which include:
Reducing Defense Seals (your HP) to 1
Your choice of increasing general enemy stats by a certain percentage

HP
Armor
Movement speed
Attack

Banned tiles
Unable to deploy certain classes of Operators

Guards and Defenders, OR
Casters and Medics

Reduce squad size to 10
Deployment cost regeneration reduced
New Risks will be introduced in the second week of the event which generally are the easier ones, if you think you can't clear 18 in the first week. You can only pick one of each type of Risk, if there are similar ones. Some also need to be unlocked first. Utilizing a Support Contract will automatically set Risk level to zero.
LAST MINUTE PREPARATIONS
It is of course, highly recommended you have your core team of Elite 2 Operators. Level them up to at least Elite 2, Level 40 as the LMD requirement is not as steep as later levels. Where possible, you would prefer to have a balanced spread of both ranged and melee Operators as the rotating maps will be best suited to certain types of Operators. To be extra safe, work on at least Skill level 7 for the Operators you will be utilizing.
Friend Support Operators do not reset during Contingency Contract, so find that one person on your list with the support you need most and have them stick there throughout the event. You can always borrow what you are lacking in this event, there's no need to worry about auto deploy requirements here.
---
HIGHLY RECOMMENDED OPERATORS TO HAVE
Many of these Operators already come highly recommended, and with good reason. This list applies to this iteration of Contingency Contract, specifically the Fixed Map, as new Operators will be available as time goes on, but plenty of them are still pretty good if not merely okay in general content, and there's nothing stopping you if you want to build someone specific for meme runs.
VANGUARDS
MYRTLE
Myrtle is one DP battery, especially if you have her Skill 1 on Mastery 3. If you need her to support her teammates at the cost of a longer cooldown, she's also flexible enough for you to utilize her Skill 2. One could argue that with her, you can take the slow DP regen Risks at no cost to you. Her Elite 2 upgrade may not be that necessary, but her Talent to heal other Vanguards can come in handy with…
SIEGE
Siege with her Skill 2 can help back up your DPS, and she can be quite survivable with her Talent, King of Beasts, that increases Vanguard ATK and DEF. Her Skill 2 can also become spammable as she holds charges and regains 1 Skill Point when an enemy dies in her four surrounding grids. Myrtle's Talent may be able to keep her surviving for even longer. Her initial deployment cost may be too high for her to be your proper DP generator, however.
TEXAS
This taciturn Lupo's bread and butter will be her Skill 2, providing both DP and bringing some crowd control with its stuns. It also deals Arts damage instead of physical, so can help you shred some of the inflated HP of the enemies within its range.
GUARDS
CH'EN
Primarily used for her Skill 2, Ch'en brings high burst of mixed damage. You'd use her more like a fast-redeploy, which unfortunately does mean her Cost can increase exponentially and she may not be redeployed on time if you need it. She also needs Mastery 3 on her Skill 2 for her to be able to use it instantly. Should you have a friend with her, slash away.
HELLAGUR
Hellagur's role can also be seen as an assassin, though a more durable one with his ability to passively heal when he's not blocking enemies at Elite 2. Either his Skill 1 or Skill 2 may be used as his Skill 3 takes too long to charge up. He'd be camping enemy Casters, rapidly healing back up the damage the Casters deal to him and take them out before they go any further.
SILVERASH
Best known for his Skill 3, SilverAsh brings the DPS as he strikes down up to 6 enemies at Mastery 3. Most Doctors would use him similarly to Ch'en where they will retreat him once his skill ends its duration. At Mastery 3, the redeployment cooldown is faster than him charging it back up if you leave him on the field. Besides his flashy sword skills, his Leader passive also allows you to redeploy other Operators on a shorter cooldown.
ASTESIA
Some might tell you Astesia can do anything. She deals Arts (magic) damage, and when her Skill 2 is active, she can also attack up to 3 enemies at once. Needless to say, she'll be extremely handy when it comes to high armour enemies while also gradually stacking up more attack speed the longer she's deployed thanks to her Talent.
LAPPLAND
When her Skill 2 is active, Lappland is a ranged guard who can also deal Arts damage automatically and attacks one additional target. While that is certainly very welcome, her Talent to silence enemy abilities is yet another reason why she's a highly popular Operator in general. Later Contingency Contract events will render bosses immune to this Talent, but nonetheless having a Lappland in general is nice.
SPECTER
The shark nun who won't die, Specter has been used in high Risk runs for her Skill 2, allowing her to survive any attack for its duration. You'd especially want her Skill 2 to be at Mastery 3 for the shortest cooldown possible since she stuns herself after it ends and the enemies won't stop coming. She's also an AOE Guard, able to attack up to 3 enemies at once at Elite 2.
SNIPERS
SCHWARZ
Schwarz is basically built to be a boss killer with her Skill 3 if you plan to run a ranged-heavy composition. She even has a Talent that increases Sniper attack, as long as she and one other are deployed. Her Skill 3 shortening her range might be an issue, however, if you don't find the correct spot to deploy her.
DEFENDERS
HOSHIGUMA
Besides her Talent of increasing all other Defenders' defense, Hoshiguma can also be really lucky and activate her other Talent that blocks any incoming damage. With her Skill 2, she can reflect (physical) damage onto enemies who target her, or with her Skill 3, she can be your DPS as she churns through any enemies who stray into her path.
SARIA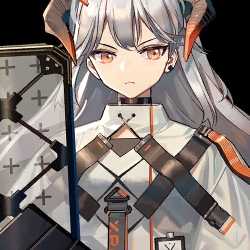 When you ban Medics, Saria will simply ignore that and heal your Operators anyway while being decently tanky thanks to her Talent. At Elite 2, she can also provide 1 Skill Point when she heals Operators in her range if you're using her Skill 2. Do note that she only provides the Skill Point if she heals them; full HP Operators do not enjoy this benefit. She can also provide soft crowd control with her Skill 3, where her range expands exponentially and slows down enemies within it while lowering their resistance to Arts damage.
NEARL
While not necessarily as potent as her fellow healing Defender Saria, Nearl can be a sufficient replacement. Her Skill 1 only heals allies who drop below 50%, but her Skill 2 has her focus on healing duties. She also packs her Elite 2 Talent which increases healing effectiveness by all allies, so she can be used in tandem with Saria for greater survivability.
CUORA
If all else fails, go back to your tried and tested Cuora, who has ridiculous amounts of defense for an easy to raise 4-star Operator. Being able to block up to 4 enemies when her Skill 2 is active is just the icing on a really tough cake.
MEDICS
They are not generally brought along due to attack-buff Risks are capable of taking out your Operators in one hit, but if you do bring them, then these are some of your best bets.
SHINING
In giving up her sword, Shining took up healing to protect her allies. Her Talent and Skills 2 and 3 are able to increase the defense of your frontliners to help them survive one more hit.
PTILOPSIS
Tea Apple Sauce, or Ptilopsis, may also be referred to as a powerbank. Her Talent is improved at Elite 2, providing increased Skill Point regeneration to allies in her range. Her Skill 2 also increases her range, and dishes out a lot of healing on a long duration. Healing and fast skill cooldowns are welcome in general content too.
SILENCE
While Silence may be a single-target healer, her Skill 2, her drone, is what makes her incredible. Her drone makes her range more flexible, being able to be deployed on any valid empty space and providing high burst heal when it is active in a 3 by 3 range.
SUPPORTERS
ANGELINA
This country lass needs her Elite 2 to shine, but she'll pay you back with how much her Skill 3 does. Dubbed a Caster in disguise, and a "mini Eyjafjalla", she reduces the "weight" of enemies – making her an extremely good when deployed in combination with a Push/Pull Specialist – and can attack up to 5 enemies at once with Arts damage. She does have a little drawback in that she won't be able to attack normally when her skills are down, but it's not all lost: when not attacking, her Talent passively heals Operators globally.
GLAUCUS
Presumably a wannabe-Sniper, Glaucus deals Arts damage as well as prioritizes drones with her normal attacks. Her Skill 2 has a wide range and stops enemy movement momentarily, allowing her for some form of crowd control. Drones hit by her Skill 2 – her EMP – will be stunned and damage dealt to them will be doubled.
CASTERS
EYJAFJALLA
The volcano herself, Eyjafjalla is officially a single-target Caster, but her Skill 2 and Skill 3 would say otherwise. Doctors may prefer to utilize her Skill 2 instead, as it's on a shorter cooldown and can store charges and lowers enemy resistance. If you need her to go boom, then Skill 3 will expand her range and nuke down enemies at the cost of a higher cooldown. This can be slightly mitigated by having Ptilopsis or…
MOSTIMA
Mostima may be considered a core unit in Caster compositions thanks to her Talent of increasing Skill Point gain for Casters in specific. While her Skill 3 is incredibly flashy – not unlike a certain Guard above – her Skill 2 is more recommended due to having a shorter cooldown and "stunning" enemies in its range for more reliable crowd control.
SPECIALISTS
FEATER
As a Push Specialist, FEater does what you want her to do: shove enemies away, to stall. Her recommended skill level does need to be Mastery 3 for her Skill 1 for more consistent, automatic pushes, however. Her Skill 2 is also recommended to be at least Level 7 for more precise pushing strategies.
MANTICORE
Part of the crowd control package, you might see strategies utilizing Manticore with Angelina as a primary damage dealer as she slows down all enemies in her range with her attacks. You'd be utilizing her Skill 1 to this effect.
PROJEKT RED
Most definitely not Geralt of Rivia, Projekt Red will be using her Skill 1 to try assassinate enemy Casters with her increased damage and damage evasion. With her Talent, she may also be able to do scratch damage to more heavily armoured enemies.
ETHAN
The other half of the crowd control package, Ethan's Talent allows him to stop enemy movements, though more randomly. His Skill 2 will increase his Talent activation, but you'd more likely see him in tandem with Manticore rather than solo. Do note that "Binding" will still allow enemies to attack if they have a target.
GRAVEL
She gives you attention and in return, you have Gravel bait invisible enemies, usually Casters, with her Skill 2 up. Breaking stealth will allow your DPS units to actually attack, while her shield absorbs damage while it's up.
SHAW
In the interests of legibility, mimicking Shaw's tic will not be done here, but she works similarly to her fellow Push Specialist, FEater with the same recommended requirement of Mastery 3 on her Skill 1.
---
It isn't to say it isn't possible for lower rarity Operators to achieve Risk 18 on the Fixed Map, but it does require another level of preparation and planning in order to pull it off. You may want to look up how the maps work from content creators, and find high Risk runs by some of the Chinese players on bilibili if you're curious. Risk levels beyond 18 may require max Potentials on your Operators, which aren't necessarily feasible.
Whatever it is though, this will be the first run of Contingency Contract on Arknights global servers, so what's important is to have fun and may this simple guide tide you over! Hopefully. Good luck, Doctors!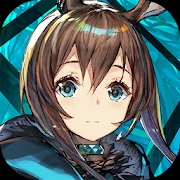 Arknights Global
Android, iOS
Take on the role of a key member of Rhodes Island, a pharmaceutical company that fights both a deadly infection and the unrest it leaves in its wake. Together with your leader Amiya, you'll recruit Operators, train them, then assign them to various operations to protect the innocent and resist those who would thrust the world into turmoil. Your tactics will determine the future of Rhodes Island. Fight for the Dawn!