Flex all you want with your latest shiny CPU, but that's gonna need its peripherals to really bring out its true best. One of these necessities is a monitor. As someone who admittedly cheaps out on a screen because I don't feel like I can tell any difference, one must pull out the stops to test one huge Acer Predator X38 S.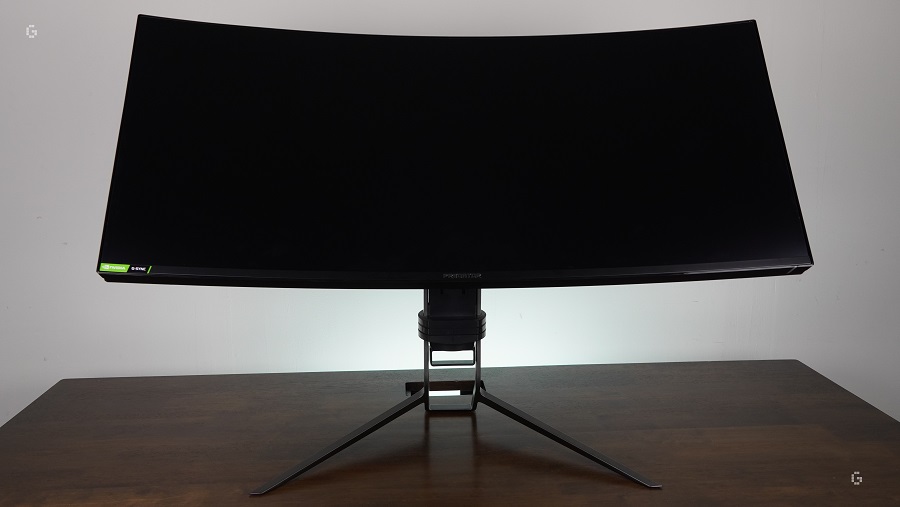 THE BUILD
This bad boy is an absurdly large curved, gaming monitor at 37.5 inches which sets you back by at least USD$1599.99. A weedy person is going to need help lifting this, but at least the set up is easy enough as a one-man job as the stand is pre-installed. It's a 3840 x 1600 resolution monster, weighing in 9.48kg for all that screen real estate. If you have a 100 x 100mm VESA mount, it'll work fine if you don't use the one provided. Since the stand is already installed, you'll need to unscrew it to attach the VESA one.
Granted, having a monitor this big means you really should have the space for it to begin with. An ultra wide-screen is one thing: where are you going to be putting it? If you're concerned about the curve, the 2300R screen isn't that "visibly" curved. The view is as such that everything can be more or less be on the screen at once without needing to move your head too much. The bezels might seem larger with 11mm top and side bezels to a 17mm bottom bezel, but much like the curve, it's hardly noticeable.
The back of the monitor is a sleek one, with small holes to facilitate ventilation to give it that "gaming" look. The stand might actually be the more attractive point since it has a bit more pizzazz with the light grey Predator logo but one digresses. It's an ergonomic stand allowing you to adjust the height (up to 5.12 inches) and tilt of the monitor (backwards: 35o, forwards: 5o, left/right swivel: 30o), making it easier to access its cable.
Port wise, you have an array including an audio jack, a DisplayPort 1.4, 2 x USB 3.0 ports, and 2x HDMI 2.0 ports under the panel, with two additional ones on the left of the monitor. If you really need the space for your peripherals, just plug it into the side. Design wise it may be unusual, but it certainly is very convenient.
THE PERFORMANCE
Monitors: what is there to say about a screen? First of, the Acer Predator X38 S is a 3840 x 1600 Ultra Wide QHD+ monitor with 144Hz refresh rate, up to 175Hz when overclocked. HDMI 2.0 gets you up to 3840 x 1600 and 144Hz refresh rate, while the DisplayPort supports up to 3840 x 1600 and 144Hz/175Hz OC refresh rate.
HDR600 support works pretty well, though it's lower for those who prefer more extreme contrasts that come with higher HDR grades. Contrast ratio by itself is at 1000:1. It does have an IPS panel with 98% DCI-P3 colour gamut with a Delta E<2, so if you're in need of colour accuracy, you can find it here. G-Sync Ultimate and FreeSync would be more for gaming purposes, offering tear-free gaming, and adaptive sync all the way to 175Hz for G-Sync.
GAMING
Tested at max resolution (3840 x 1600) at highest settings.
VALORANT
Graphically, this isn't the most taxing game out there, but it is a competitive title where you would love pin-point accuracy. The models look sharp, and the environment looks enhanced as well. Definitely gorgeous.
APEX LEGENDS
Buttery smooth transitions, no jagged edges, no lag, no tearing, and all in full detail (until the motion sickness kicks in). As beautiful as the game is, you might need to turn down the settings as the enemies can begin to blend into the realistically rendered background.
THE WITCHER 3
Now here's how you can admire Bathtub Geralt in all his glory, and also the world he lives in. If you've always wanted your screen to do justice to the smaller details in open world games, the Acer Predator X38 S is for you.
Overall, the monitor does its job extremely well. HDR mode will help the outdoors look even prettier, though some games may have issues (in which case, you'll need to turn it off). Unfortunately, the 175Hz is also only limited to the one DisplayPort as neither HDMI ports are 2.1. As it stands, it's only really optimized for PC, leaving PS5 and Xbox consoles not able to use its full potential.
AUDIO
This monitor comes with two 7W speakers which actually work really good, with no distortion at levels above 70% and good bass response.
OSD
Presets are available. Outside of that, you'll have access to many colour and picture options, with the whole gamut including peak brightness, colour profiles, tone, contrast, blue light, and more. The game menu is also quite comprehensive to let you tweak the response rate. Overclocking can likewise be done through the OSD and have the refresh rate show on screen, or select the monitor's G-Sync esports preset. Other settings include:
Acer Vision Care 3.0
BlueLightShield
ComfyView
Dark Boost
Game modes
GameView
Flicker Free Technology
NVIDIA G-Sync Ultimate
Refresh rate Overlock
Response time boost
SDR/HDR variable backlight
CLOSING THOUGHTS
Well, for the extravagance of getting this monitor, the Acer Predator X38 S is an outstanding ultrawide display: beautiful image quality, sRGB mode, high colour accuracy, 175Hz OC refresh rate, super responsiveness, sharp resolution, and all that. Immersion is more or less assured, whether for gaming, or viewing. So long you have a GPU to actually output the gorgeous graphics, then, by all means.
The size does mean comfortably using it as a PC gamer might not be recommended since it's really close to your eyes, making it better for consoles where you can keep a distance. Then again, saying it as more of a nitpick, it's not 100% optimized for consoles.
Other than that, the Acer Predator X38 S is amazing for whatever you're gonna display on it, so if you're looking for a big, curved monitor, this is one for you.