Prior to the launch of Star Ocean The Second Story R, we got to talk with the game's director Yuichiro Kitao in an interview. Joining us in the interview is Kei Komaki from the Square Enix development team.
Yuichiro Kitao is the director for Star Ocean The Second Story R, as well as the CEO of Gemdrops Inc. Kitao has been involved in the JRPG genre for almost 20 years, and he was also in charge of the development of the battle system in Star Ocean 3.
[Interview is edited for clarity]
For a HD 2D remake, the game definitely looks quite different in terms of how it looks more 3D-like instead of still retaining some of the pixelated style in terms of how you see in the environment. So can you talk more about designing this sort of new graphic style for this remake?
Kitao: So when we first started developing this remake project, Star Ocean: The Second Story R, we wanted to focus on how the old time players who played the original release way back then, 25 years ago, how they would feel and how they would remember these original elements from the original game. So the biggest challenge in developing this game and in terms of the graphics was how to balance how much of new elements we're going to put in and how much of old elements we're going to keep or how much nostalgia we wanted the old players to feel. So, finding the right balance between these two was the biggest challenge.
So the visuals of this game it's new, it's different, as you've mentioned in your question. So the characters are illustrated or visualized in like 2D pixel arts, but we also utilize the specific shader just for this game. And in terms of the 3D environments, we created and tested a lot of different types of various elements and various environments to see how well it fits the 2D characters. So our goal for the environment was to create a fantasy-heavy, but also realistic at the same time, where it won't feel off or it won't feel weird from a player's perspective, even if they see a 2D character in a 3D environment.
So adding on top of that, another thing that we wanted to achieve or what we wanted the players to feel that they've turned into these pixelated characters themselves and have them feel what it's like when they're pixelated characters and they're inside these like realistic 3D cities or a forest or the fields in the game or the areas in the game. Basically have them experience what it's like to be that 2D character in a realistic 3D environment and how the world looks to them.
So again, the main purpose or the goal was to create a game or create a visual where it feels natural for these pixel characters to exist in this realistic environment.
Q: We already see that the combat system somehow has differences from the original one, right? I want to ask about the reason or inspiration for the change of the combat system to be faster than the original version. What's the reason or the inspiration for it?
Kitao: So the priority for the development team was to keep or retain the better qualities of the original battle system found in the original game, and make sure that the play feel is similar to how the users back then felt when they played the original game. And in terms of the effects or the visual effects that's found in these battles, we have kind of polished and refined the visual effects that can be seen in the attacks and the symbology attacks.
On top of that we also refined the speed of these battles we made sure that these battles are don't drag too long we made sure that they go, you know, you go pretty quickly they don't they don't drag on too long and and we wanted to make sure that the players felt the enjoyment of effectively and quickly defeat battling these enemies and defeating them. So to kind of dig deeper into the battle system for this game, we implemented new systems such as the Assault actions and the Break systems, both that can be very useful if you use them correctly in battle.
So the reason why we wanted to kind of implement these two new battle systems is because if we do so, the old players that played the original game, they find these new battle systems and they feel that the game has been improved even more. You know, they can see that the battle, they kept the good elements of the original game, but they can also feel that there's been more added onto that. And for the new users, they can see these new systems and they can feel that the game isn't outdated because it's not just a reused battle system from a game that was released 25 years ago. They'll find that it's a new game.
The original game featured a mix of in-game action and anime cutscenes. Because the remake features more polished visuals, was there any difficulty in blending all of these together?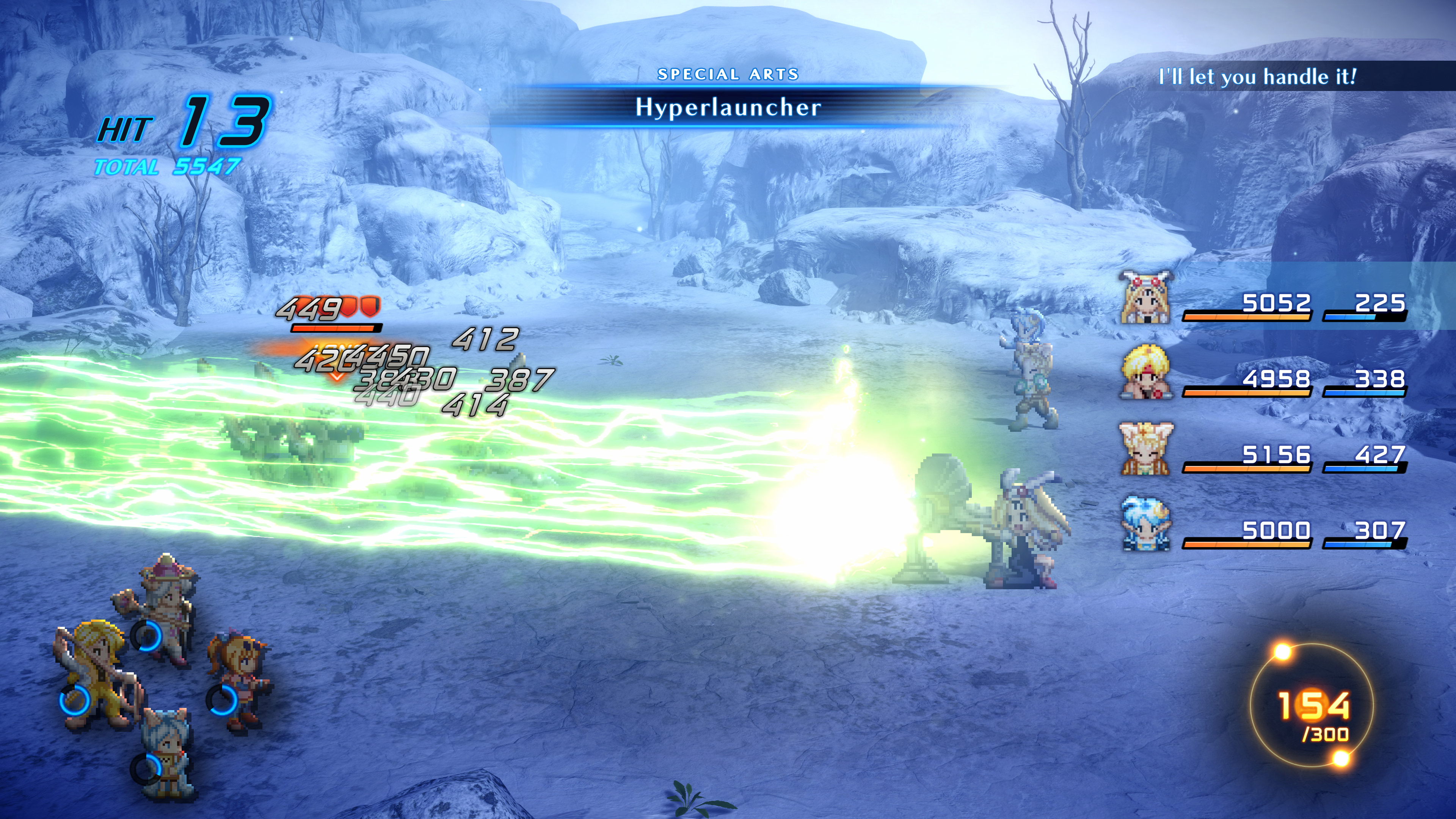 Kitao: Yeah, so in Star Ocean: The Second Story R when characters are conversing, or just like a dialogue scene, you can see that there are static images or just illustrations of these characters. So for these designs, for these illustrations, it was handled by Yukihiro Kazumoto, the character designer for Star Ocean Second Story R.
So it was illustrated or it was designed based on his interpretation or his reinterpretation that's going to be a bit different from the original releases and like the PS1 version, but also from the PSP version as well. So it's newly designed and illustrated by Yukihiro Kazumoto. But what he focused on in terms of the design and the illustration was that he wanted to design a character where it doesn't feel old, but also it feels like it's Star Ocean as well.
And in terms of the cutscenes, the 3D cutscenes in the game that has been developed by Gemdrops. But what they, what we focused on what we wanted to prioritize was that we wanted to make sure that the quality of the 3D CG scenes in the game was not so different from the quality of these actual cut scenes. We wanted to make sure that the players didn't notice any differences. We wanted to make sure that they didn't feel off from the difference if there were any differences on these qualities to make sure that they can stay immersed into the game and live in that world. So I wanted to prioritize that when we develop these cut scenes, and the visuals, and the graphics. To top it off overall, the focus was to make sure that it all feel natural for the players.
Sakuraba-san is back and has rearranged the full soundtrack for the game. I'd like to ask how crucial was it for the team to bring the original composer back for this remake? Was it the case of no Sakuraba, no remake? Were there any other non-negotiables for this remake or things the team needed to have to make the project a reality?
Kitao: As you know, he's handled the composition for all titles in the series, so you can definitely say that he's an essential piece to the entire Star Ocean series. So it was great to hear that Sakuraba-san graciously accepted to return to handle the compositions for this title as well. And I can definitely say the new tracks and also the arrangements that he's made to the pre-existing tracks from the series are all very great.
And about your second question, i think it was about absolutely necessary elements that were required in order to achieve or in order to develop and release this remake project. One thing was that I, myself, and the development team wanted to focus on was to respect the original source material, respect the original release of the game, obviously keeping the good qualities of the original game, but also adding new elements to it without breaking the original game. So finding a good balance between those two was a big challenge, a difficult part of the development, but the end product, we believe that it's a very great game.
If you have only to choose one feature, which feature do you think players will be most impressed by in the remake version of the game? And can you explain about it a bit?
Komaki: It is kind of a difficult question because it's kind of hard to guess or assume what players are going to feel on behalf of them. But the development team has communicated with Kitao-san and developed the team extensively. And we were all aligned to put some importance to implement a new system that's suited for a modern RPG. And that was the Assault Action System.
So to add to that, we also wanted to feature or put more importance on the characters. So the character moments that we put, we put more characters and we put more dialogues for these characters. And so that was to ensure that we, the players can feel more strongly that they are actually, they're actively fighting, they're actually fighting with these characters and and to give more immersion basically. And in terms of the assault action system, it was a was a really a rough road to develop and we actually changed the system for us four times during the development.
Star Ocean: The Second Story also known for its many endings. How do you feel about making so many endings in the remake? And how will you implement it on the remake? Also is there any particular ending that you like?
Kitao: First and foremost, Star Ocean: The Second Story R will also have multiple endings, so rest assured that we kept that feature from the original game. In terms of the ending that i like, it would be the one where Claude end up being alone. And to add on top of that for this remake, we kind of rebuild the Private Action system so in a way it's more easier for the players to switch between the mode, so that they can switch back and forth to the private action mode.
And this is similar to the original release as well, but a lot of players wanted to focus on the ending that they were playing. So in order to achieve that, we also adjusted the system so that it's easier on the player's end to understand and be aware of how close they are to each of these characters so that they can know which endings that they're likely to end up with. Considering that we would like to have the players to  try and test out and see a lot of these different endings and how it plays out.
Star Ocean 2 is widely considered to be one of, if not the best game in the series and well, my personal favorite as well. That being said, did the team face any sort of pressure to bring the best installment in the series back to life in a way that fans and newcomers would appreciate? 
Kitao: Yeah, so to be completely honest, the pressure was very big to create a successful remake for something so highly regarded. As you mentioned, it was important to ensure that both of these players would enjoy this remake title. So personally it was a huge challenge. There was a lot of pressure, but in terms of if it was the right decision to create the game the way we did, we can't really determine if we did the correct, if we took the correct approach or not, because the game hasn't been out yet. We haven't seen much people play the game yet.
So I am looking forward to see how the players react to this game. But that being said, I do believe that we developed a game where both newcomers and existing fans would enjoy. And so it was a challenge that was well worth the struggle.
Is there any new game plus or post-end game content implemented in Star Ocean: The Second Story R?
Komaki: In terms of the replayability of this game, we did prepare a lot of feature systems for Star Ocean Second Story R. So first and foremost, there are numbers of elements or systems that the fans who have played previous Star Ocean titles would recognize. And on top of that, we did put in a lot of effort in structuring the fields or the areas for this game.
And unfortunately, we can't really talk about the details too much at this point in time, but we did put quite some effort into putting some replayability in terms of exploring the fields and battling a stronger enemy. So we were looking forward for the players to experiencing these elements.
There's this new big feature which is the two voice sets for the original and the new one where you can switch between at any time. So, this is certainly a very rare addition to see in any type of remake. So what led to the decision to include it? 
Komaki: In terms of the reason why we implemented two voice actors for each character was because if we look at the PS, the original release and the PlayStation 1 version, we did have voice actors and characters that have voices on those as well, but it wasn't fully voiced. So during cutscenes and during event scenes, some of them, they wouldn't have voices throughout.
Because of that, we heard a lot of voices from our fans and players that they'd like to see a game, they'd like to see Star Ocean 2 fully implement the voices in each and every scenes. And so we were able to do that for this time around. So that's one reason why, which is to expand and  add a bit more context.
For Star Ocean Second Evolution, or the PSP version that was released on the PSP. That one featured new voice actors for each of these characters. And when we looked at the players for these two titles, the original release on the PlayStation 1 and the one on the PSP, we wanted to ensure that we were keeping both and respecting the memories and the nostalgia of both of these players.
Both for players that played the original release for the PlayStation 1, but also for the users that played the PSP version that was released 10 years ago. So yeah, we wanted to prioritize the game experience for both of these players, so that was the reason why we implemented two voices for each character.
In terms of the audio like the voice acting and sound effects and so on, has there been any improvement made over the original? 
Kitao: So for the voice, we did record new dialogues, not for everything, but there are some new dialogues and lines recorded for this game and for the voices. And for the sound effects, these are all actually newly recorded. And these were all newly produced and recorded to ensure that they align with the visuals of the game. And in terms of the music, the score, Sakuraba-san has made newly produced, Sakuraba-san has newly produced scores and tracks.
Then in terms of the battle, so for impactful scenes or moments impactful moments, Sakuraba-san actually use live instruments for all of these impactful scenes so that it fits well with the battles. And the sound that comes off as a result is actually very pretty big and impressive. So i'm really looking forward for both the new players and the pre-existing fans to enjoy these sounds.
And to add a bit more, as mentioned earlier, players can switch between the voices of the PS1 version of the PSP voices. But on top of that, players can also change the background music from the to the original PS1 version as well. So it's not just the voices, players can actually switch the scores too.
The remake will have some new quests in general like both side quests so will you be able to share what players can expect in some of these quests and are there any particular quests you're excited for fans to experience?
Komaki: In terms of main story, there actually isn't any changes, so the core goal for this remake is to deliver the same story experience for the players to experience. So our main goal wasn't to change the main story of this game. And moving on to the side quests, so that would be the private actions. So actually there won't be any changes for a side quest as well for this game. However, there are some newly implemented features in terms of the overall narrative, such as characters communicating or talking while they're moving around the field. So that's actually a newly implemented system for Star Ocean: The Second Story R. And the purpose of this new element for these, and the purpose of these new element is to have more character moments, have more moments where the players can kind of deep dive into the characters.
So it's important to consider that the original Star Ocean 2 has actually an enormous amount of content within the game. There's a lot to kind of implement into the remake project as well. So our goal was to ensure that the original content gets delivered to as many players as close as possible to the original release, but also at the same time, we also had to ensure that the new players, the newcomers of the series, experience the same game experience as well. So in order to do that, we have new characters and new stories about them.
These are going to be new elements to the overall narrative of the game. And through these new characters, players can obtain items and some beneficial things to their gameplay experience. We want the players to look forward to these new elements of the narrative.
Why has the developers decided to remake this game which was released in the past? Why not focused on completely new game but combine the classic features with modern features to attract the audience instead of the remake of the past game?
Komaki: It's not that we're not developing new titles at the moment. It might be easier to understand by phrasing this as we were actually developing the Star Ocean 6 and Star Ocean: The Second Story R at the same time. We were developing these titles in parallel. So we were creating new titles along with this remake title.
Unfortunately there's not much that I can tell you regarding new titles from the series at the moment, but to answer a question on why we decided to create this remake title was that this year marks 25 years anniversary since the release of the original Star Ocean 2. So it was a great opportunity to commemorate that with with the remake project. And we just came off of a new number title, new mainline entry from the series, Star Ocean 6. So it was a great way to connect it with that as well.
And another reason was that we've been having a lot of voices from our fans and communities that they wanted a Star Ocean 2 remake for throughout these years for a long time. On top of that, we were able to receive support from Gemdrops in developing this title. So all of these reasons combined were kind of the reason why we developed this remake title.
Kitao: To answer your second part of the question, obviously in order to create a good remake title, it's important to make sure that the players that play the original title enjoy this game. so incorporating elements that follow and replicates the elements and features from the original game and incorporating those into the remake title was essential.
It was essential to capture and incorporate the elements that were considered great in the original release. But again, the reason why we wanted to go for newer players as well, was that we wanted to make sure that we captured the older players that played originally. We also wanted to make sure that newer players and players that are returning, so players that have played Star Ocean series before, but haven't done so in a long time. We wanted to get these audiences as well into this remake project. So for the returning users who have played the previous titles, we wanted to present this as a newer experience of a Star Ocean game.
And for the newer players that's playing Star Ocean, that's getting into Star Ocean for the first time, you wanted to present this game as something that might seem a bit of an older game, but also delivers a newer, new game experience. And so combining these two elements together, keeping the older fans happy and keeping the newer fans happy as well was extremely difficult to balance this.
So you can kind of picture a a tower of Jenga, and you know how those things are standing but it's done so because of how it's balanced out. So the development process was kind of putting the Jenga pieces one by one and making sure the tower doesn't fall. Keeping that balance, keeping the right balance of that was a very tough process, but it was a challenge that I was happy to take on.
Who are your favourite character in the game?
Kitao: So as someone on the developer side, we made sure to create these characters in a way that they each have all their uniqueness, they each have their individuality. So it's hard to pick favorites out of it, but if I were to pick one, i would say it's Precis. She's a fun character and personality-wise she's very fun. And in battle, she also has a lot of skills, so it's fun to play as well. But again, all of these characters in this game, each and every one of them are unique. So we're looking forward for players to seeing the difference.
Komaki: I would say that my favorite character would be Celine. She is kind of a wizard or witch that use the symbology attacks in battle. I talked about this with Kajimoto, the character designer as well. And Kajimoto himself mentioned that he reached a new level in his skill when he designed his character. I believe that players would be able to understand what we mean when players look at the design for this character. She's a great character. So looking forward for our players to see her.
---
We would like to thank Yuichiro Kitao and Kei Komaki for taking the time to answer our questions. We'd like to also thank Square Enix for setting up this exclusive interview for us.
Star Ocean The Second Story R launches on 2nd November for Nintendo Switch, PlayStation 5, PlayStation 4 and PC via Steam on 3rd November.
---
Check This Out Next
---