Skullgirls Mobile 's simplified combat was made so that you could still make combo videos out of it, according to Hidden Variable co-founder Charley Price.
In his GDC talk about bringing the Skullgirls experience to mobile, Price talked about creating an experience that's still evocative of a wild fighting game like Skullgirls, but also friendly to newcomers.
He highlights that one of the ways they struck this balance was with the puppet character Ms Fortune- she features a detachable head, which can be controlled like a second character.
Rather than take the head away, Hidden Variable added a unique interface for controlling the second entity.
"Ultimately knowing that there is this kind of aspirational complexity that they can build towards if they're so inclined was really important to go through and satisfy a wide array of different players and help casual players become more advanced and proficient", he says.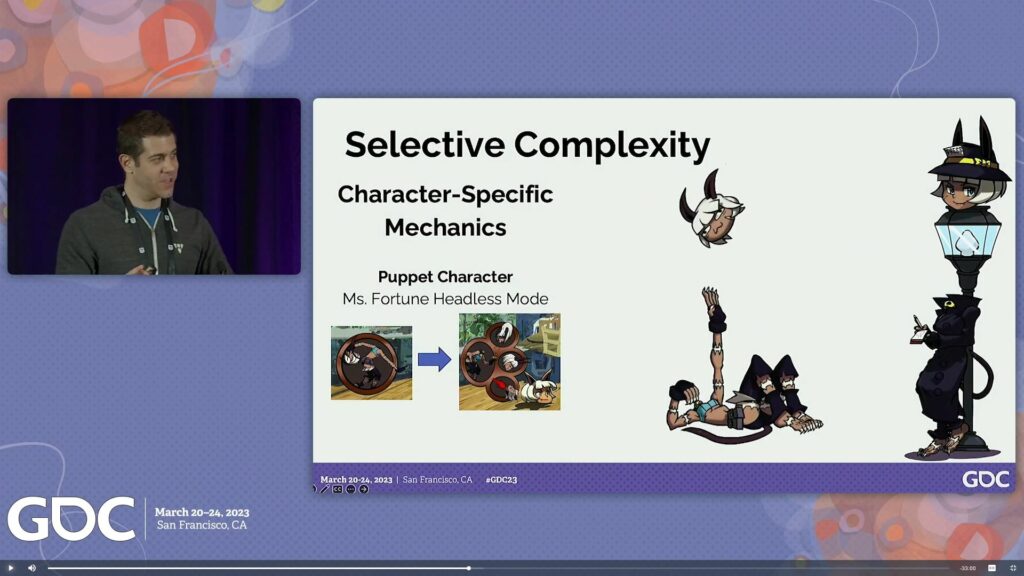 He also elaborated on combo expression- saying that while combos like air juggles were canned, that didn't mean every person had to play characters the same way.
"We had one of our pillars be that our game needs to be able to support combo videos", he says. "So there needs to be enough range of expression within our game so that a bunch of people could, we said, 'do a Black Dahlia combo video', we're gonna get a dozen different examples back that are all totally different from each other", he says.
The talk, titled Rolling With The Punches: Reinventing Fighting Games For Mobile, addressed Skullgirls Mobile's fidelity to fighting game fundamentals while also being adapted for mobile devices and casual play.
In it Price also discussed things like how they had to cut out things like jumping, crossups and high-low mixups- all deep fighting game mechanics, but still kept traces of it in with characters having verticality- such as Annie's dive kick to be able to clear low attacks even without a dedicated jump button.
Skullgirls Mobile has drawn a lot of praise from players for exactly what Price is talking about- while many fighting games have alternate genre spinoffs on mobile, Skullgirls adapts the fighting game genre for phones with simplified controls and retaining flashy combo options.
That being said it does also add collector RPG elements, with different units based on the cast's various color palettes.
Skullgirls: Fighting RPG
Android, iOS
Skullgirls is a 2D Fighting RPG packed with unique, colorful characters to collect, upgrade, and customize as you search for the mysterious SKULLGIRL!
---
Check This Out Next
---