When wedging a game between two mainline titles, there's a lot of opportunities to be had to explore a game's world. That's certainly the case with Diablo Immortal, the mobile version of Diablo that takes pace between Diablo 2 and Diablo 3. We spoke to Julian Love, Senior Combat Designer as well as Justin Dye, Senior Narrative Designer, about what it's like returning to Sanctuary after the climactic events of Diablo 2, but before the climactic events of Diablo 3, as well the general direction of the game's Technical Alphas.
The World of Diablo Immortal
Q: Could you talk a bit about the lore of Diablo Immortal, specifically how it fits between Diablo 2 and Diablo 3?
Justin: . Basically the time between Diablo 2 and Diablo 3 is quite large, there is about 20 years of time between the ending of D2 and the beginning of D3. So much can happen in 20 years, in general our game is a sequel to the storyline of Diablo 2 after Tyrael destroys the World Stone, shards of it fly across the land and these are objects of incredible power. If the wrong people were to have them in their hands all sorts of terrible things can happen. So the lore that we have in Diablo Immortal is both dealing with that and also doing things like going to places we have never seen before, going to all new lands or familiar lands and seeing what characters have been up or what things have changed in the meantime.
So, absolutely. For a great example is what in the just released in the alpha is some example of what we are doing. Frozen Tundra is a zone that priorly available in D2, it was part of act 5 as you were heading toward the world stone. You fought through the siege of Baal within the Frozen Tundra and in Diablo immortal. you see the world after Baal's invasion, you see the results of what happened to these Barbarians who failed to protect the world stone but also we have Mount Zavain, an entirely new zone which is a temple of Monks. These are the Monks that you have been able to play as a player class in D3 but we haven't really seen their world. We haven't really seen what their temples look like, we havent learned much more about them or what happened to them in the past other than in some lore books and some stories and things like that. So its the first chance to see these places in-game. So in general we absolutely expanding the lore, Diablo Immortal is an entry that takes place between those two games but it is it's own thing and we'll be exploring all sorts of places and seeing all sorts of things as we go.
Q: As a game that bridges Diablo 2 and Diablo 3, will we find out what happens to the Immortals at the end? It is hard to imagine that they wont be there to defend against the demons in Diablo 3.
Justin: That storyline is definitely a storyline that we will be continuing as we go forward. The Immortals are a very cool and fun part of Diablo Immortal but they sure don't seem to be present in D3 and but the next time you go to Westmarch, Malthael has killed everybody and turn them into the reapers.
So in general there is a bit of a gap before you get back to Westmarch and see how much bloodshed has really occurred there but that storyline certainly is interesting. I would not be shocked if you see more of it in the future.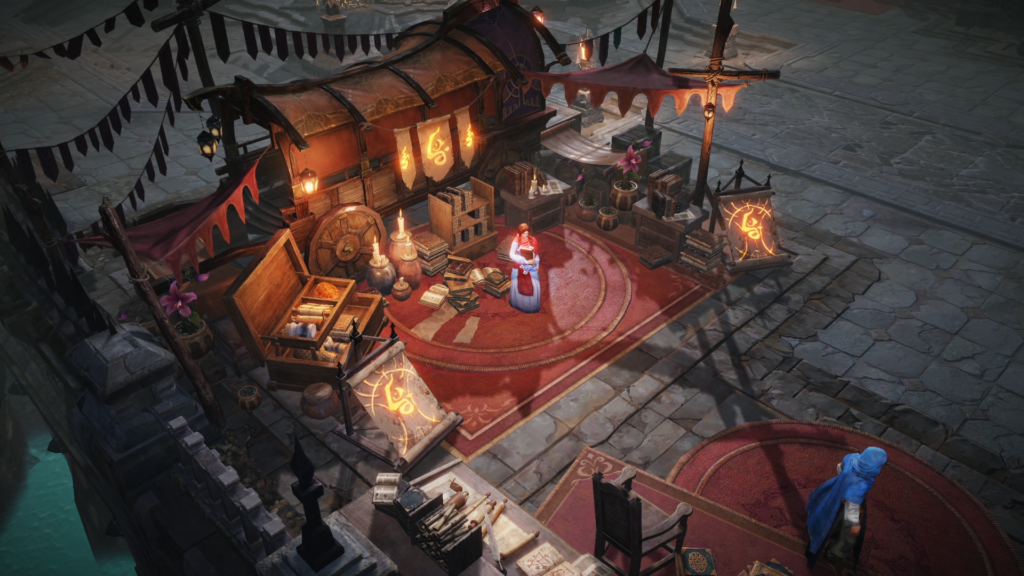 Q: Speaking of Westmarch, It's great to see Westmarch thriving and in its prime before the events of Diablo 3: Reaper of Souls. Can you tell us what led to the decisions to make it the player hub in Diablo Immortal?
Justin: Actually, it's a bit of natural evolution there. In truth, there are few cities during Diablo Immortal that are at such strength. Westmarch is one of the stronger, more populated places in the Diablo world, obviously Caldeum also qualifies, but during the Events of Diablo 2 and Diablo 1 quite a few major areas like Tristram, Khanduras in general, etc.  get destroyed during those events. Looking through we were kind of trying to identify places that could be interesting place to go or become the places that you would spend your most of your time socializing, buying things, going to see familiar vendors and upgrading equipment and do things like the Helliquary, eventually.
So when we were kind of coming up with those ideas we were looking at places and Westmarch pretty much stood a head above the rest but also it was a chance to show that city in its prime. We love honestly its super cool zone to fight in. I love the idea fighting in a city,  there's  a lot of interesting dungeons essentially as you sneak into the houses and fight there, but we never really got to see it populated with people who are alive and happy and not being murdered, so it was a chance to do that to show what Westmarch was like and when we mix those two ideas, it kind of made a lot of sense and it really make everybody excited and we love to sort of follow that excitement and channel it and create new fun things
Q: For the character classes that are also present in D3, could you talk a bit about  making sure that fans don't think that they are the same character?
Justin: From the story perspective we've actually gone through and taken a lot of time to figure out 1) who these classes are at this point in the storyline, for example there are not a lot of wizards walking around the world, The Crusader just had the zakarum faith be shattered as the head of their religion was revealed to have a demon in their body, the barbarians come from a homeland that has just been shattered, their world has been broken. So our Barbarian for example is far more emotionally raw- many Barbarians are super stoic, they have that strength. But our Barbarian just felt a lot of loss. He many ways feels very passionately right now and its an interesting way to see a different type of Barbarian.
The same thing happens with the Crusader- as i mention, their faith was just shattered but they're so much closer to their faith, even than the Diablo 3 Crusader, who had 20 years of knowing that the Zakarum fell. And so the Crusader in Diablo Immortal has a bit more of a religious bent to them, they have more zeal, more faith in the light that there will be a way for things to move forward whereas by the time in Diablo 3 happens, the crusader has a bit more soldier, their faith is a bit more practical. So in general, we took this a an opportunity to look at all of the classes and see how we're presenting them, who they are as people and ensuring that they are unique, so all of them have different style, different voice, different feeling that they did in Diablo 3 and its going to be fine seeing how people react to all the cool new changes.
Making The Jump To Mobile With Diablo Immortal
Q: It seems like some of the classes returning from Diablo 3 are nerfed, could you elaborate on some of the decisions behind that?
Julian: Well the thing to keep in mind is that all the classes for diablo immortal were developed from the ground up for Diablo Ommortal. So there really isn't a comparison to make yet between the classes in Immortal vs Diablo 3. The controls are very different, a lot of skills are different, the context of the game is entirely different in a lot of ways. Yes, it's exactly a Diablo game and feels like Diablo game, but we have very different systems that are much more mature. You know it is a progression on the Diablo franchise, and so whatever happened in terms of class balance between past classes, it is not something that is necessarily going to relate to the current game.
However, i would just sort of state our outlook on nerfs which is not something that we typically try to do. Obviously if we did have a class that we felt was exceedingly overbearing we will try to make steps to address that- but we tend to try to take that approach of "if there is a class that is a little bit better that another, is there a ways for us to move other classes up to meet that class or does that class have to come down, or is it combination of those two?". The idea being that we try not to disappoint people who have fallen in love with a class, some aspect of it by shredding it so to speak. That said, There is a long way to go we are in alpha 2, we've got more playtests, we got a lot more work to do, there is plenty of time for us to field feedback and make sure that classes are fairly well balanced and when the classes arrived everyone can play the one that they prefer.
Q: What is the most challenging thing when you design Crusaders in Diablo immortal? Especially with regards to fitting the skills on mobile.
Julian: Well, there's challenges and opportunities. The easiest challenge to talk about is that the controls are so different. We have virtual control and you are tapping on the screen and that is similar to how a console control system works, but it is not the same, you dont have the same feedback- so that's kind of a challenge making that feel right, trying to make the controls feel like they are responding to what the player want their character to do.
We spent a lot of time working on that, we are not done *laughs* . We are always looking for ways to improve that and i expect us to continue for awhile, that said there is a lot of opportunity in translating classes to a new platform with new control and you see that in the crusader taking advantage of things such as charge up attacks. We didnt do charge up attacks in D3, we had thought of it, we tried it we just didnt like it there, but in diablo immortal you do spend more time having to sort of aim a lot of some of your abilities and having charge ups happen during that aiming process gives the player something extra from that aiming time but also create some added depth in the game that we can work with and take advantage of.
We also do things such as two-step skills- so these are skill that you can press the button twice for it to make two different things happen. So Falling Sword would be in my go-to example where you aim the skill at an area on the ground, and press the button and then what happens is damage starts occurring in that area when your sword smashes into the ground. But then you can press the button at a later time that the player determines and then the teleportation happens and this opens up some strategic gameplay decision for the player to make, do they want to teleport right the way or do they want to go to do something else and then teleport later and use that maybe as an escape skill.
Talking About The PvE Experience in Diablo Immortal
Q: What were some of the main takeaways the team got from the recent Technical Alpha sessions?
Julian: 1st was just how well received diablo immortal has been. people do seem to be genuinely surprised by how big and full featured the game is how much it feels exactly like a Diablo game in every way, surprised at all of the returning characters, classes and the overall just depth of the gameplay systems that await them in diablo immortal
Justin: One of the things for sure was that people were having a lot of fun with the rifts and things like that we had available in the first tech alpha but they wanted more and then we came at them with quite a bit more. There is now the cycle of strife, multiple types of rifts, the Helliquary, two new zones and lots more content than the last time saw it. We also did some revisions when they started the game, the intro experience is a lot more dynamic, interesting and fun. We also did some adjustments to bring players into the big city of Westmarch earlier, so they can see the grand city of Westmarch its prime. So lots of little things changed, its quite a huge game as you jump in and play it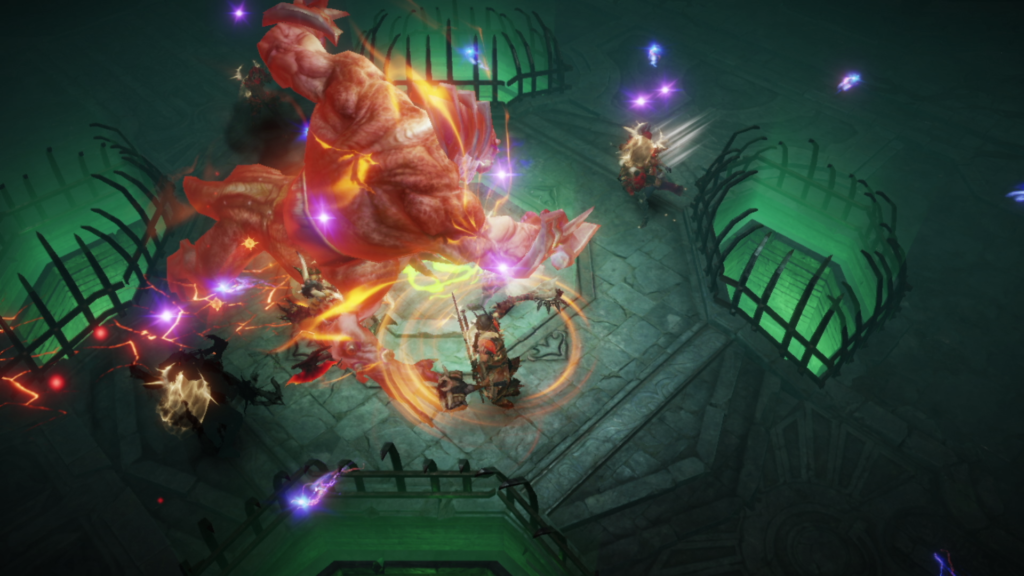 Q: What is your inspiration when designing the end game PVE system?
Julian: there's a lot of stuff that we talked about,we always look at past games to see what players wanted or what things did we do that were successful, what are the things that we didn't do that players seem to want and what things are happening in other games that are like ours that are turning players on.
So, there are really kind of comes down to variety, making sure that there are a lot of different things for player to engage in that fit with their play style and their interests and what they get out of playing a diablo game. In other words, we want to provide the player with a lot of freedom to engage in the part that they want. And that is in the service of trying to reduce the feeling of drudgery.  If you get stuck doing the same things over and over all the time eventually you will  get tired of it and we understand that.
So that is why you see so many really rich endgame possibilities. You got so many things to chase from completing your Bestiary, you've got elder rift, challenge rifts, Helliquary, cycle of strife, bounties and the list goes on and all of this is they all do slightly different things, they all help you to improve your character in different ways and all of that variety and richness is in the service of making sure that you have plenty of things to do that are things that you want to do.
Justin: you can see this in Helliquary for example. Players love killing bosses, everybody loves killing bosses, it's a lot of fun. In fact that some of the most fun i remember my own time playing D2 constantly was doing Baal runs, doing the Mephisto runs, getting there killing the boss, getting loots and the system like Helliquary is adds an aspiration goal of "here are bosses that we will continually add that are very difficult. are you going to do it yourself?,Are you going to be the guys who fight incredibly difficult boss by himself and has to make it so he can even stand a chance. You you want to pull together as a group of people and take that thing on together?" But it allow players to like in a way that we have seen before with things like ubers, or like Baal runs, and we took that inspiration and made something new with the Helliquary which hopefully will give players very similar feelings but also goals to chase, "I want to kill this boss, i want the buff he gives", all sorts of things like that.
Q: We've had a lot of fun with Diablo Immortal, what else can we look forward to when the game fully launches?
Julian: you can expect that it is just the beginning, *laughs* It seems like the end but it is not. It is the start of something really big and something that's going to take a long time. We have a lot of content lined up- years worth of content lined up and this will include everything you can imagine. This will be new zones obviously, Justin will speak to the story extension, new bosses and new systems and new classes and this may include some old favorites making their way from a previous version of diablo and it may even include all new classes that make their way into the world of sanctuary for the very 1st time within Diablo Immortal.
Justin: there is still a lot that is not currently in the closed alpha, we are continually adding more in fact even at the end of the current storyline in Frozen Tundra, they clearly state "are you sure you're going to go into hell?" Hey, the next zone will be Hell. But there will be more story, more systems that have yet unlock and more more, more more…and then we will keep adding more on top of that.
Julian: And the Necromancer
Justin: And the Necromancer, he is the part of the more.
---
A huge thanks to Justin and Julian for taking the time to have this interview. While the Diablo Immortal Closed Alpha is ending soon, that doesn't mean the game doesn't have future Alphas as well as its full release to look forward to. Don't forget to check out if your phone can run it when it eventually launches.