With new top of the line hardware and specs, the Predator Helios 500 from Acer is a beast—it's time to test it out in this review.
Thanks Acer Malaysia for providing us with this Predator Helios 500 review unit!
Note that the particular model that we'll be reviewing is the Predator Helios 500 PH517-52-90NY, worth RM19,999. As such, your experience with your Predator Helios 500 may differ greatly if it's of a different model.
Let's dive right into this review!
Technical Specs
NVIDIA® GeForce RTX™ 3080 16GB GDDR6

NVIDIA® GeForce RTX™ 3080 8GB GDDR6

17.3″ 120Hz UHD Slim Bezel 100% DCI-P3 HDR1000 IPS Mini LED Display

17.3″ 360Hz FHD Slim Bezel 100% sRGB IPS Display

32GB 3200Mhz DDR4 RAM (upgradable to 64GB)

2TB PCIe NVMe Gen4 SSD (2 x 1TB)

1TB PCIe NVMe Gen4 SSD (2 x 512GB)

Killer

™

Wi-Fi 6 AX1650i
o 802.11 a/b/g/n+acR2+ax wireless LAN
o Dual Band (2.4 GHz and 5 GHz)
o 2×2 Mu-MIMO TechnologyBluetooth® 5.1
Killer

™

Ethernet E3100G
2 x USB Type-C

™

ports with 1 port supporting:
o USB 3.2 Gen 2 (up to 10 Gbps)
o DisplayPort over USB-C
o Thunderbolt

™

4
o USB charging 5 V; 3 A3 x USB 3.2 Gen 2 ports
(2 ports featuring power-off USB charging)
1 x HDMI® 2.1 port with HDCP support
1 x Mini DisplayPort

™

1.4
1 x Headphone/speaker jack
1 x Microphone-in jack

DTS® X: Ultra Audio

Supported in Windows Spatial Sound for PC Gaming

400 (W) x 319.2 (D) x 35.3 (H) mm

2 years On Site Warranty with Accidental Damage & Theft
Design
The Predator Helios 500 bears a resemblance to its smaller, 15-inch brother, the Predator Helios 300. Both laptops feature the iconic Predator logo on the top of the lid, with two engraved stripes along each side. The chassis is also matte-finished, making it nice to the touch and difficult to leave behind fingerprints.
What I really like about the Predator Helios 500 is its back where the air vents are positioned—it looks really futuristic and cool. The air vents remind me of spaceship thrusters. It's just a joy to behold. Making things even more attractive is how the laptop lights up. Turning on turbo mode will cause the Predator logo and other accents to shine red. My only wish would be for future models to allow us to customise the colours of the lights.
Looks aside, know that the Predator Helios 500 is a large gaming laptop. At 35.3 mm thick, it's easily twice as thick as many other 17-inch gaming laptops. It also weighs in at 3.9 kg, which is as heavy as a newborn infant. Thankfully, unlike actual babies, this baby is extremely resilient. No longer must you worry about the flimsiness of a thin laptop. The only struggle you'll face is carrying this around. Note that for the laptop to function at its fullest, it requires two power supplies, so that's an extra weight to carry around.
Thankfully, Acer puts the large size of the Predator Helios 500 to good use with a total of 5 USB ports. With 2 USB Type-C and 3 USB Type-A Gen 2 ports, a HDMI 2.1 port, a mini-HDMI 1.4 port and separate audio jacks for headphones and mic, you'll have more than enough ports for whatever task at hand. Combine that with a 720p webcam, and the laptop will easily fulfil all your work-related needs as well.
Display and Audio
The best part about the Predator Helios 500's display is its resolution. The UHD (3840 x 2160) resolution easily blows the majority of gaming laptops' display out of the water. The difference is simply staggering—the image quality and colours are breathtaking. It's even better than many dedicated gaming monitors out there.
The only thing I can nitpick from its amazing display is its refresh rate. 120Hz is still enough to get a smooth gaming experience and comfortably enjoy any FPS game, though I wished it could be higher. Nevertheless, it's still a worthwhile trade for the 4K HD resolution in my eyes.
In terms of audio, the laptop boasts DTS X: Ultra Audio technology and supports Windows Spatial Sound for PC Gaming. The audio is loud, clear and well-balanced, with a little bit of surround sound effect for the win.
Keyboard
The Predator Helios 500's keyboard has everything that you wanted—the keys are not too small and they provide great feedback. On top of that, you'll also get a full Numpad. Overall, it's comfortable to type with. The laptop also comes with aluminium keycaps for the WASD and arrow keys which you can change.
The keyboard also features RGB lighting. The neat thing about the laptop's RGB lighting is its customizability. There are a lot of different effects that can be set via the PredatorSense app.
I also don't have any complaints about the touchpad. It's responsive and big enough without interrupting your keyboard typing. It also feels good to click with.
Thermals
Earlier in this review, when I said that the  Predator Helios 500 is a cool laptop, I meant it literally. The internal airflow of the laptop is excellent, helping to keep its temperature low. Those spaceship thruster-like air vents certainly aren't just for show. Overall, the laptop will consistently stay under 80 degrees celsius.
As for the fan, cranking up the laptop to turbo mode does result in a bit of noise. However, having used the Predator Helios 300 before, the Predator Helios 500 is noticeably quieter.
Battery and Power Supply
One thing you'll recognise with the laptop is that it has two 330W power supplies. This isn't an additional spare power supply for you, the Predator Helios 500 has two charging ports. You'll need to be charging with both adapters simultaneously in order to make it run at its fullest. If you attempt to turn on turbo mode without charging or with only one power supply connected, PredatorSense will notify you that you need both power supplies to be connected and for the battery to be above 40%.
At full charge, the laptop will last a respectable 4 hours. Charging it with both power supplies will bring it to full charge in about 1 and a half hours.
The drawback of requiring two power supplies is that you'll need to connect it with two sockets. This makes it pretty difficult to game in turbo mode in cafes or public places, where power sockets are usually alone and far apart from each other.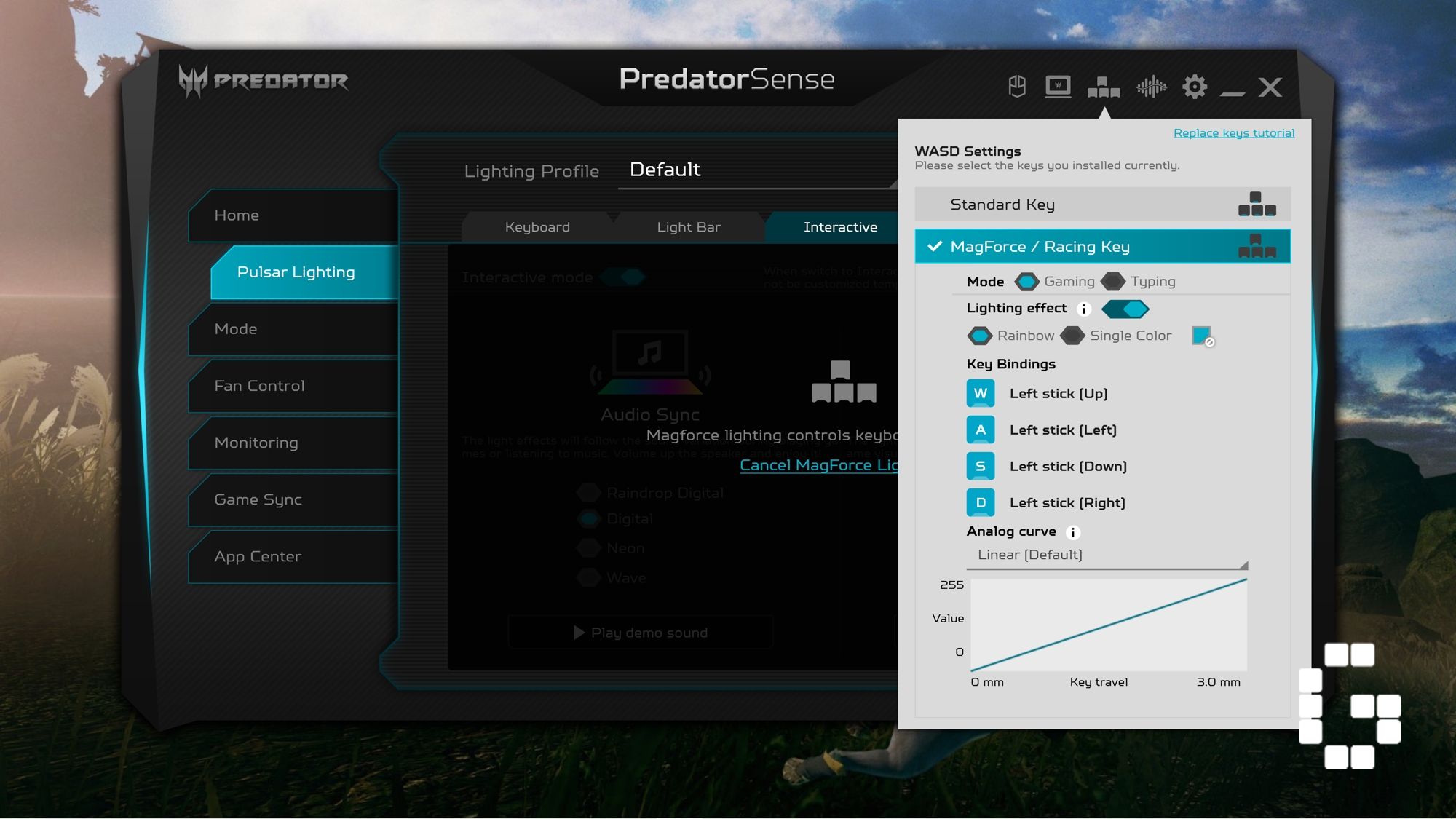 PredatorSense
The PredatorSense software makes the experience of tweaking your gaming needs pretty streamlined. From customising how the RGB lighting works to overclocking the laptop. One neat feature I discovered from PredatorSense is the WASD key setting.
This setting allows users to change select Standard Key or MagForce Key options for the WASD keys. Standard Key setting is the norm for any laptop, while MagForce Key is designed for racing games, where if you push W harder, your vehicle travels faster.
Benchmarking
Needless to say, the laptop easily aces the benchmarking tests. Running PCMark 10, the laptop achieved a score of 5,766 which is much better than the majority of working/creator laptops today.
As for 3DMark Time Spy, it scored a whopping 11,683 which is superb. It'll handle pretty much any demanding tasks you throw at it, especially if it's GPU-intensive.
Gaming Performance
Acer boasts that the Predator Helios 500 has desktop-caliber gameplay, so it's a no-brainer that I'll be putting that to the test. Long story short, it's simply a powerhouse—capable of running games at the highest settings at native 4K resolution without any issue.
God of War
God of War runs as great as I remembered playing it on the PS5. I was able to run the game at an average of 45 – 50 FPS at ultra settings with native 4K resolution and DLSS turned off.
Resident Evil Village
Running on Native 4K and with RTX on, the game is still able to clock in an average of 60-70FPS which is insanely good.
Rainbow Six Extraction
As one of the newest video games to come out, the Predator Helios 500 was able to run Rainbow Six Extraction at an average of 50 – 60 FPS. As always, this is at the highest graphics setting and at 4K resolution.
Closing Thoughts
To whoever said that "size doesn't matter," they clearly have not met the Predator Helios 500. If it wasn't already clear enough in this review, the  Predator Helios 500 is basically a total gaming powerhouse. It's basically a desktop in laptop form.
Whether it's the insane 4K resolution, incredible CPU and GPU performance or excellent thermal control, it nails the most important parts of being a gaming laptop down to a T. Its only drawbacks are the need for two different power supplies and its size and weight. Also, at a price of RM 19,999, it's definitely on the pricier side. Regardless, this is the gaming laptop to beat in terms of performance. For gamers who want the best gaming experience on a gaming laptop, the Predator Helios 500 is your answer.
To learn more about the Predator Helios 500, visit its product page.
---
Check This Out Next
---