2021 for me, is truly the year of long-awaited sequels. NEO TWEWY, Ace Attorney Chronicles, SMTV, Metroid Dread, and the topic of today No More Heroes 3. Developed by Grasshopper Manufacture and directed by Suda51, No More Heroes 3 sees the end of the adventures of otaku-turned-assassin Travis Touchdown.
Suda has said that this is going to be the last No More Heroes game, at least for a long time, and if that is the case, I'm ok with that. No More Heroes 3 is a great game that takes much of what worked with the previous entries and brings the crownless king one last hurrah. If Travis is taking a break, it's a break well earnt.
Galactic Superhero Rankings
The plot of No More Heroes 3 can best be summed up with this lovely little trailer for the game that played at the VGAs a couple of years back.
So yeah, Aliens are invading. Utopinia Corporation CEO Damon Riccitiello (totally no relation to John Riccitiello, former CEO of EA who was in charge when Suda51 was working with them to make Shadows of The Damned) is meeting with his childhood friend, the alien prince Fu. Fu along with his new prison buddies decides that they're going to become superheroes, and by superheroes, he means to take over the world.
The only person who can challenge him is otaku assassin Travis Touchdown, coming out of retirement to defend his city and get revenge for his friends. From here, the game follows the basic plot of Travis making his way through a list of assassins in an episodic format complete with a retro-style anime/tokusatsu opening and ending at the end of each chapter. It does a good job of getting you in the mood for the strange ride ahead.
The No More Heroes 3 plot is a riot. It very much maintains the punk atmosphere that Suda is so well known for. From the menus to the writing, it creates a vibe of retro otaku culture with in-jokes, changing art styles, and even entire sections of the game dedicated to the odd gag and it mostly pays off. Its dialogue and parody are well written and underly some genuinely funny satire. I laughed out loud while playing the game several times.
"But It's Even More Fun If You Played The Prequels First"
It is important to mention though if you want to get to full emotional payoff for No More Heroes 3, you really need to play the previous three entries in the series, No More Heroes, No More Heroes 2: Desperate struggle, and Travis Strikes Again (which are all available on Switch).
You can still play this one and enjoy it however several characters return and go through development from the past installments and the game make no effort to explain who they are. It expects you to already know them and why they matter from seeing them before. As someone who played the previous games, that was no problem and I enjoyed seeing so many characters return and evolve but for someone new, I can see it being really confusing.
As with all Grasshopper games, it is also full of references to their previous works like The Silver Case or The 25th Ward. You don't really need to play these as they only amount to some cute easter eggs but it's a bit of extra fun if you have.
Back Into the Garden of Insanity
No More Heroes 3 is a hack-and-slash game. The basic controls include a light attack, heavy attack, dodge roll, and jump. Once your enemy's health is gone, you are allowed to perform a fatal blow with a button or motion command, cutting their head off in a gruesome yet stylish display of gore. It's extremely satisfying when you pull it off, especially with the Switch's rumble pack giving that final hit some extra crunch. Doing so will also activate a slot machine which could give you a random power-up like brief invisibility or increased attack power.
Be careful though as using too much of the heavy attack will more quickly deplete your katana's battery life which you'll have to recharge, which includes performing a certain up and down motion.

In all seriousness though, charging can leave you wide open for the attack so it's important to time your hits well so that you don't waste battery. The game does however also give you a special doge. Hit the dodge button just before an attack and Travis not only dodges but time slows down, letting you get some extra hits in.
The combat is further fleshed out with the use of melee wrestling moves which can be performed on an enemy when they're dizzy to restore battery for the katana. There are also the new Death Drive skill moves that allow Travis to do special attacks like a kick that can break an enemy's block. They're pretty op and can really turn the tide of battle. These however also require time to recharge so use them wisely.
It is nowhere near as in-depth as say, a character action game like Devil May Cry, it's more of a casual kinda fun. The game uses a heavy emphasis on sound and graphics to make each attack feel powerful and as previously mentioned that satisfaction of loping an enemy's head off or drop-kicking a katana-wielding alien across the room is second to none.
The game however is a bit on the easy side. I played it on normal mode and between all the different attack options it's not too hard to keep one step ahead of the game. I don't think that's a bad thing as NHM is a series that prides itself more on presentation and writing than actual gameplay but for those looking for a challenge, go straight to spicy mode.
The Rankings
This of course takes us to the game's bosses. These are the highlights of the game. Design-wise, they're not as memorable as NMH1 or 2s bosses but they make up for that with the sheer variety and playfulness of the battles.
Each one brings something new to the battle and the parodies of usual video game mechanics are brilliant. One battle involves a game of musical chairs to the death, another involves a mock RPG battle, and let's just say there's a fun surprise waiting for you in the final fight too. No spoilers but it's definitely one for the books.
Getting That Entry Fee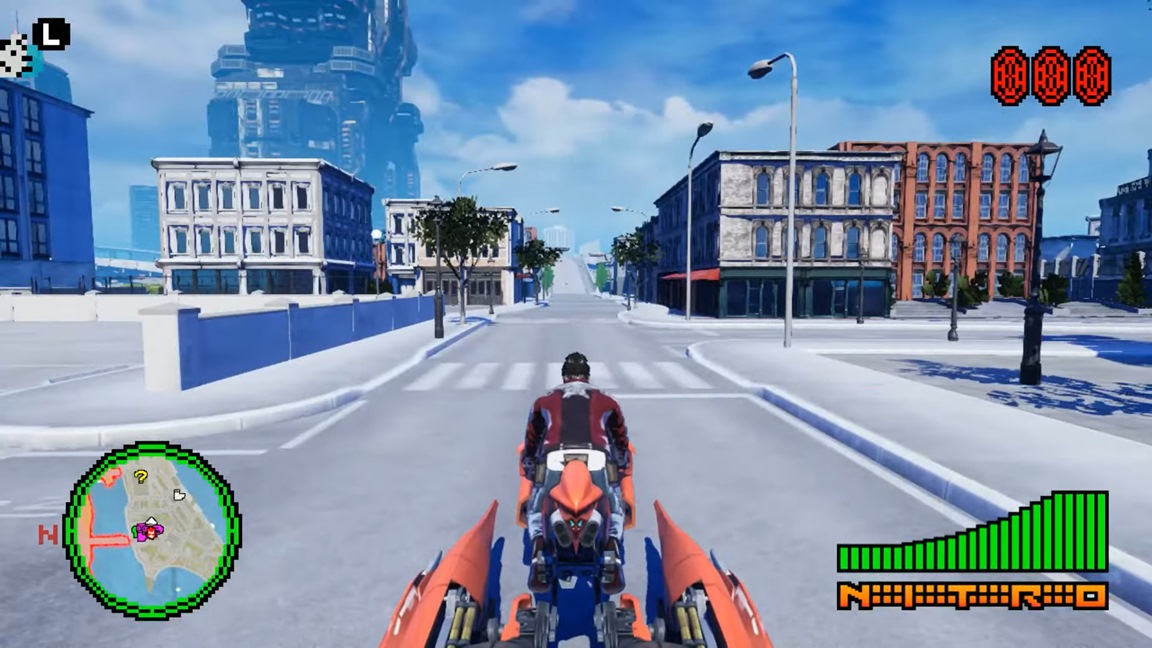 Outside of the combat, NMH3 also brings back the open world and side job mechanics from the first game meaning you have to gain enough money to pay to enter the boss fights. This was one of the criticized aspects of the first NMH but I think it's been improved.
There are a lot more things to do including extra story skits to unlock, weapons to upgrade at home, and more t-shirts to get as achievements. Driving also doesn't handle as badly as the Wii version although the map can be confusing at times. Sometimes you'd head to an area on the map and it'll be hard to find the area you're actually supposed to go to.
The general overworld graphics are also a little on the fuzzy side, likely as a result of needing to get the game on the Switch. It's far from unplayable, in fact, several levels look incredibly colorful and creative, especially during boss battles and in one section of the city that looks straight out of Mad Max, but you do wish it could look a little sharper.
"Designated Matches"
One thing that is different in this game is that instead of undergoing a level with enemies before the boss like in the previous games, you now have "designated matches" scattered around the overworld. These are quick fights in one room full of enemies. You have to beat around three of them to qualify for the ranked match.
I'm mixed about these. Getting rid of the levels seems like it would take away the fun of exploring new areas especially as they helped set the tone of the last few games. On the other hand levels in the old games could get repetitive with the same few enemies reappearing often so it could be a good thing that NMH3 cuts the fat and turns the grunt work into more short bursts of fun. I think I'd still proper levels since it means less busy work around the map but I can see the mindset as to why it's like this.
The designated matches also help with earning money for the entry fee. A lot of people didn't like being forced to do the mini-games to get enough money for the actual levels in NHM1. Here, each designated match gives you money so by the time you're done, you'll probably have almost the amount you need for the fee. There are even bonus matches to earn you more cash, so if you really don't want to mow someone's lawn, unclog toilets, or play with your cat (why wouldn't you though) you don't have to.
Personally, I like doing the part-time jobs since they're just a nice break from the combat and the mini-games aren't too bad however I like that the game gives you different options for different people's playstyles.
The Crownless King
Finally, let's talk a bit about Travis Touchdown as a character in the game. I recently did another NHM article analyzing Travis in NMH1 as an extreme representation of gamers and gaming culture. I won't go super in-depth here but it's interesting seeing the parallels between Travis and the new villain of the game FU.

Fu is a great villain partly because he's so reminiscent of Travis from NMH1. Much like old Travis, he is selfish and egotistical, he claims to want to be a badass superhero but really his goals are more about wanting power and glory. Like Travis before, for Fu, the rankings and invasion are a game and his superhero persona is a superficial charade based on what he's seen in the media. He even has some pretty similar lines to Travis in the first game.
This makes it interesting seeing him go up against the Travis of NMH3 with three games worth of development. Travis is still a perverted otaku living in a motel but he has also grown far more mature. He now fights for things that actually matter, his friends, his family, and his planet. It's made clear through the cutscenes and some of the side stories that he truly values the people in his life. I especially love how every time Sylvia shows up after a match to encourage him to keep killing but he just wants to talk with her about their kids.
It's even shown he doesn't want to murder other assassins anymore, only doing so because of the alien invasion. He does as far as to point out that despite all his power Fu is just a naive idiot who doesn't understand anything beyond indulging in violence.
In confronting Fu, it feels like Travis is confronting his previous self, the superhero-obsessed loser he used to be. I guess you could say, in fighting Fu, Travis kills the past. If this really is the last NMH game, I feel it's a fitting ending for Travis Touchdown.
Final Thoughts
No More Heroes 3 is a fantastic conclusion to the series. It continues the punk otaku atmosphere of the series with creative new boss fights, hilarious comedy baked into the gameplay, and a fitting script for Travis's final adventure.
Like the previous entries, it is an acquired taste, the graphics and overworld can be divisive and confusing. Suda's games however have always been an acquired taste that not everyone is going to enjoy. But as a long-time fan of the series, I can safely say I'm satisfied. Till we meet again Travis.
No More Heroes 3
Nintendo Switch
Fight your way to the top of the Galactic Superhero Rankings The legendary assassin Travis Touchdown makes his glorious return to the Madness in the No More Heroes 3 game, exclusively on the Nintendo Switch system! The evil Prince FU and his band of alien assassins are itching to conquer Earth, and the only thing standing in their way is Travis Touchdown and his crew. Armed with his trusty Beam Katana, new tech, and some killer wrestling moves, Travis must battle to the top of the Galactic Superhero Rankings and put an end to the invasion. Experience the latest punk-rock, off-the-wall adventure from SUDA51 and the minds of Grasshopper Manufacture!
---
Check This Out Next
---
The Review
No More Heroes 3
PROS
Good writing and a fitting end to the series
Gameplay is satisfying and versatile
The punk otaku aesthetic is charming and gives the game its own identity.
CONS
Graphics could have been a little cleaner
The game can be confusing for newcomers