Former Overwatch Captain Sojourn is ready to rejoin the battlefield, with abilities designed to plan, lead, and execute strikes on her opponents.
Sojourn is the 33rd Hero added to the Overwatch roster, offering a mid-range gameplay experience in a kit packed with mobility and artillery. Read Senior Hero Designer Josh Noh and Narrative Designer Miranda Moyer provide insight into her conceptualization and play style.
RAILGUN
The primary fire is a rapid projectile generating energy on hit, charging up the secondary high-impact shot that consumes the stored energy. This offers a high skill ceiling, with weight in precision to land that secondary fire.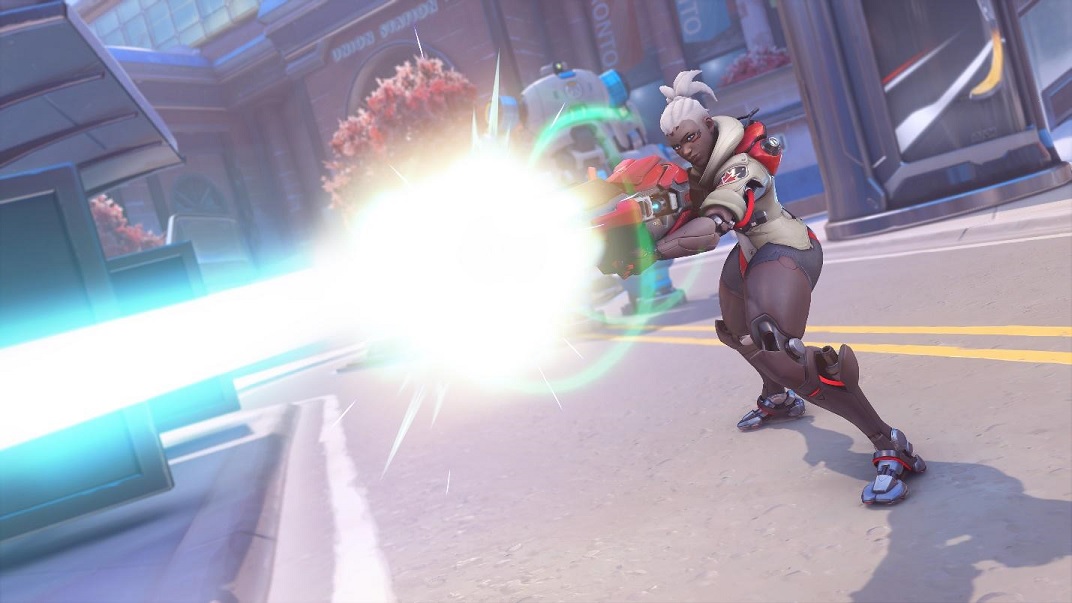 "The Railgun is where Sojourn started. We wanted to make a mid-range hero that rewards accuracy, but still make it fun for varying levels of skill and gameplay."

Senior Hero Designer Josh Noh

"Sojourn's someone who is super detail-oriented and thorough, which I think leans into her kit being accuracy-heavy. She is a brilliant tactician and definitely a 'measure twice, cut once' kind of person."

Narrative Designer Miranda Moyer
DISRUPTOR SHOT
This AOE ability snares enemies and eats at their health. This lowers the accuracy needed to land the Railgun's secondary shot.
"Disruptor Shot evolved from shredding barriers to slowing enemies down with a snare that allows Sojourn to get an easier shot with her secondary fire."

"Sojourn's cybernetic abilities help her eliminate variables. The Disruptor Shot has a slow that improves her odds and makes her more accurate, minimizing any chance for mistakes."
POWER SLIDE
This is the mobility to Sojourn's kit, a rocket-powered slide that can be cancelled into a high leap at any time by jumping. Learn how to use this to reposition.
"We wanted to add a vertical element to her kit to enable her to quickly access high-ground vantage points and help solidify her role as a mobile damage hero."

"Her abilities are baked into her cybernetic body that allows her to execute her objectives. Sojourn has had a lot of cybernetic upgrades in her life, starting out of necessity in her childhood. Eventually she started opting-in for cybernetic upgrades when she was in the military."
OVERCLOCK (ULTIMATE)
Her Railgun's energy gets automatically charged up briefly, with her shots now able to pierce enemies.
"We wanted it to feel almost like the hitscan version of a Genji Dragon Blade. You will have a limited time to make a big play… or you could miss all your shots. She's probably not going to be a hard flanker, but it's easier for teams to spread out in a 5v5 world. You can poke from wider angles, and that's where Sojourn's mobility becomes important."
---
Check This Out Next
---