The disaster quartet is in your hands with Konosuba Fantastic Days now available for your mobile devices! If you missed out the launch date announcement, here's what you can get when you start up the game:
Pre-registration rewards

1 guaranteed 4-star ticket
5,000 quartz

Battle arena mode

Time attack mode against an infinite HP boss. Deal as much damage as you can in 40 seconds

"Tons" of voice lines
Live 2D, changeable costumes and backgrounds, cute battle sprites
Fully-voiced game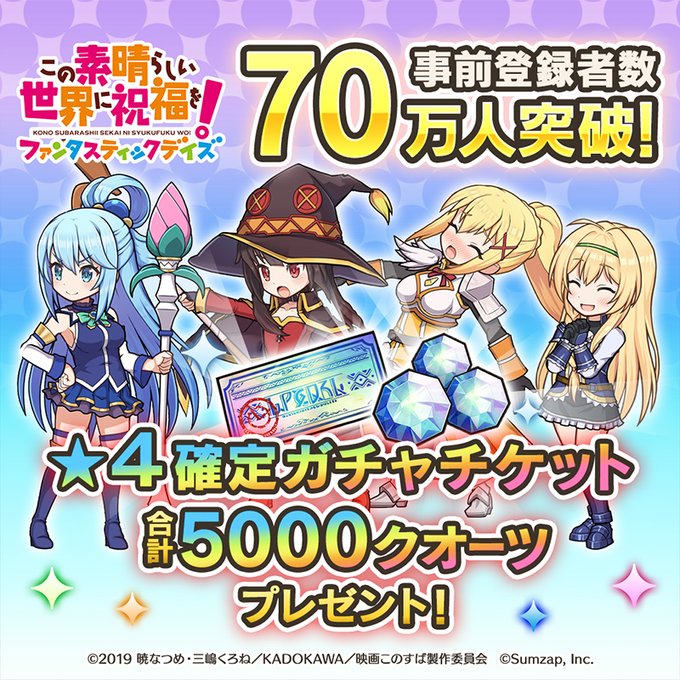 As a note, a 4-star is equivalent to an SSR, 3-star for SR, 2-star for R. A solo gacha pull is 300 quartz, with a 10-roll being 3,000 quartz.
The smartphone game adaptation of the wacky light novel series KonoSuba: God's Blessing on this Wonderful World! has now opened its doors to waiting fans wanting to see Kazuma and his posse of goddesses and friends. We've mentioned the battle system before during its closed beta period.
Battles are turn based with timers, skill cooldowns, and such, going by app-liv's screenshots. There will also be special abilities, of course. There seems to be a "sub-member system", which would probably be easier to understand when you actually get to play the game. Included are limit break systems, missions and time-attach quests, which seem pretty standard.
Go ahead and join in the fun!