The season 3 update for Exos Heroes, Blooded Rhapsody, is finally here! The new season presents latest story episodes, Heroes, as well as new contents that will help new players catch up. Celebrating the grand Season 3 open, Exos Heroes will carry out a number of festive events, which will reward all participants with in-game currencies and items, including a Gold Fatecore and an Exclusive Weapon of one's choice.
Blooded Rhapsody will see Zeon getting entangled in a dark conspiracy surrounding the Saint West royal family: King John Donk, Queen Carrie, and Prince Nemeris. These three Heroes of the game's newest nation are also available to recruit at an increased chance until 4 February.
Along with the new story comes new contents: First, the game's maximum account level cap has increased from 60 to 65. And a new content 'Hero Growth Guide' has been added, which will help players learn more easily how to strengthen the Heroes.
The Guide has a list of missions, and those completing all the missions will be rewarded with a Silver Fatecore, which will also help players clear the story chapters much more easily.
Celebrating the new Season, Exos Heroes has prepared series of events more festive than ever.
Just login to the game to receive a Gold Fatecore Selection Ticket, 3,000 Xes, 1,000,000 Gold, 100 Dye Coupons and more. Moreover, this week's 7 Day Gift event offers Exclusive Weapon Selection Ticket on the 7th day of login, along with various in-game items including 700 Xes and 500,000 Gold.
Last but not least, Exos Heroes will hold free Premium Recruit event. Once a day for ten days until 25 February, players will be offered free 11 pulls daily, thus a total of 110 free Recruits.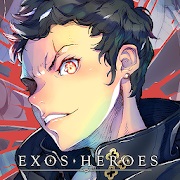 EXOS HEROES
Android, iOS
The grand adventure to search for 'Exestruk', the missing sword of the emperor, and the curse of the ancient dragon! Experience the adventure of your lifetime. Experience the unique visualism beyond your imagination. Experience the unique, extraordinary RPG!