BanG Dream is getting a collab with the popular manga Chainsaw Man, with several cross-band characters getting special cards.
The BanG Dream Chainsaw Man collab is coming to the JP version of the game on June 30th, and the official Twitter account has already started showing off the various card arts for the game.
According to the game's Twitter, not all the units will be gacha-locked- two of them are listed as Event Rewards, meaning you can get them by playing the event, though the exact details are still under wraps.
There's also been no mention on any cover songs, which usually accompany this kind of collab event.
Here are the featured units in the collab, as well as the characters they're styled after :
Ran, Afterglow (Denji, limited Gacha)
Sayo, Roselia (Makima, limited Gacha)
Toko, Morfonica (Power, limited gacha)
Rui, Morfonica (Aki, Event reward)
Rimi, Poppin Party (Kobeni, Event reward)
Image Credit: Bushiroad
Image Credit: Bushiroad
Image Credit: Bushiroad
Image Credit: Bushiroad
Image Credit: Bushiroad
Naturally, there's been no announcement on the collab coming to the EN version of the game, but considering previous anime collabs have found their way here it's safe to assume it's on its way.
Chainsaw Man has been doing a number of collabs with popular mobile games, most recently with NIKKE: Goddess of Victory, which saw three limited units.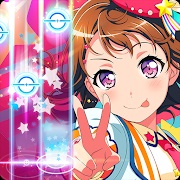 BanG Dream! Girls Band Party!
Android, iOS
Popular rhythm game in Japan! Tap to the rhythm of over 140 songs to choose from. Play both original and cover songs from popular J-Pop artists and anime songs! Play your favorite songs on a level of difficulty that suits you!
---
Check This Out Next
---