Welcome to Siesta, the setting of Arknights Heart of Surging Flame, part 2, host to the Obsidian Festival! Support one of three artists – the difference only lies in the event tokens obtained and different menu music – and enjoy this early summer event!
The event will feature event maps lasting from 29 April 2020, 10:00 UTC -7 to 13 May 2020, 03:59 UTC -7. It will be divided into 2 parts, with part 2 starting from 6 May 2020, 16:00 UTC -7.
Collect Obsidian Festival Tokens from the event maps to obtain rewards from the related event limited capsule boxes. Ceylon – 5-star Medic – and her Tokens will be available from this event, so don't miss out!
Besides the tokens, mission milestones during the event will also reward additional items, including an outfit for Ansel (3-star Medic).
One of the arguably most anticipated Operators, Schwarz, will finally be arriving in the Summer Guardians Headhunting banner. The 6-star Sniper will be joined by Glaucus (5-star Supporter), Blue Poison (5-star Sniper) and Sussurro (4-star Medic) as the rate up Operators.
Other Operators are getting into the summer fun with a variety of swimsuits! Outfits will be available for purchase for Shining, Skyfire, Vigna, Gummy, Ifrit and Sora.
Two limited furniture sets will be available: the Rhodes Island Modern Music Rehearsal Room, and Siesta Beach Hut will be in the shop.
Enjoy the Arknights summer and the Obsidian Festival! Find the Outfits here. Besides the upcoming event, there will be an Instagram stream, and a Dorm Design Contest. There was also a YouTube stream, previewing the event maps and, most importantly, a free 10-pull Headhunting Permit to celebrate 7 million downloads! Obtain it by logging in by 13 May 2020, 03:59 UTC -7. You can find the stream here.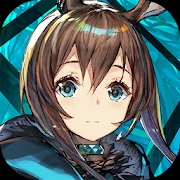 Arknights Global
Android, iOS
Take on the role of a key member of Rhodes Island, a pharmaceutical company that fights both a deadly infection and the unrest it leaves in its wake. Together with your leader Amiya, you'll recruit Operators, train them, then assign them to various operations to protect the innocent and resist those who would thrust the world into turmoil. Your tactics will determine the future of Rhodes Island. Fight for the Dawn!