For the third anniversary of the Bandori game, a new band called Morfonica will be added in! For the uninitiated, Bandori is the short form for BanG Dream! Girls Band Party, a multimedia project featuring girls in bands! The game's Japanese server will be introducing five new girls on 16 March 2020, so let's have a look. Translation credits to iviachupichu.
Formed by first year students of Tsukinomori Girls Academy for high-class girls, Morfonica consists of:
Kurata Mashiro (Vo.)

A quiet and reserved girl, who seems to be one who loses herself in her fantasies.

Kirigaya Touko (Gt.)

Popular both in school and social media, people tend to get caught up in her cheerful whirlwind. She handles the costumes.

Hiromachi Nanami (Ba.)

A somewhat peculiar girl who hides her true self so as not to stand out.

Futaba Tsukushi (Dr.)

The class president, as well as the band leader. She tries her best, but her clumsiness still comes out.

Yashio Rui (Vn.)

A talented individual always at the top of her class. She seems to have rekindled something on meeting Mashiro and the others. She does the song writing.
Below is the full TV-size PV for their debut song, "Daylight".
Other anniversary news includes:
Afterglow covering Inferno by Mrs Green Apple (Fire Force OP)
Options for Live 2D cut-ins, camera work during songs
Rehearsal mode to play songs for free with the ability to continue even if your life hits 0. Demo option will be available to show how to play the song
Dream Festival cards for Ran and Kanon
6 new cover songs
Log in to the game on 16 March to receive 3000 stars, 80 Tone Crystals, with 200 stars per day for 15 days afterwards
One-time only free gacha that guarantees all members (30)
Daily free solo from 16 March to 4 April
Two more livestreams coming up on 15 and 16 March
Look forward to Morfonica debuting in Bandori, as well as more news coming up in the future livestreams!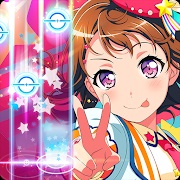 BanG Dream! Girls Band Party!
Android, iOS
Popular rhythm game in Japan! Tap to the rhythm of over 140 songs to choose from. Play both original and cover songs from popular J-Pop artists and anime songs! Play your favorite songs on a level of difficulty that suits you!